Read This Before Ordering Vegetable Soup At Panera
There are so many things about Panera Bread that we love, but it only makes sense that there's a few items we are less enthusiastic about too. The vegetable soup at Panera is well known. Officially called the Ten Vegetable Soup, this dish features tomatoes, red and yellow peppers, onions, corn, carrots, celery, spinach, poblano peppers, and garlic in seasoned vegetable stock with chickpeas, sprouted brown rice and red fife, and dried Aleppo chili (via Panera). The soup can be served with a lemon wheel garnish. A fantastic choice for calorie-cutters, you can eat an entire whole bowl at only 100 calories and adding a side still comes in at a diet-friendly 180 calories per meal. (Remember, a side is not soup served inside a bread bowl.)
Fans of this soup often describe its health benefits, but many people genuinely like the taste too. Says one soup-lover on Instagram, "Okay y'all know I LOVE me soups & this one is so delish!" Oh, and have we mentioned this soup is Panera's first-ever vegan option? (via Bustle). Other vegetarian soups at the chain typically included milk, limiting offerings for vegan customers significantly. The January 2019 launch inspired some great praise on social media, including someone saying via Twitter, "ten vegetable soup at panera i owe my life to you."
While there are plenty of fans, there are still some things you should know about this dish.
Vegan vegetable soup is a matter of taste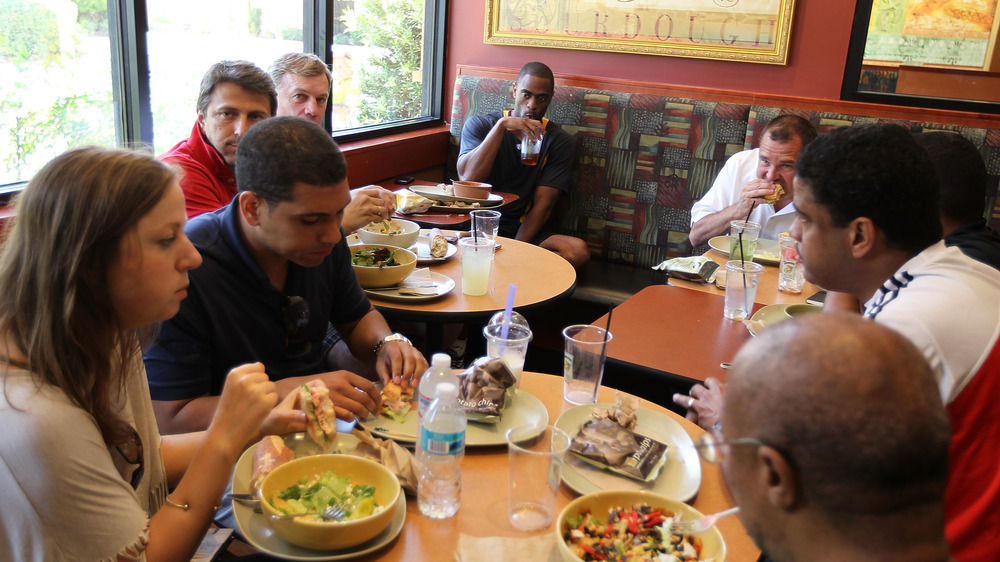 Al Bello/Getty Images
While vegan and free of animal products, Panera Bread's vegan soup is prepared in a non-vegan kitchen — and cross contamination is possible. The 10 vegetable mix also contains some allergens namely the red fife, meaning the soup does contain wheat. The broth also contains soy. And for those more used to a higher-calorie, rich soup option — the flavors may take some getting used to (via Skinny Fitalicious). If you've been consuming high-salt and high-sugar processed foods, more naturally based dishes may at first seem bland and boring.
Another complaint about this soup has to do with the 10 vegetable components. Many traditional soups let one or two veggies be the star, like tomato or butternut squash. In Panera's vegetable option, multiple flavors are competing for dominance. Describes one reviewer (via Insider), "What happened with this soup is what happens when you blend too many paint colors together — the final product just kind of ends up being, well, nothing. Dark brown. The flavors get jumbled, and our taste buds get confused."
The thing you need to know before you order Panera's vegetable soup is that it's definitely healthy — but it's not going to be everyone's favorite because people have different tastes. Hopefully you can better understand the recipe now before purchasing.