These Vegetable Root Fries From Aldi Are Turning Heads
Getting a proper serving of vegetables can prove tough. According to the CDC, only one in 10 adults get the proper serving of two to three cups of vegetables a day. For those of us who might not have the time or inclination to cook, eating this amount of veggies seems impossible and not super appealing. Luckily, the fine folks at Aldi have a solution that can make vegetables fun again and can please the pickiest eater. 
Instagrammer aldifavoritefinds posted an image of their latest find — a bag of frozen parsnip, carrot and beet fries from Aldi with the caption: "Simply Nature Root Vegetable Fries for $2.99 @aldiusa. Tap that heart if you love fries! Such a fun way to have a colorful and healthy side for dinner. Have you tried these before? We had them last year and my kids loved eating purple fries." 
The post has collected over 2,600 likes, as well as a flood of positive responses. Commenters couldn't get enough of these new root fries, responding with, "Bought them today, had them this evening...drizzled a little olive oil and Everything Bagel sprinkle seasoning. They were AMAZING!!!" and "Had these today! 20 mins in the air fryer and finished with salt. Soooo, good!"
A root fry so good, you wouldn't believe its not potatoes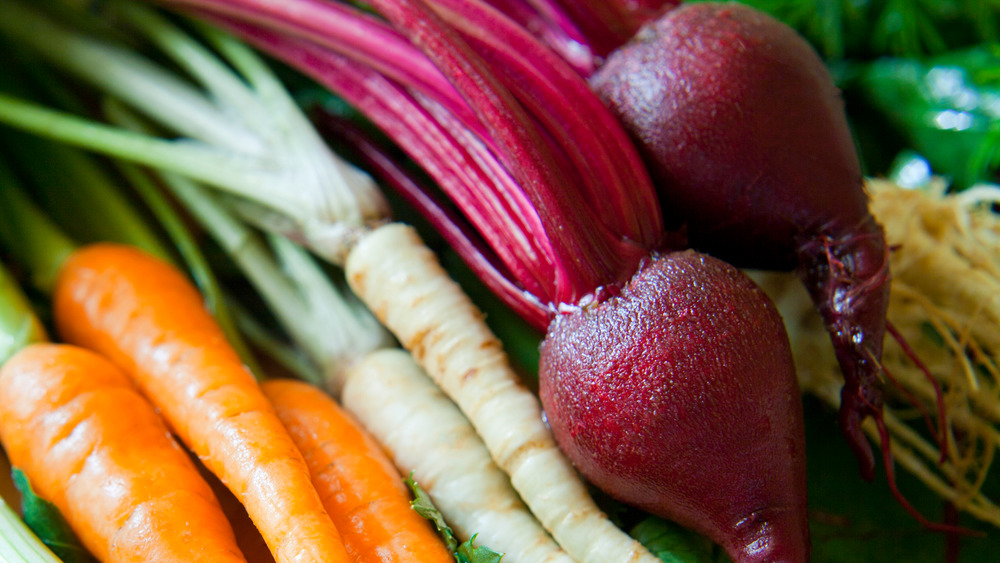 Shutterstock
If you love fries but want to cram some extra nutrition into your body, nothing can do a better job than these root fries. According to Saga, carrots and beets contain a wide variety of antioxidants that can prevent inflammation, while parsnips contain folate that promotes brain health. According to Healthline, carrots and beets also rank as some of the healthiest root vegetables to add into your diet, and nothing beats eating your daily veggies in the form of fries.
For a fun and healthy side that has set social media ablaze, make sure to set your sights on a bag of Aldi's Simply Nature Root Vegetable Fries next time you need to make a grocery run. Your tastebuds and health will thank you and you might discover your new favorite way to eat vegetables. Just make sure to grab a bag soon — with so much attention, who knows how long these fries can last on the shelves until they're all snatched up.