The Reason Guy Fieri's American Kitchen & Bar Times Square Closed Down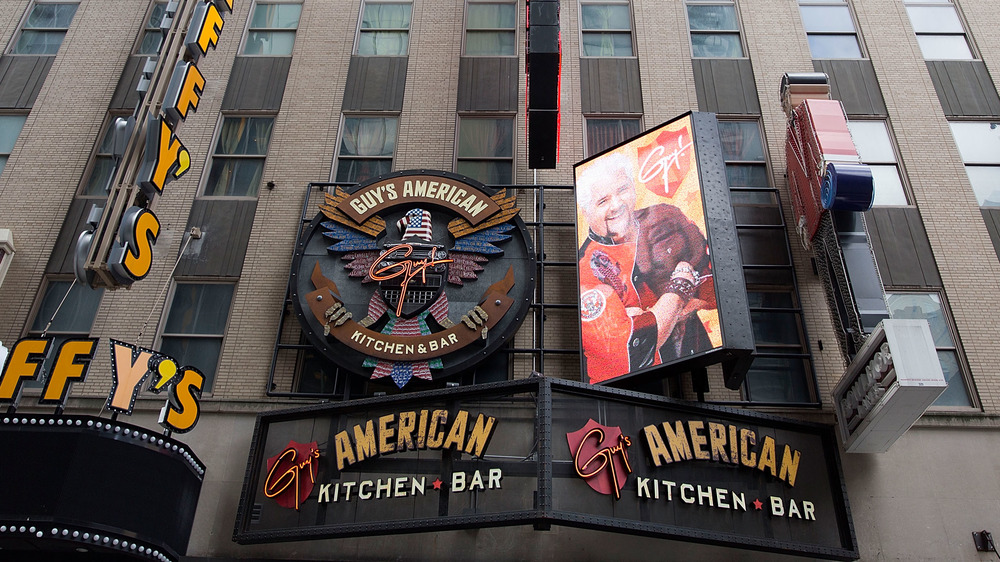 Ben Hider/Getty Images
At its peak back in 2017, Guy Fieri's American Kitchen & Bar served up an estimated 406,000 dishes to a bounty of Times Square tourists. Just days before New Year's Eve of that very same year, NBC reported that the popular destination would unexpectedly shutter its doors, leaving hungry and hopeful patrons wondering: Why?
The restaurant opened up in the heart of New York City back in 2012 and immediately captured the attention of tourists and critics. Fieri, known for his spiky hair and on-the-road food series Diners, Drive-Ins and Dives, set out to offer a wacky menu that attracted travelers and, well, disgusted food critics. His restaurant was massive with over 500 seats and three separate bars — how very American — and became a can't-be-missed destination for many seeking some true U.S. beers and cuisine (via Grub Street).
Fieri himself never fully confirmed why the restaurant shut down, but he did issue a statement thanking all of the workers and supporters who dined in and "made his dream a reality" (via CNN). Some, like the New York Post, suspect that the closure may have been due to years of lackluster reviews, but the restaurant still had many fans — and they were left in the dark.
Guy Fieri's NYC restaurant was destined for disaster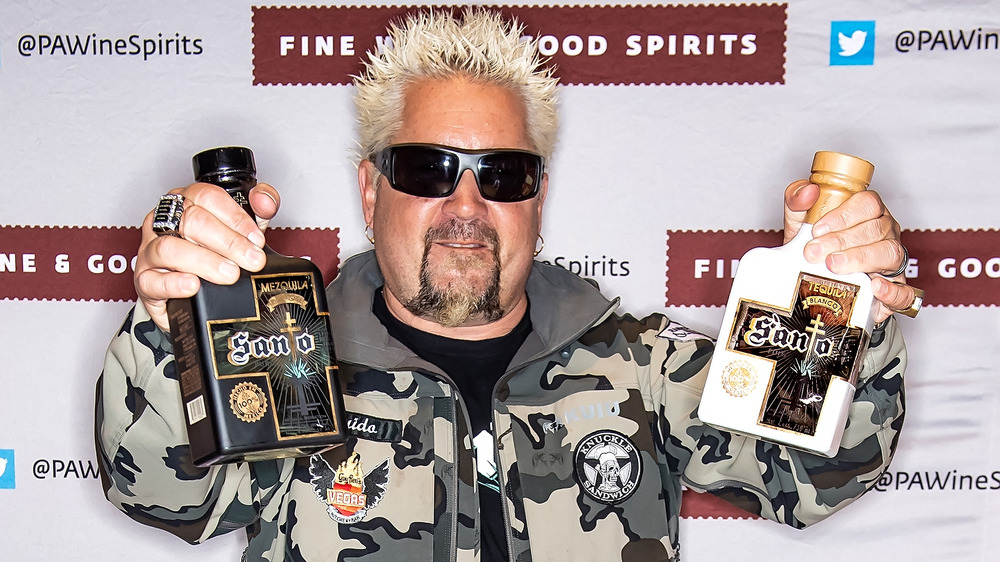 Gilbert Carrasquillo/Getty Images
The same year Guy Fieri's American Kitchen & Bar opened, it went viral for all the wrong reasons. In a now-infamous New York Times review, critic Peter Wells ripped the restaurant apart for chicken tenders that tasted like "chewy air" and drinks that resembled "some combination of radiator fluid and formaldehyde." His rating? Zero stars.
The article took over the internet, and archived reviews on Yelp echoed Wells' critique. One customer even wrote "Zero kick or flavour, I could have made better [a] chicken tender in high school during home economics" — ouch. While it's safe to conclude that the restaurant's rollercoaster reputation had something to do with the sudden closure, the Washington Post says otherwise.
The outlet followed up with Fieri's partners to get to the bottom of the mystery and found that it was an "amicable split," likely due to the restaurant's lack of profitability in such an expensive area. A building spokesperson explained that Fieri caters to a more Midwestern audience, and while it was an enjoyable few years in the Big Apple, it "wasn't the right concept for that space in the long run." 
It's hard to imagine the legendary tourist trap as not profitable, considering how reports show it generated $17 million in sales in 2017 alone. But even with visitors willingly opting for the chicken tenders, the restaurant simply had zero chance of surviving between a badgering of mixed reviews and an incredibly expensive retail location.