Easy Baba Ganoush Recipe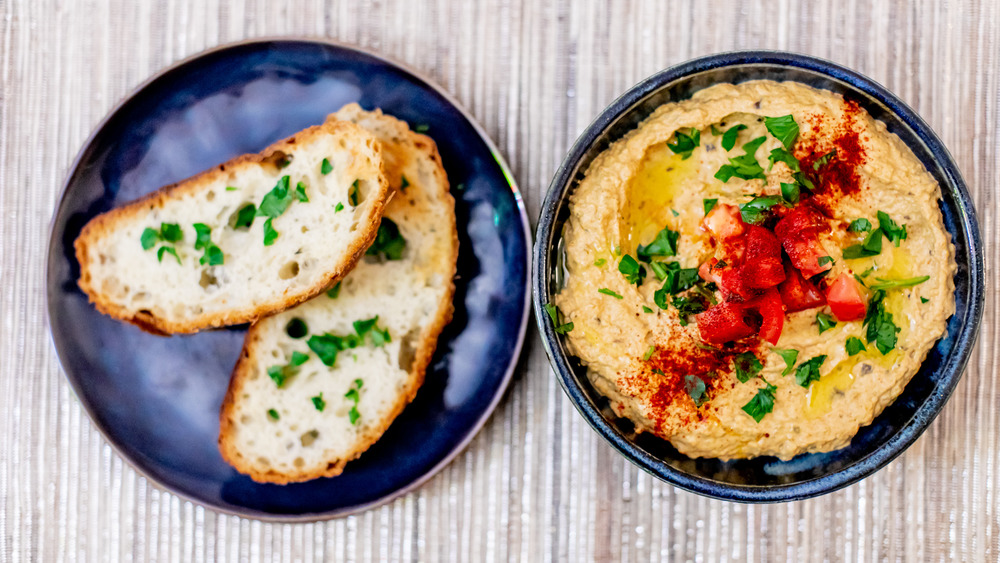 Nathaniel Lee/Mashed
We all love hummus — but do you ever want to mix things up a bit? Food blogger and home cook Nathaniel Lee of Beginner Food partnered with Mashed to create a perfect, easy recipe that will impress family and friends. Not that you can't enjoy his baba ganoush alone! 
Lee describes the taste of this yummy dip as "like smokey hummus but not as heavy." Meanwhile, you needn't be intimated by this exotic-sounding dish. It's surprisingly approachable to whip up, plus, versatile. Lee adds the eggplant-based, flavorful dip is "low-carb, vegetarian, and completely vegan friendly." 
You can make baba ganoush to pair with flatbread. "But it also goes surprisingly well with grilled meats like chicken and lamb," Lee told Mashed. So, the next time you're doing appetizers, or as Lee suggests, grilled meat, try this smokey take on hummus and enjoy a little something different, whether you're dining solo or with company. 
Gather your ingredients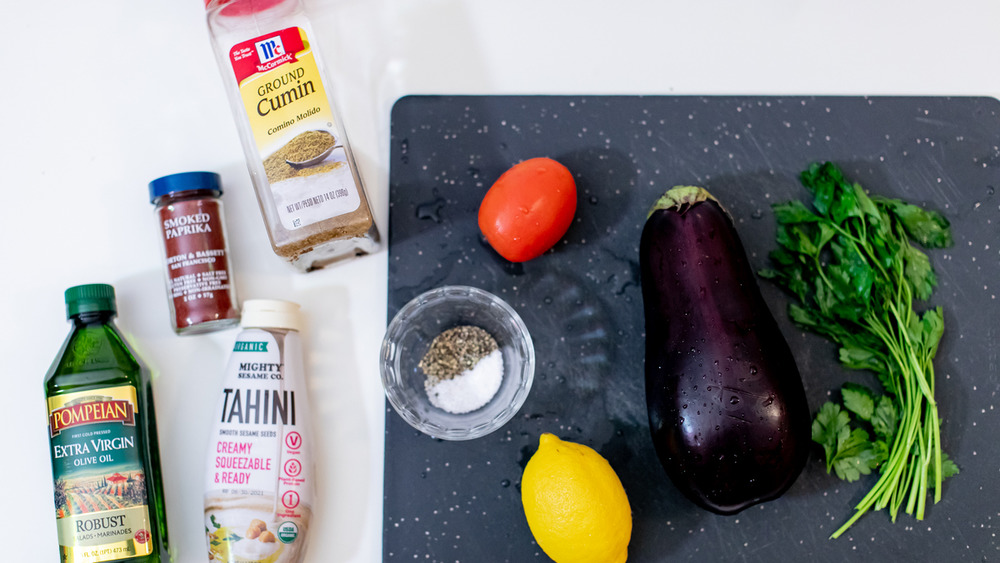 Nathaniel Lee/Mashed
Most of the ingredients in baba ganoush will be familiar to you, including eggplant, olive oil, lemon juice, tomato, parsley, salt, and pepper. You'll also need tahini, paprika, and cumin. Lee suggests using aubergine eggplant for this dish, which as he explained to Mashed "are the big classic ones. He adds, "This is in contrast to the skinny long ones — Chinese eggplant — or any of the smaller varietals." 
Meanwhile, for those not well-acquainted with tahini, Lee told us, "Tahini is sesame paste." He added, "It is often found next to the peanut butter at the grocery store." If the store where you like to shop has an ethnic food aisle, you might also find tahini there. No worries if you can't find this ingredient however, as Lee told Mashed, "If you do not have tahini you can make the dish just with eggplant and olive oil, but it will not be as rich."
Prep your veggies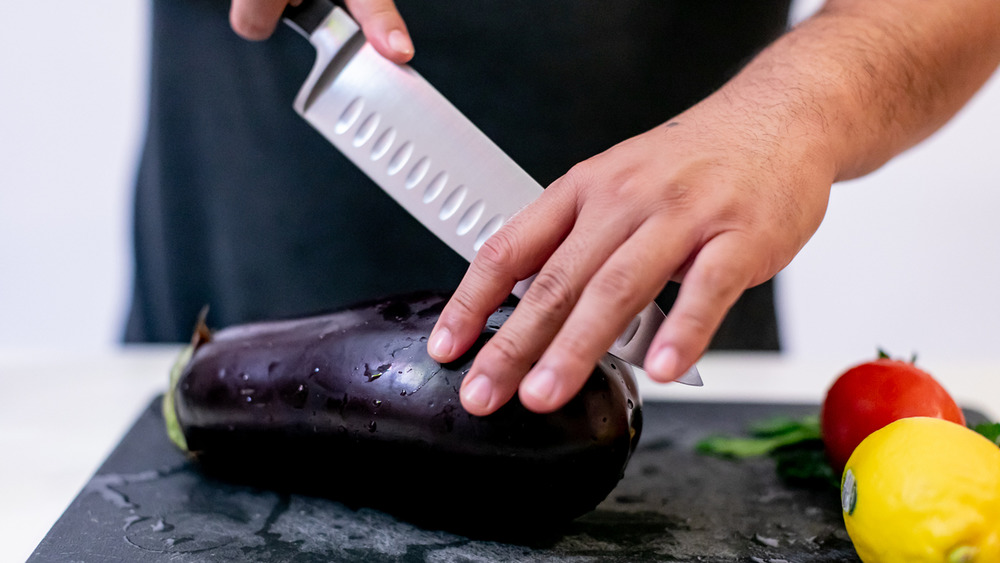 Nathaniel Lee/Mashed
The very first step to creating baba ganoush is to preheat your oven to 300 degrees. Next, you'll simply wash your veggies, before cubing your eggplant into 1-inch pieces for roasting. As far as peeling the eggplant goes, Lee noted to Mashed, "This is a preference thing." He added, "I do not because the most complex flavors come from the skin, especially during roasting." However, he told us, "If you don't like the added bitterness or want more salt-to-eggplant ratio, you can remove the skin."
Next, you can go ahead and dice up the tomato and parsley while your knife is handy. We wondered if parsley was just for prettiness here, or if it served a taste function for the baba ganoush. Lee answered, "Ideally all garnishes should add something to the taste profile. Here is no different — it is added for aromatics and freshness, as this is a vegetable dish and we want some of that flavor as well."
Meanwhile, Lee offered this helpful tip for slicing the tomato: "I cut mine in half the long way, then into quarters, then into eighths — then I cut it horizontally into cubes."
Spice things up for this baba ganoush
Nathaniel Lee/Mashed
Okay, so now your eggplant is ready for roasting to bring out the flavor before you create your dip. First, you'll drizzle the cubes you created — placed on a baking sheet — with olive oil, and season with the salt, pepper, and cumin. We asked Lee about his choice to use cumin and paprika — which will get sprinkled on the baba ganoush at the end, before serving — and he shared with Mashed, "Smoked paprika and cumin give this dish a huge earthy boost." Lee added, "This works well for tahini, and since there are so few carbs in eggplant, it makes the dish seem more filling and full of body." 
Lee also shared, "Additionally, smoke goes so well with eggplant flavor wise."
Once you have seasoned the eggplant cubes, you'll roast them for one hour. In the meantime, sharpen your taste buds as they are in for a serious treat once the veggies are done in the oven.
Blend up the baba ganoush mixture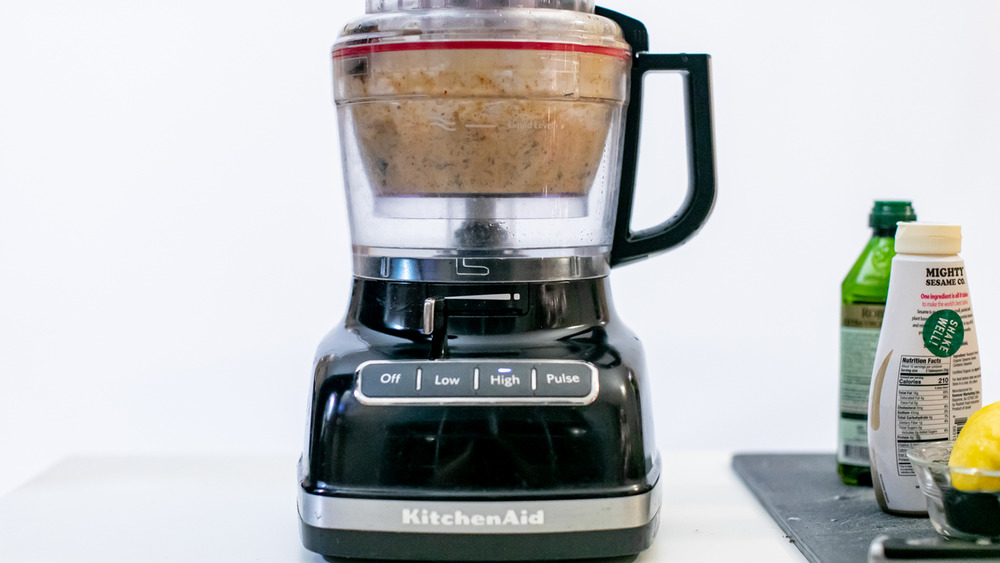 Nathaniel Lee/Mashed
Finally, the hour is up! Simply add eggplant, the juice of a lemon, the tahini, and olive oil to a food processor. Don't have one? Lee says don't sweat it! "This does work in a blender," he told Mashed, but he advises home cooks to increase the amount of olive oil used, noting, "otherwise it may get too thick for your blender to turn over." 
Meanwhile, as Lee explained, "Olive oil adds richness and body to the baba ganoush, while lemon juice elevates the flavor of the dish with acidity and brightness." He added, "The lemon juice will also help prevent oxidization to some extent." In other words, the lemon not only adds flavor, but prevents the eggplant from turning brown.
So now, just go ahead and blitz your ingredients on a high setting until the mixture is smooth. And then, only a few more steps until you are ready to dig in!
Serve up the baba ganoush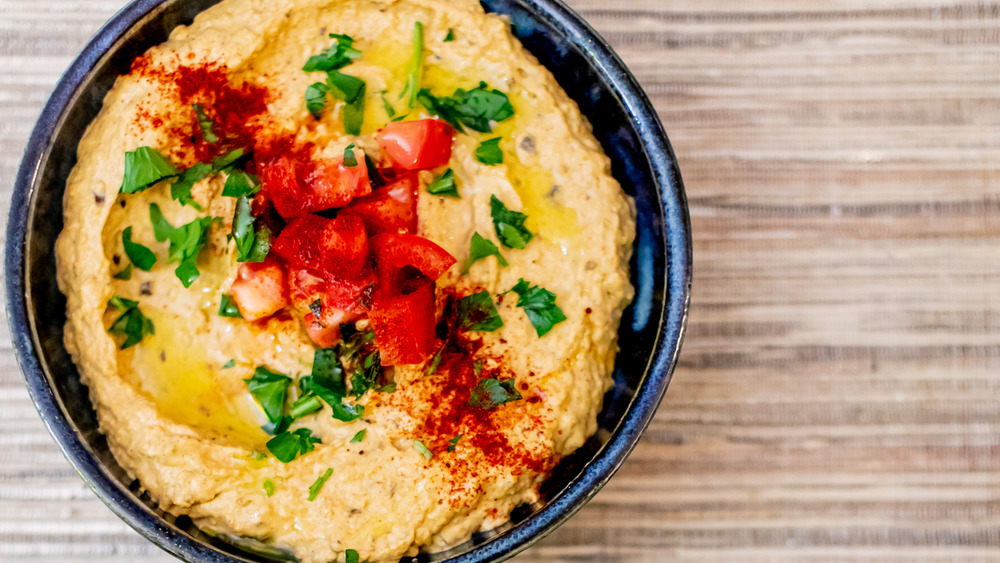 Nathaniel Lee/Mashed
Now it's time to spoon the yummy eggplant mixture into a bowl, where you'll top it with more rich olive oil, the diced tomato from before, as well as chopped parsley, and the paprika, which remember, adds smokiness and color to the dish. Of course, you can sneak a taste now, but next up, Lee recommends some inventive ways to enjoy your baba ganoush. Yes, beyond just bread or pita chips. Because as he explained to Mashed, "Baba ganoush is basically an alternative to hummus, so in any way you would serve that, this dish works well." Some recommended accompaniments include crudite — like raw, sliced carrots, cucumbers, broccoli, and red or green peppers — grilled meats such as lamb, and flatbread. Meanwhile, pita chips are okay, too if that is what you so desire! 
Don't be afraid to do this your way and experiment. After trying something new, you deserve it!
Prep the perfect baba ganoush accompaniment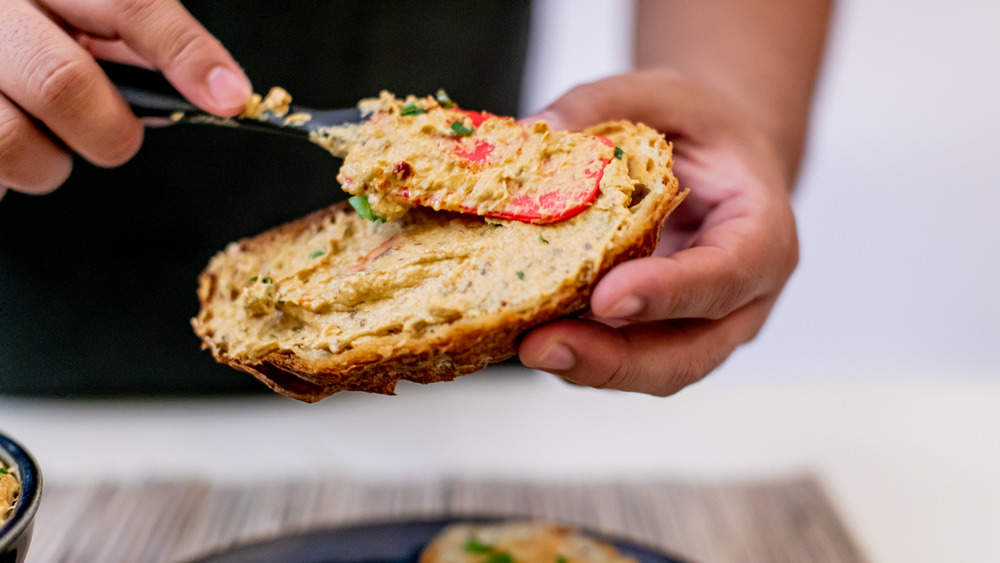 Nathaniel Lee/Mashed
We understand if you want to try your baba ganoush right away after prepping it. Spread the thick and smokey creation on flatbread, dip some veggies into it, or serve the baba ganoush atop a tender piece of meat. 
But if you prepared the dish ahead of time for a get together or Netflix and chill night, that's cool, too. Just don't store this dish in the fridge for too long. "I'd recommend finishing it within the week," Lee advised Mashed. Over here, this delish dish definitely wouldn't last a full week. An hour? Maybe! But we can't wait to try the recipe out for ourselves. Thanks Nathaniel! There's no doubt hummus is about to take a back seat to this healthy, yummy recipe. 
Next, check out the full recipe and get dicing, roasting, garnishing, and dipping! Enjoy!
Easy Baba Ganoush Recipe
We all love hummus — but do you ever want to mix things up a bit? Baba ganoush is like a smoky, less heavy version of hummus that's surprisingly easy to make.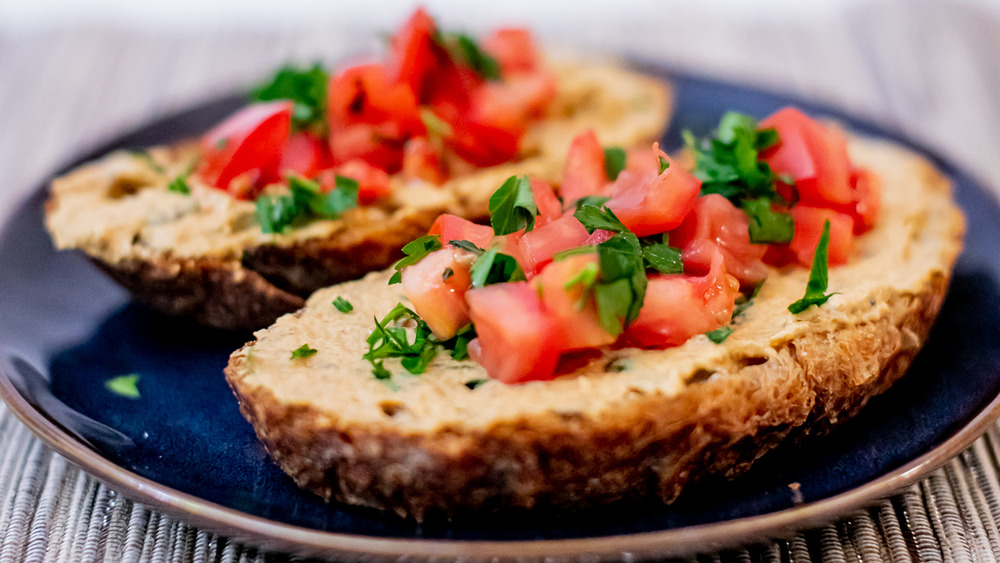 Ingredients
1 aubergine eggplant
½ cup tahini
½ cup olive oil
juice of 1 lemon
1 tomato
2 sprigs fresh parsley
1 teaspoon salt
1 teaspoon pepper
1 teaspoon smoked paprika + 1 dash for garnish
1 teaspoon cumin
Directions
Preheat oven to 300 degrees.
Cut the eggplant into 1-inch cubes.
Dice the tomato and parsley.
Drizzle eggplant with olive oil, and season with salt, pepper, and cumin.
Roast for one hour.
Add eggplant, juice of one lemon, tahini, and olive oil to food processor, and blitz on high until smooth.
Top with olive oil, diced tomato, chopped parsley, and paprika.
Nutrition
| | |
| --- | --- |
| Calories per Serving | 233 |
| Total Fat | 21.8 g |
| Saturated Fat | 3.0 g |
| Trans Fat | 0.0 g |
| Cholesterol | 0.0 mg |
| | |
| --- | --- |
| Total Carbohydrates | 9.0 g |
| Dietary Fiber | 4.1 g |
| Total Sugars | 3.1 g |
| Sodium | 280.9 mg |
| Protein | 3.6 g |