The Untold Truth Of Bonefish Grill
Aaron Davidson/Getty Images
Known for its "polished casual" atmosphere and menu brimming with fresh fish options, the first Bonefish Grill was opened in January 2000 in St. Petersburg, Florida, by partners Tim Curci and Chris Parker. After the successful launch, the duo opened two more locations and started the Bonefish Grill Florida company. The following year, OSI Bloomin Brands, creator of Outback Steakhouse, noticed the popularity of the restaurants and purchased a majority stake in the business (via CIA Chef).
Curci sold his remaining interest in Bonefish Grill and went on to focus on Fat Beet Farm, an organic farm in Oldsmar, Florida. He is also a founding partner in Noble Crust, a seasonal, "Deep South Italian" restaurant chain. Unfortunately, Parked died in 2014 in a boat crash (via WTSP). As of December 2020, there are over 180 Bonefish Grill locations operating across the country, and almost a third of them are located in Florida, according to Scrape Hero.
Bonefish Grill baits guests with a fabulously fishy menu and impeccable service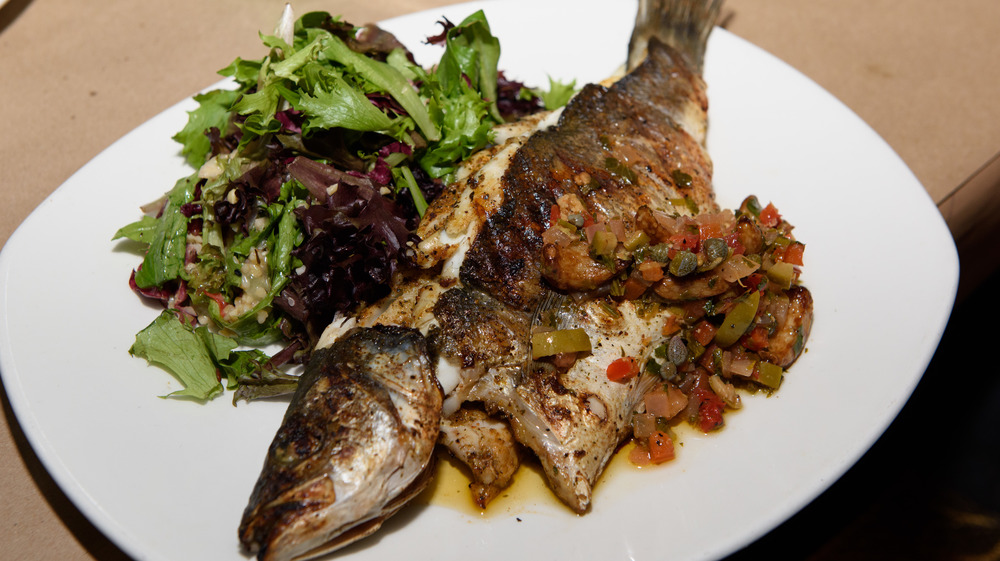 Dave Kotinsky/Getty Images
Bonefish Grill sets high standards for customer satisfaction. Upon entrance, every guest is to be greeted one at a time "ensuring that they receive the attention they deserve." Other quality measures at Bonefish include cutting their fresh fish daily in house and shaking martinis a minimum of 20 times. Wine and beer selection is based on local tastes, making for a unique experience at each location.
Bonefish Grill refers to its servers as "Anglers." Anglers can be spotted wearing white chef coats and schooling guests on the variety of wood-grilled dishes on the menu sure to make fish lovers swoon including entrées like Atlantic Salmon, Ahi Tuna Steak, Mahi-Mahi, and Chilean Sea Bass. Once guests choose a fish, they get to customize their order by adding one of the signature sauces available like Grilled Lemon, Lime Tomato Garlic, Mango Salsa, Chimichurri Sauce, Pan Asian Sauce, and Lemon Butter.
If guests aren't in the mood for fish, other seafood options can be found on Bonefish's menu like lobster tail, crab cakes, and scallops. In fact, the most popular item on the menu isn't a fish at all, but "crispy shrimp tossed in a deliciously creamy, spicy sauce" known as Bang Bang Shrimp. Seasonal items like Florida Stone Crabs and Maryland Softshell Crabs can also be found on the menu depending on the time of the year (via Bonefish Grill).
Bonefish Grill needs to hook younger guests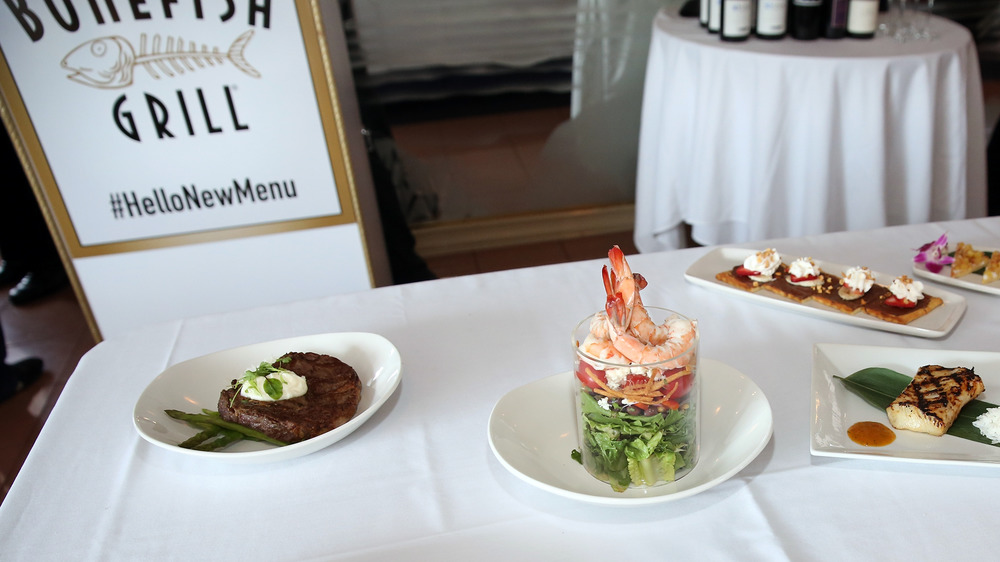 Aaron Davidson/Getty Images
It hasn't been entirely smooth sailing for Bonefish Grill. In 2017, owner Bloomin' Brands announced that it would be closing 43 of the underperforming restaurants (via Seafood Source). Bloomin' Brands operates around 1,450 restaurants in the states, Puerto Rico, Guam, and 20 countries. In addition to Outback Steakhouse and Bonefish Grill, Bloomin' Brands also owns Carraba's Italian Grill, Fleming's Prime Steakhouse & Wine Bar, and Aussie Grill. 
But it's not the other chains that Bonefish should be concerned about. According to the Tampa Bay Times, Bonefish Grill's largest competitors are independent restaurants. An anti-chain movement sprang up among millennials and generation X-ers who often opt for locally-owned restaurants. This, coupled with the slow-growth in fast casual restaurants like Panera and Chipotle, makes for an uphill battle for "polished casual" full-service restaurants.  Bonefish celebrated its 20th anniversary in 2020, but it will have to figure out how to hook younger guests if it plans to stay afloat for another 20 years.