Costco Shoppers Are Psyched For This Sweet Basil Salad Dressing
Don't know about you but we are SO ready for fresh greens, fragrant herbs, and the taste of a delicious salad full of crispy, crunchy, health-filled goodness. The catch: a crappy dressing makes a crappy salad. The search for the right dressing can really make or break your eating plan, which is why shoppers are so psyched for this sweet basil salad dressing at Costco. Selling right now for $6.99 for a 32-ounce bottle, it has received praise from an Instagrammer who shares, "sweet basil vinaigrette is sooooo good! [delicious emoji] This is probably one of my new favorite salad dressings! ($6.99)."
As described by Field + Farmer, this dressing contains sunflower oil, apple cider vinegar, cane sugar, basil, onions, mustard. The makers suggest eating it on simple greens or a salad of local baby arugula, avocado, and sunflower seeds. One Instagrammer also suggests, "Yummy. Would be good with tomatoes too!" Vendor notes share that this dressing is plant-based, gluten-free, allergen-free, and Non-GMO Project-verified with no preservatives or gums.
The basil is sweet, the vinaigrette is not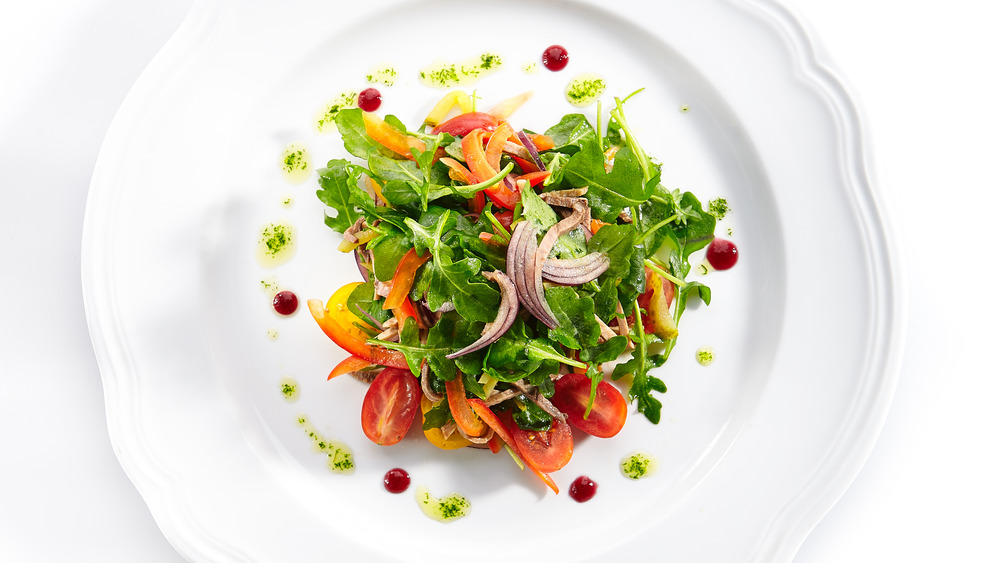 Shutterstock
If you'll notice, the basil is sweet but on the ingredient list, apple cider vinegar comes before sugar. The dressing is, after all, a vinaigrette and not a syrup. For some, that may cause a little confusion, like the one reviewer on the company website, who said, "I was a bit disappointed. It was a lot more tart than I expected, since the product is Sweet basil. No offense, but I don't think I'd purchase again."
While the reviews we've seen from tasters are overall positive, it's important to set the right expectations so you don't get a flavor mismatch. And when it comes to selling at Costco, the Field + Farmer brand is happy to be there, sharing in a recent Instagram post, "Thank you so much for the shout-out! We are thrilled to be in Costco and so happy you like the Sweet Basil!!" Each product has a story, and this salad dressing is made from organic basil grown at Van Drunen Farms in Momence, Illinois, a location where the Van Drunen family has been farming since 1856.