Shake Shack Is Debuting A Korean-Inspired Menu. Here's What You Need To Know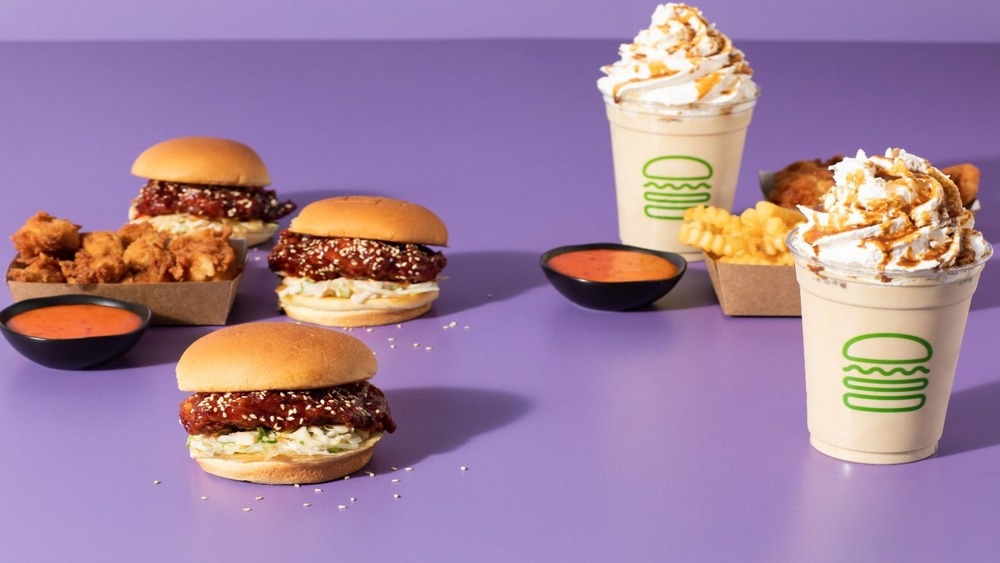 Shake Shack
Since Shake Shack opened their doors, they have taken the fast food world by storm. According to Investopedia, the chain claimed more than 275 restaurant locations as of March 2020, with that number steadily growing. If you love Shake Shack but crave new flavors, get ready to send your taste buds on a trip to South Korea. According to a statement sent to Mashed, Shake Shack has launched a brand-new limited-edition menu based around the flavors of South Korea that runs from today until April 5th at all U.S. locations. 
The specialty menu features Korean-style Fried Chick'n, a crispy chicken breast glazed with a spicy-sweet fermented chili paste on top of a white kimchi slaw and toasted sesame seeds. If that doesn't get you rushing out the door, then the Gochujang Chick'n Bites just might. These fried white meat chicken bites come with a spicy-sweet gochujang mayo sauce and go great with Korean-style Gochujang Fries — crinkle cut fries that also come with a side of gochujang mayo sauce. End your meal right with the brand new Black Sugar Vanilla Shake, a black sugar drink mixed with vanilla frozen custard and topped with whipped cream and black sugar syrup. The only thing sweeter than the new shake are the South Korean-inspired menu prices. The Korean-style Fried Chick'n comes in at $7.19, Korean-style Gochujang Chick'n Bites go for $5.19 for a 6-piece order and $7.19 for a 10-piece order, Korean-style Gochujang Fries start at $3.49, and the Black Sugar Vanilla Shake clocks in at $5.69.
The ultimate Shake Shack cultural fusion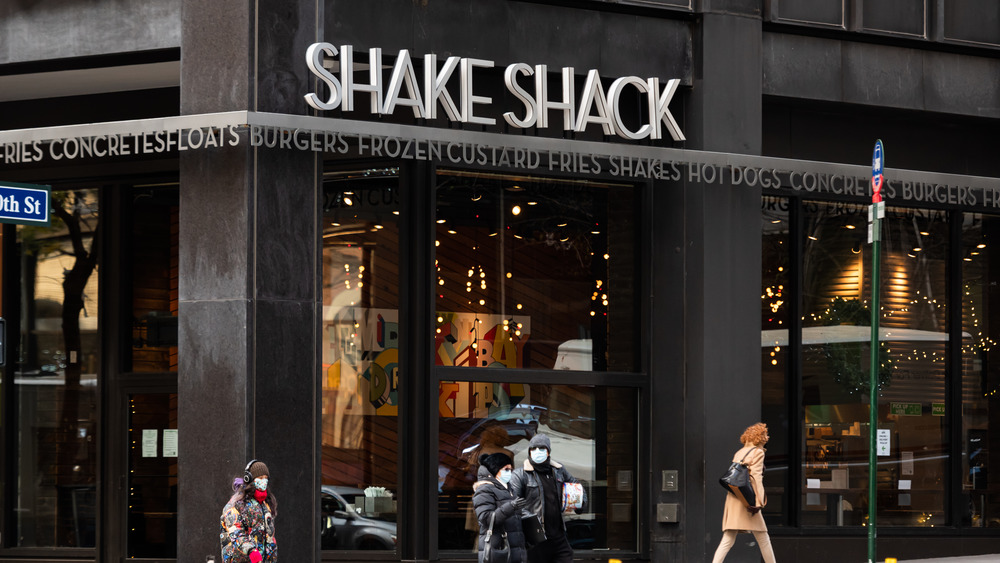 Noam Galai/Getty Images
According to Shake Shack's statement, this new menu comes as a result of years of cross-cultural exchange between Shake Shack's U.S. and South Korean locations. The Korean-style Fried Chick'n came about as a result of a trip the Shake Shack culinary team took in 2016 to Seoul, South Korea to visit the first location opened in the country. The team explored the neighborhood when a local bartender suggested a Korean fried chicken spot to try.
Fast-forward to 2021, and Shake Shack now has 14 locations in South Korea. Shake Shack South Korea even released a Gochujang Chick'n Sandwich in October 2020, catering to local palettes. The new U.S. menu taps into these beloved flavors, featuring ingredients like kimchi made from fermented  napa cabbage, daikon radish, carrots, garlic, Asian pear, green onion, sea salt, and a spicy, sweet-umami, fermented gochujang glaze.
If this sounds like your kind of meal, then make sure to visit your local Shake Shack soon — we only have four months to enjoy this menu, and then who knows when it may return? If you have never experienced any of these flavors or ingredients before, you might find your favorite kimchi flavor combination or get inspired by gochujang during your next meal!