The Real Reason Giada De Laurentiis Refused To Speak To Bobby Flay For 8 Months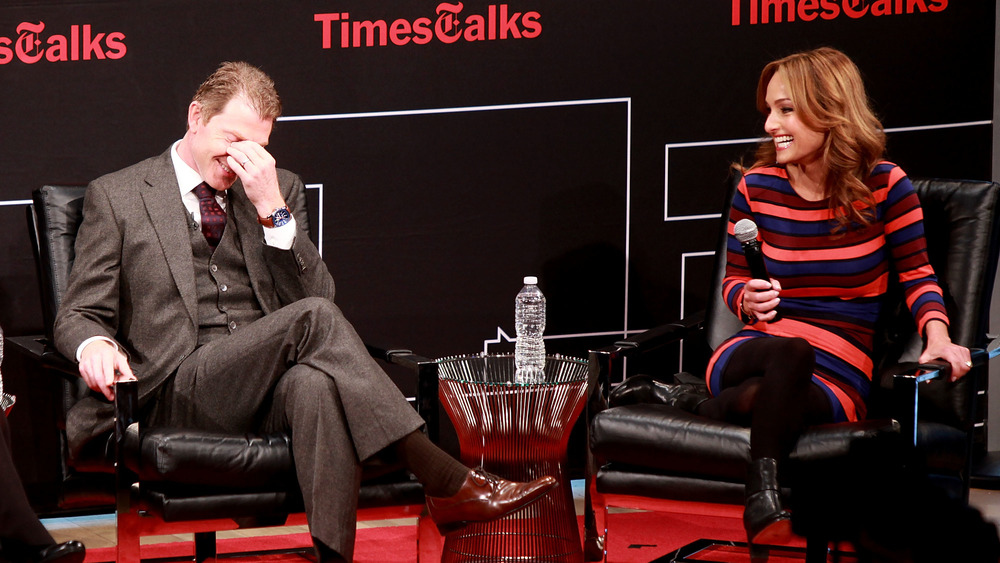 Robin Marchant/Getty Images
Celebrity chefs Bobby Flay and Giada De Laurentiis are a perfect pairing, much like peanut butter and jelly. Part of what makes these two so fun to watch is their differences in personality and preference. Of course, those differences didn't always work in their favor. In fact, Chef De Laurentiis once went eight months without speaking to Flay after an unfortunate appearance on Iron Chef America in 2006.
For those who need a refresher, Iron Chef may be one of the toughest cooking shows around. A challenger, or challengers, is pitted against a tried-and-tested professional Iron Chef. The contestants must make multiple dishes themed around secret ingredients and culinary curveballs in an hour or less, with each dish living up to the high culinary standards of Kitchen Stadium judges (via Food Network).
Chefs De Laurentiis and Flay were teamed up against Chefs Mario Batali and Rachael Ray in Battle Cranberry, and De Laurentiis' team lost pretty badly. Chef Giada described the moment in a Beyond the Plate podcast: "I did not talk to him for eight months. Eight months! Nothing. Silence. Because I thought, you know, I took this very seriously. It was a very big show, especially at that time. And I've cooked, I've gone to culinary school, I worked on my own dish, all by myself, and I felt like he just sort of half-a**ed it. He didn't really care, it was just TV," (via Delish). De Laurentiis thought Flay was a "jerk."
Giada De Laurentiis and Bobby Flay now understand each other so much more
As an up-and-coming chef at the time, Giada De Laurentiis felt that everyone else was taking the contest seriously except for Bobby Flay. She thought that Flay could have at least said something after the loss (via People). "Better luck next time" or any traditional platitude would have gone a long way to soothe any sore feelings. 
Fortunately, the two have since gotten to know each other better. De Laurentiis now realizes that Flay's attitude about television is to focus on the job he's doing, and less on what everyone else is thinking. "Now, of course, we're best buddies and we hang out," De Laurentiis said. "He takes some things, like his friendship and his family, very seriously, but he takes other things like TV a little less seriously."
When it comes to Flay and De Laurentiis interacting now, the two are visibly more relaxed than their earlier TV mixup. On their new series Bobby and Giada in Italy, Flay said, "I think you're going to see an inherent happiness in both of us just being there. You know when you go to a place that you really love being, your whole demeanor is different. We were just so much more relaxed and just smiling a lot and just enjoying our surroundings" (via People).