Easy Homemade Poke Bowl Recipe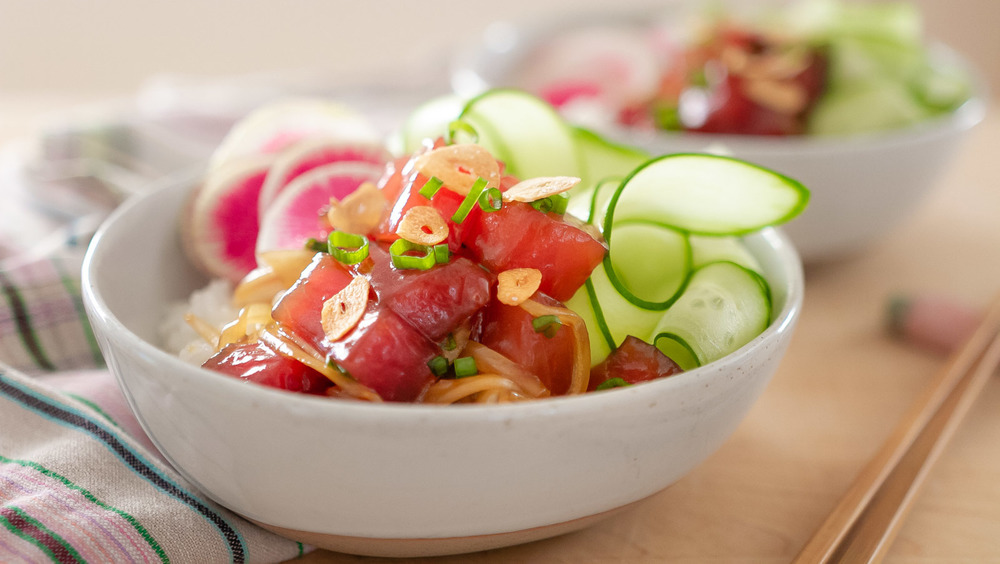 Cindy Chou/Mashed
A poke bowl is a dish made up of raw fish, rice, and fresh vegetables that's been part of Native Hawaiian cuisine for many years. Though, as Hawai'i Magazine reports, poke didn't become widely popular until the 1970s, it's since become a modern classic of Hawaiian food culture. 
There was once a time when you could only reliably find poke at restaurants in the Hawaiian islands, but, thanks to a surge in popularity, versions can be found across the mainland United States today. Yet, you don't have to seek out a restaurant for expensive poke. With the right recipe in hand — like this one from Cindy Chou, the chef behind Healthy Feels — you can have homemade poke whenever you like.
"Making poke at home might seem intimidating at first, but it's actually easy to make if you have a local seafood market nearby," Chou says. "There are so many different variations to poke bowls. When making one at home, you can customize your toppings to your own preferences and families can build their own bowls. I created this recipe based on my time cooking at a Hawaiian restaurant years ago and the times I traveled to O'ahu and Maui. Sometimes when I'm craving a classic shoyu ahi poke, this recipe hits the spot."
Gather your ingredients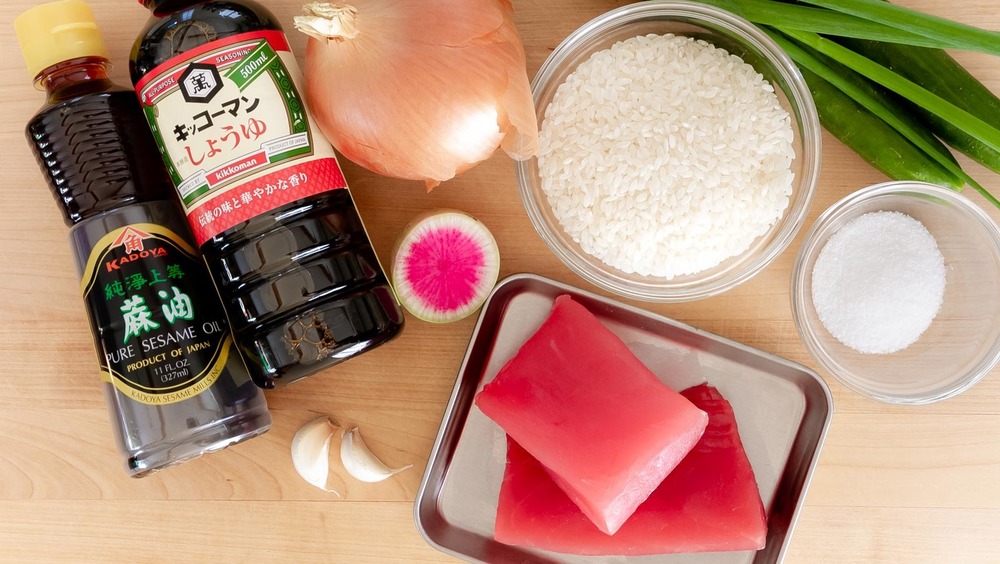 Cindy Chou/Mashed
It takes a few relatively accessible ingredients to make poke. For this recipe, you'll need short-grain white rice, yellow onion, scallions, soy sauce, sesame oil, canola oil, garlic, salt, Japanese cucumbers (a mild variety with few seeds), and watermelon radish (a type of daikon radish with a vibrant pink middle). Most of these ingredients are easy to find at your local supermarket, perhaps with an extra trip to an Asian grocery store if you have one nearby.
You'll also need to source the most important ingredient: sushi-grade yellowfin tuna.
"It's important to only use sushi-grade fish," Chou says. "Sometimes the fish might also be labeled as 'sashimi-grade.' This means the fish should have been handled following FDA guidelines for fish that is meant for raw consumption. Since the guidelines vary state by state and the term isn't regulated, it's good to purchase fish from trustworthy fish markets and Japanese markets."
Seek out fish that's stored on ice in a refrigerator, then wrapped and kept separate from other fish. Sushi-grade fish shouldn't look dry or have any visible white fibers. Chou suggests buying fish "from either a fish market or a local Japanese market where customers buy fish often, where the air has a clean, marine smell rather than a fishy odor."
Keep the fish covered and either in the refrigerator or on ice until you're ready to use it. If you can't find yellowfin, other types of fresh tuna, like albacore or bluefin, work for this recipe as well.
Prepare the rice for your poke bowl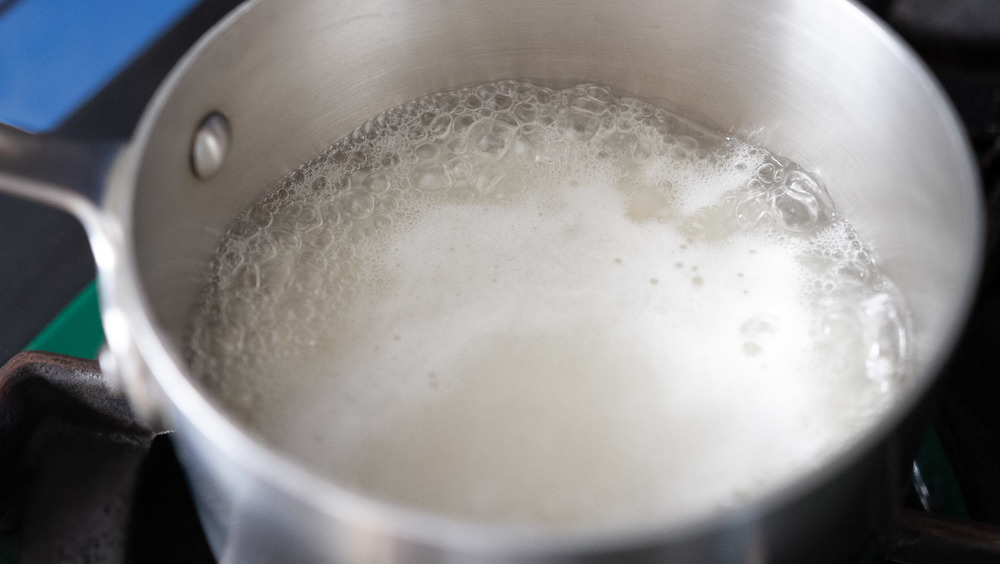 Cindy Chou/Mashed
The only thing that's cooked in a traditional sense in this recipe is the rice. The easiest way to make the rice for your poke bowls is to cook it in a rice cooker, assuming you have one. If you don't have a rice cooker handy, cooking on the stovetop works just as well.
Chou uses short-grain white rice for this recipe. You want your rice to be the correct texture to do this recipe justice, so make sure to select short-grain rice and also to wash it before cooking.
"Washing the rice is an important step to remove surface starch from the grains," says Chou. "If you've ever had mushy rice that sticks together, it might be because the rice wasn't rinsed well before cooking. Cooked unwashed rice lacks the satisfying texture you should get with short-grain white rice."
By the way, washing rice isn't just for poke recipes. In fact, washed rice often has the best texture for many dishes, depending on the kind of rice you're using.
Cut veggies for the poke bowl and make garlic chips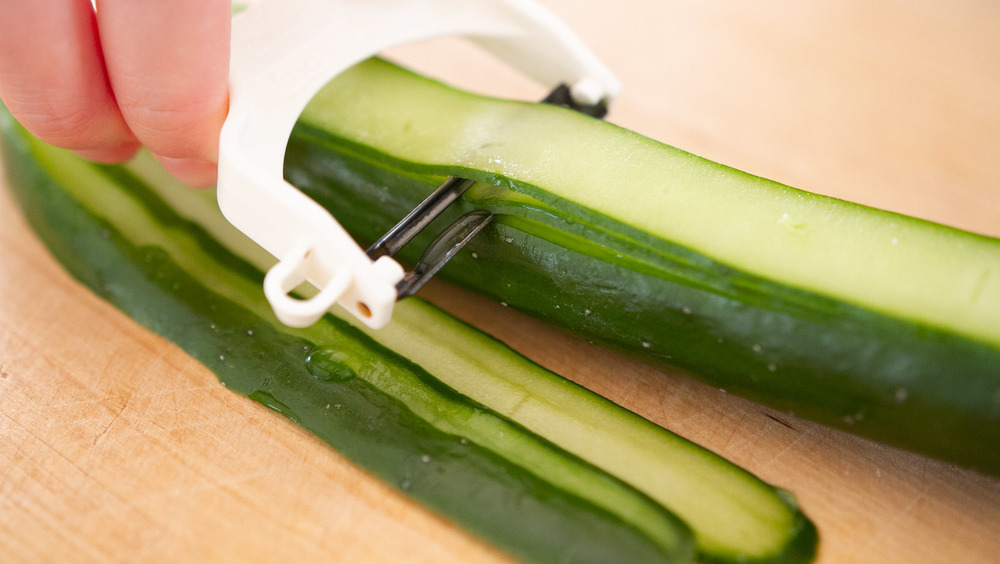 Cindy Chou/Mashed
The best poke has a balance of bite-sized ingredients, so take the time to cut your veggies appropriately. A quarter of a medium-sized onion, cut into thin slices, will produce about a third of a cup. Meanwhile, the scallion tops from three scallions should be sliced thin for the garnish. Slice the Japanese cucumbers lengthwise into thin ribbons. A vegetable peeler is the easiest way to get the delicate slices necessary. For the watermelon radish, peel two radishes and then thinly slice them.
For the garlic, thinly slice two cloves. Add them to a small skillet with canola oil and heat over medium-low heat, stirring the garlic occasionally until it's lightly golden. This should take about 5 minutes. Put the garlic chips on a paper towel and season them with salt. "Garlic chips are a lot milder in flavor compared to fresh garlic," Chou says. "It adds a nice crunchy texture without overpowering the poke."
Cube your ahi tuna for the poke bowl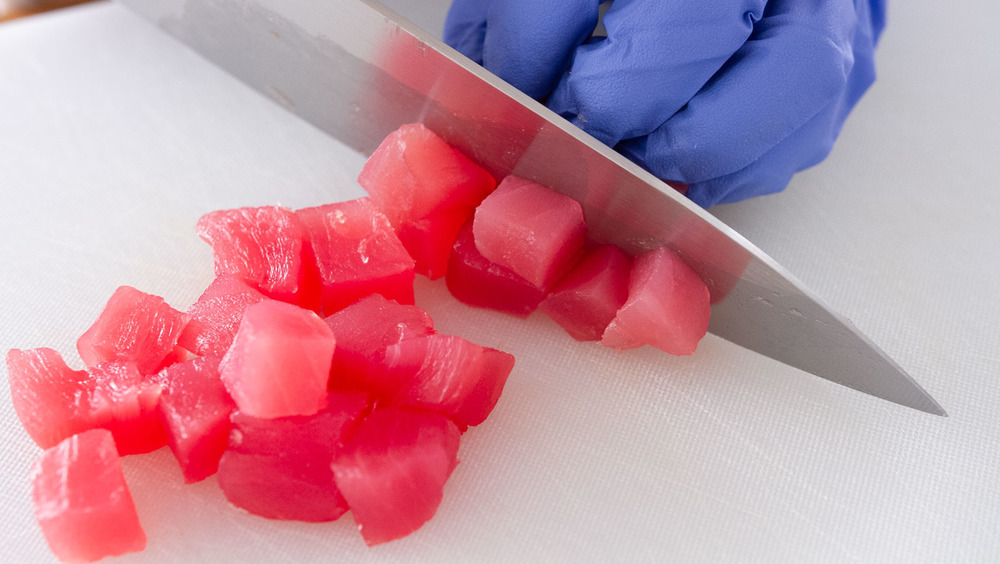 Cindy Chou/Mashed
After you take your tuna out of the fridge or off the ice, you will cut the fish into cubes. This is similar to cubing other types of protein, but you will want to make the cubes look as even and as pretty as possible. This preparation method will also help to maintain the fish's fresh flavor. For that, you will need to take extra care not to damage the cut of fish.
"Use a sharp sashimi or chef's knife and slice the fish fillet with a backward motion, making a single stroke with each cut if possible," Chou says. "This causes less damage to the fish, preserving the flavor and aroma. Slicing fish for sashimi is an art that takes years to master and cutting fish for poke is a great way to practice."
Once you have your fish cubed, put it back in the refrigerator until just before you're ready to use it.
Mix your ingredients for the poke bowl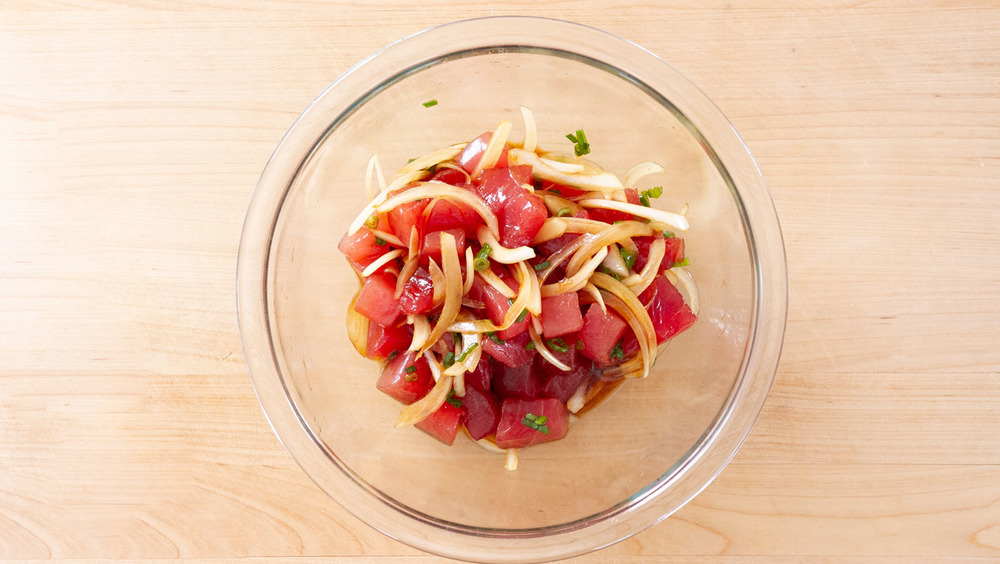 Cindy Chou/Mashed
Once you have all of your ingredients cut down to the right size, it's time to add the sauces and mix some of the ingredients together. First, pat the cubed tuna dry with paper towels if there's any liquid. Then, grab a medium-sized bowl and add the cubed tuna, sliced onions, and scallions. On top of that, add a quarter of a cup of soy sauce and two teaspoons of sesame oil. Gently toss the whole mix with a spoon to combine everything and evenly coat the ingredients. If it's not ready to be plated, be sure to pop it back in the fridge until you are ready to use it.
Chou specifies that you should use shoyu, which is a type of Japanese soy sauce. Shoyu is typically made with a mix of soy and wheat as opposed to Chinese soy sauce, which is usually made with 100 percent soy, according to Eater.
"Shoyu is soy sauce in Japanese," Chou says. "I mention 'shoyu' next to soy sauce in the ingredients list to show that 'shoyu ahi poke' means ahi poke seasoned with soy sauce."
Plate your poke bowl and enjoy right away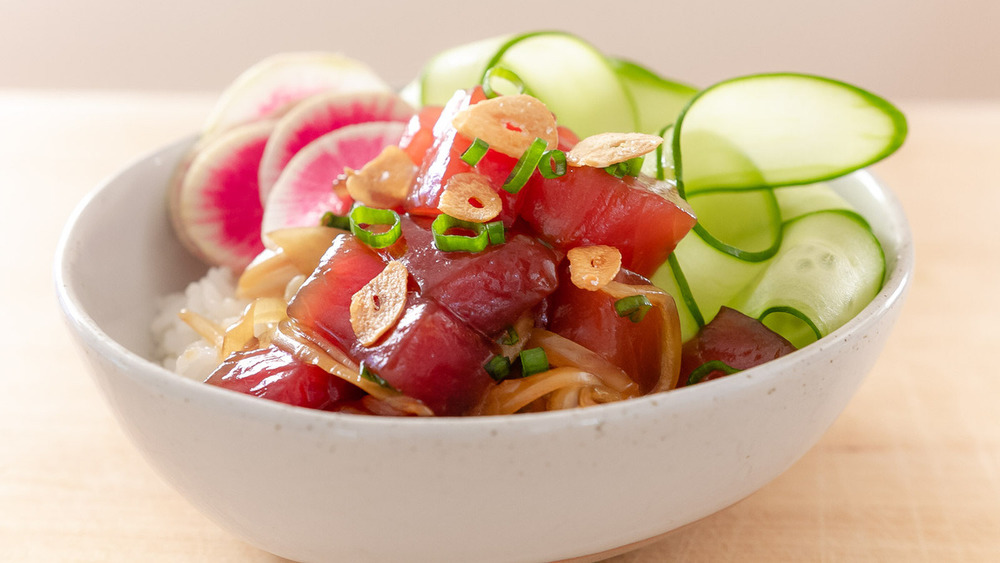 Cindy Chou/Mashed
Now that all the vegetables are sliced, the fish is cubed, the sauces are mixed, and the rice is cooked, all that's left to do is assemble your poke bowl. Start by putting rice on the bottom of a bowl. Add the shoyu ahi poke mix on top along with the cucumber ribbons and the thin slices of mild watermelon radish. Add the garlic chips to the top, then garnish with the scallions.
The exact look of your poke bowl may differ from person to person because everyone likes their ingredients ratio a little differently than the next diner. Feel free to play around with exactly how much of each is included in your own bowl.
"I like to use about 3/4 cup cooked rice with equal parts poke and then fill out the bowl with the cucumber ribbons and radish," Chou says. "The best part of making your own poke bowl is you can customize it to your preferences or what you're in the mood for."
Easy Homemade Poke Bowl Recipe
A poke bowl is a Hawaiian dish made up of raw fish, rice, and fresh vegetables. With this recipe, you can now have delicious homemade poke whenever you like.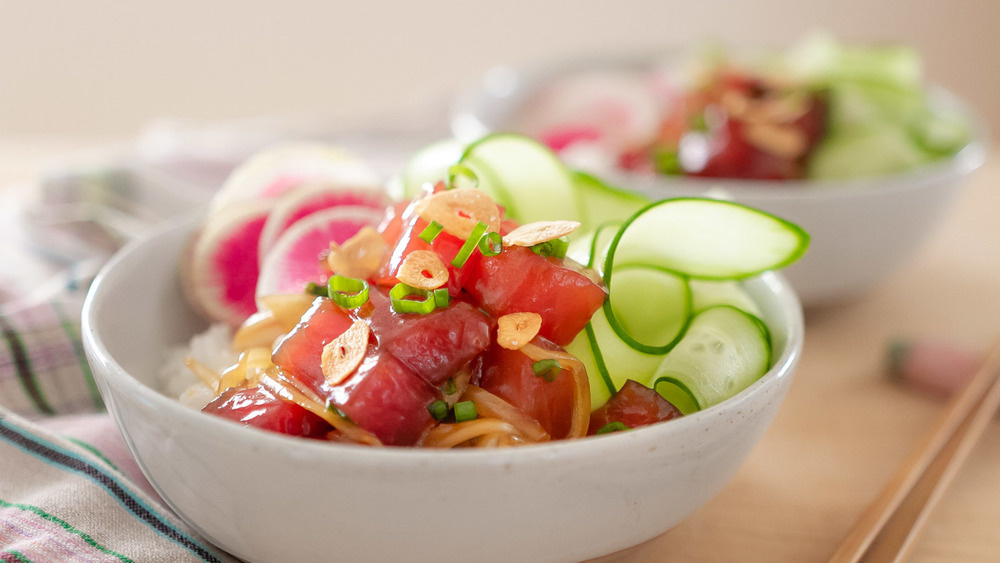 Ingredients
1 cup uncooked short-grain white rice, rinsed 3 times with cold water and drained well
1 ¼ cup water
1 pound yellowfin tuna steak, sushi-grade, cut into ¾-inch cubes
⅓ cup thinly sliced yellow onion (about ¼ medium onion)
½ cup sliced scallion tops (from about 3 scallions)
¼ cup soy sauce (or shoyu)
2 teaspoons sesame oil
2 tablespoons canola oil
2 cloves garlic, peeled and thinly sliced
⅛ teaspoon salt, kosher
2 medium Japanese cucumbers (or Persian or English cucumbers)
2 medium watermelon radishes, peeled and thinly sliced
Directions
Cook in a rice cooker by combining the rinsed rice and water, cover, and cook according to your device instructions. To cook on the stovetop, place rice and water in a small saucepan and cook over medium-high heat. Bring to a boil, then immediately cover and turn the heat down to low. Cook for 15 minutes.
Pat the tuna dry with paper towels if there's any liquid. In a medium bowl, combine cubed tuna with the onion, scallions, soy sauce, and sesame oil. Gently toss with a spoon to combine and set aside in the refrigerator while you prepare the other ingredients.
To make cucumber ribbons, use a vegetable peeler and shave the cucumbers lengthwise into long, thin ribbons.
Line a small tray or plate with paper towels. In a small skillet pan, add the canola oil and sliced garlic. Heat over medium-low heat while stirring occasionally until the garlic turns lightly golden (about 5 minutes). Transfer garlic chips to the paper towel-lined plate and season with salt.
To serve, add rice to the bottom of 4 bowls and top each bowl with cucumber ribbons, sliced watermelon radish, and the shoyu ahi poke. Top with garlic chips and enjoy immediately.
Nutrition
| | |
| --- | --- |
| Calories per Serving | 420 |
| Total Fat | 10.4 g |
| Saturated Fat | 1.2 g |
| Trans Fat | 0.0 g |
| Cholesterol | 44.2 mg |
| | |
| --- | --- |
| Total Carbohydrates | 46.7 g |
| Dietary Fiber | 1.2 g |
| Total Sugars | 3.3 g |
| Sodium | 1,005.4 mg |
| Protein | 33.4 g |