These Pork Rinds Have Costco Fans Divided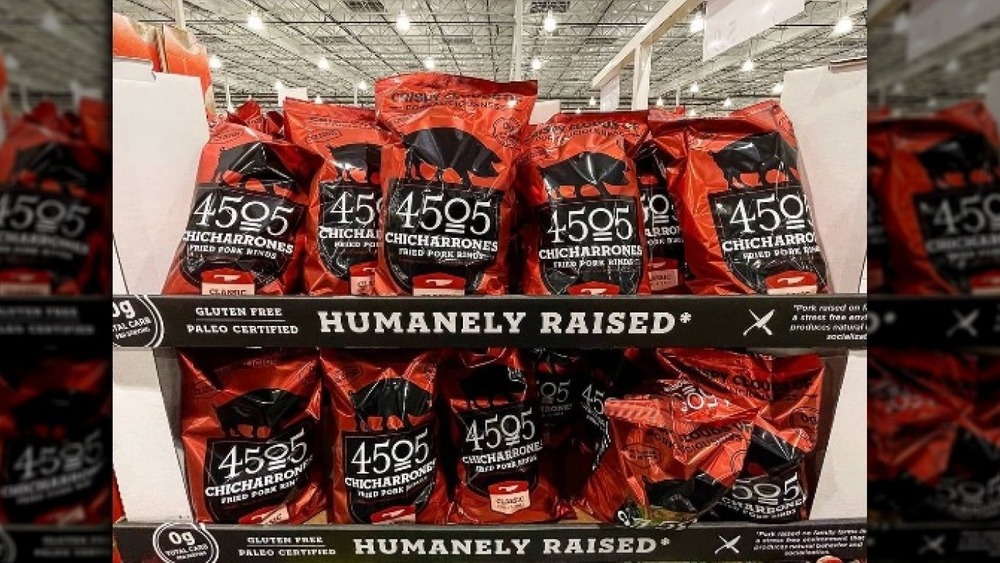 Pork rinds have tempted taste buds for centuries, and their appeal hasn't slowed down. According to The New York Times, the snack may have originated in Mexico two centuries ago, after the Spanish introduced pigs to the locals, while the snack continued to develop in the American South as an ingredient in eggs and cornbread. Fast forward to present-day America, and we still can't get enough of these crispy pork snacks. Costco comes as the latest brand who has jumped on the pork rind bandwagon, but not everyone has gotten on board.
In a recent post from Instagrammer @costcodeals, the user posted a picture of a rack stocked full of Costco's 4505 Chicharrones pork rinds with the caption "Classic Chili and Salt flavor Chicharrones are on sale right now in this month's January Costco Savings Book for $2 off now only $4.79 for a huge @Costco sized bag! #Deal ‪ends 1/24! Available nationwide!" According to the post, these snacks were created by chef and butcher Ryan Farr, come from sustainably raised pork, stand as the only antibiotic-free pork rind available, and fit perfectly into paleo, keto, and gluten-free diets. On the surface, these snacks seem like a no-brainer to pick up, but despite the fact that the post has collected over 1,800 likes, Costco patrons appear split over the product.
What are Costco shoppers saying?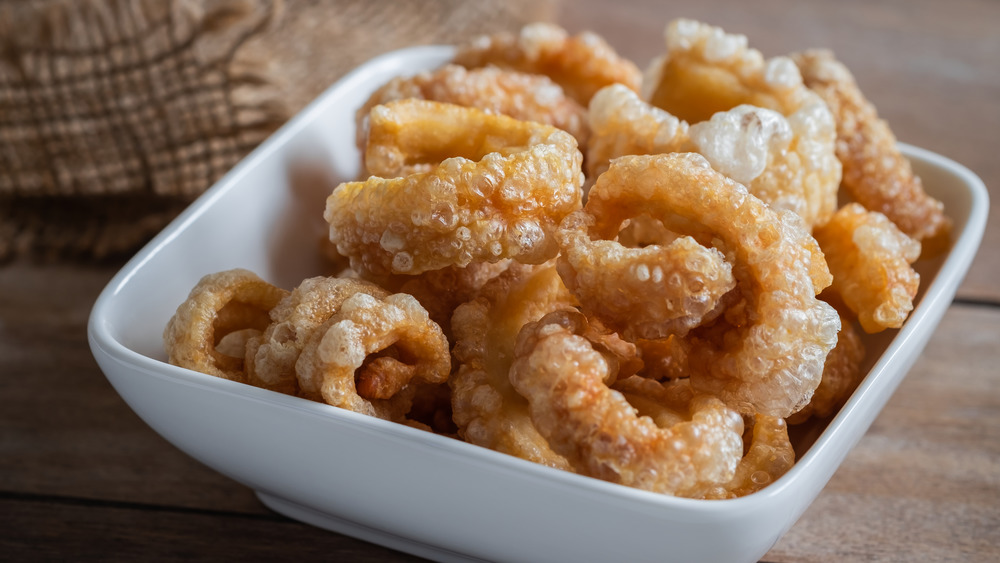 Shutterstock
Some shoppers can't get enough of these new snacks, with positive comments coming in like "these are bomb and keto," and "love these!" While a solid portion of Instagram users applauded the find, others don't find these snacks so wholesome. The product left some very negative impressions of shoppers with an equal amount of poor comments like "The brand you find at the gas station is wayyyyy better.... these don't taste like anything, literally... crunchy air" and "Humanely Raised. Savagely slaughtered" peppered into the post's feed (via Instagram).
If you feel turned off by the number of negative comments on the post, don't assume Costco doesn't have any other pork rind options available. According to Instacart, Costco also sells Utz pork rinds alongside the 4505 pork rinds, giving you some options next time you feel an urge to snack about to hit. Keep an eye peeled next time you visit your local Costco for these new pork snacks. If you happen to grab a bag, you can weigh in on the debate!