Caramel Apple Funnel Cake Recipe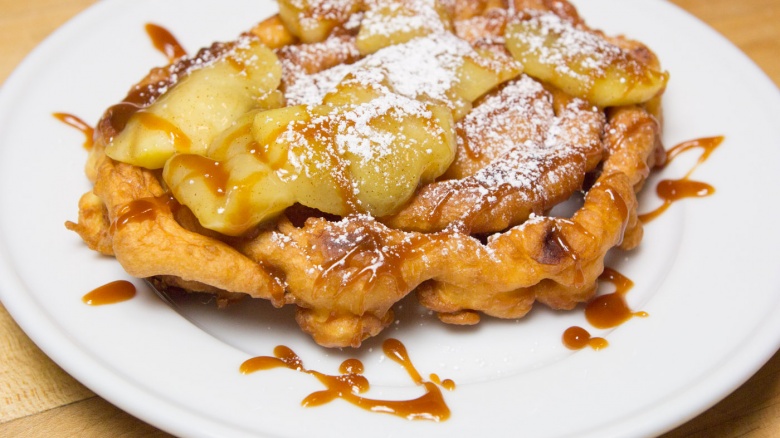 Prep time: 20 minutes. Cook time: 30 minutes. Servings: Makes 2 funnel cakes.
In the interest of full disclosure, I admit that I cannot go to a state fair without participating in all the activities. When I say "all," I mean I must ride on roller coasters, shoot darts, and consume unseemly amounts of funnel cake. Luckily for my waistline, I don't really frequent state fairs. Oh, but when I do ... mmmm. Apparently, cloyingly sweet and sugary fried dough is my Achilles heel. Huh.
According to Serious Eats, the history of funnel cake is slightly unclear, even though many believe it originated with German immigrants in Pennsylvania. This addictive dessert gets its name from the funnel used to pipe the dough into the hot oil. It's really kind of genius if you ask me. Note to self: thank the Germans for my favorite sugar high.
While funnel cake is traditionally garnished with copious amounts of confectioner's sugar, this take on the nostalgic favorite goes in a more seasonal route. Inspired by the flavors of fall, these babies are topped with soft, warmly spiced apple slices and a generous drizzling of salted caramel. Dust lightly with sugar if you're a traditionalist at heart. I can picture you nodding your head vigorously. You're with me, right?
Ingredients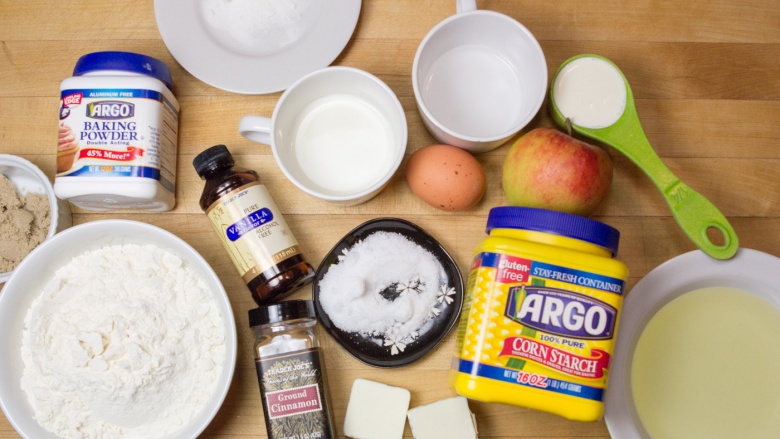 Shopping list
For funnel cakes:


1 large egg


1 tablespoon plus 1 ½ teaspoons granulated sugar


½ cup whole milk


½ cup water


¼ teaspoon vanilla extract


1 ½ teaspoons baking powder


¼ teaspoon kosher salt


1 ½ cups all-purpose flour


canola oil for frying




For apple:


1 medium tart apple


1 tablespoon unsalted butter


½ teaspoon cornstarch


2 tablespoons cold water


2 tablespoons packed light brown sugar


⅛ teaspoon ground cinnamon




For salted caramel:


½ cup granulated sugar


3 tablespoons salted butter


¼ cup heavy cream


¾ teaspoon kosher salt


confectioner's sugar for serving (optional)




Equipment list


large heavy skillet


oil thermometer


funnel or large resealable plastic bag


medium pan


medium pot




Make funnel cakes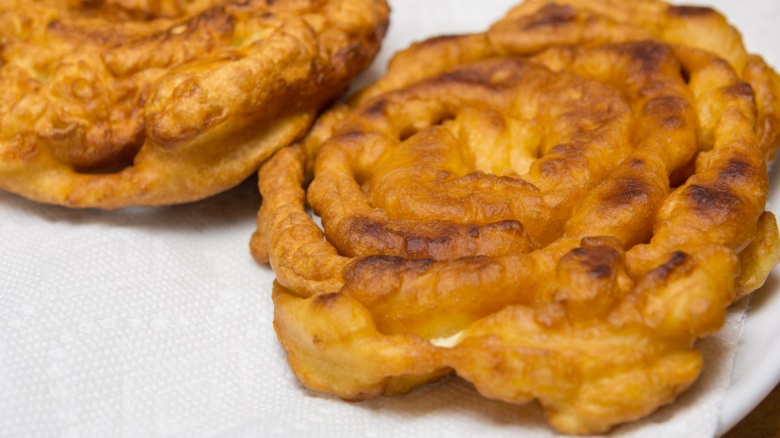 In a large bowl, whisk together the egg, sugar, milk, water, and vanilla extract. Add the baking powder, salt, and flour and whisk until the mixture is fully combined. Heat about 1 inch of canola oil in a large heavy skillet until the temperature is between 350° and 375°. Meanwhile, grab your funnel or cut the tip of one corner of the resealable plastic bag. Fill it with the batter, making sure to hold the opening closed until you're ready to fry. Carefully pipe the batter into the prepared pan in a single layer in whatever pattern you desire. Fry until the cake is golden on the bottom, 1-2 minutes. Flip it and continue to fry until the cake is golden all over, about 1 minute more. Transfer the cake to a paper towel-lined plate to drain and repeat the frying steps with the remaining batter.
Cook apple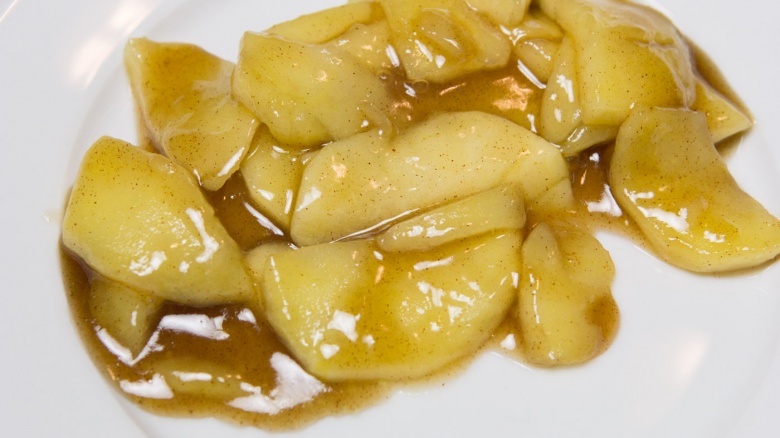 Peel the apple and cut it into ¼-inch slices, discarding the core. Heat the butter in a medium pan over medium heat. When the butter is foamy, add the apples and cook, stirring, until the slices are almost tender, 2-4 minutes. Meanwhile, in a small bowl, stir together the cornstarch and the water until the cornstarch is dissolved. Add the mixture to the pan with the apples along with the brown sugar and cinnamon. Cook, stirring, until the flavors are melded, about 1 minute. Transfer to a plate and set aside.
Make salted caramel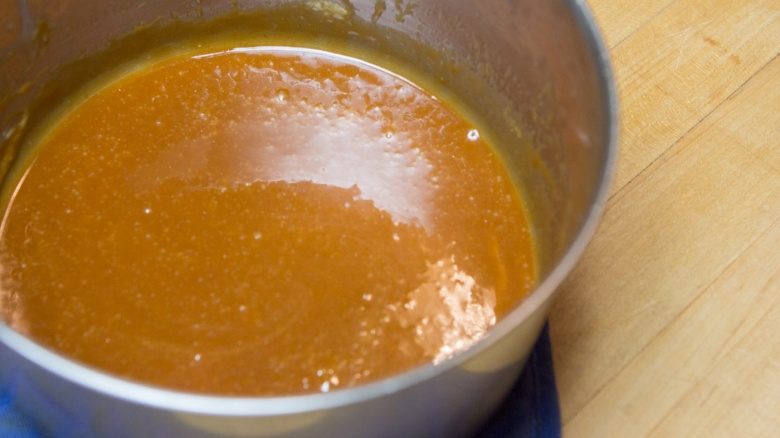 Heat the sugar in a medium pot over medium heat, stirring continuously, until the sugar is melted. Immediately add the butter and stir until it is completely melted. Slowly drizzle in the heavy cream and let it boil for about 30 seconds. Remove the pan from the heat and stir in the salt. Set aside to cool for a few minutes before using.
Serve funnel cakes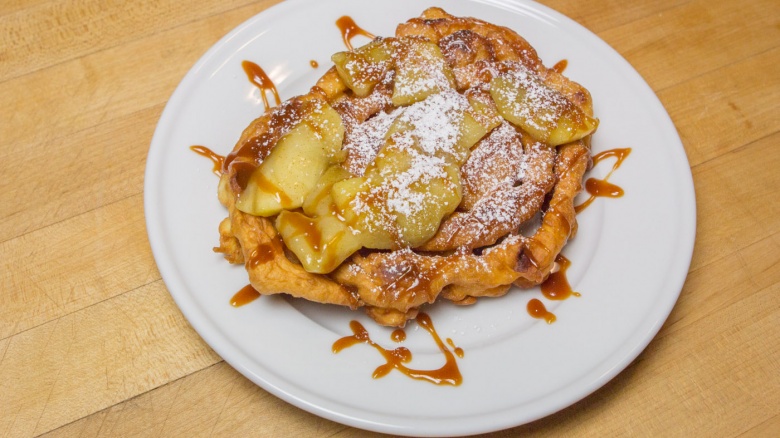 Arrange the cooked apple slices atop the funnel cakes and drizzle the salted caramel over everything. Dust with the confectioner's sugar if you like and enjoy like you're at a state fair.