Aldi's Frozen Burritos Are Turning Heads
There aren't many places where you can get a filling and flavorful meal for under $2. But Aldi, the discount market that never fails to deliver on both the taste and the savings, is that place. The store has recently started carrying Whole and Simple burritos, which are a healthy, packed with flavor, and the best part is, they are priced at just $1.99 each.
Aldi is stocking two different flavors, the Chicken, Cilantro, and Lime, and the classic Steak and Cheddar burrito. Per Aldi Reviewer, the chicken burrito comes has brown rice and black beans and is stuffed full of veggies like tomatillos, corn, and red bell peppers, with white cheddar cheese to top it off. The steak burrito has pinto beans, brown rice, and yellow corn, and is oozing with both mozzarella and cheddar cheese.
The steak burrito packs a whopping 15 grams of protein and 11 grams of whole grains into just one serving. While the chicken burrito has slightly less protein at just 12 grams, it does have seven more grams of whole grain than the steak, and both burritos steer clear of added hormones and artificial flavors and colorings.
Aldi customers raved about these burritos on Instagram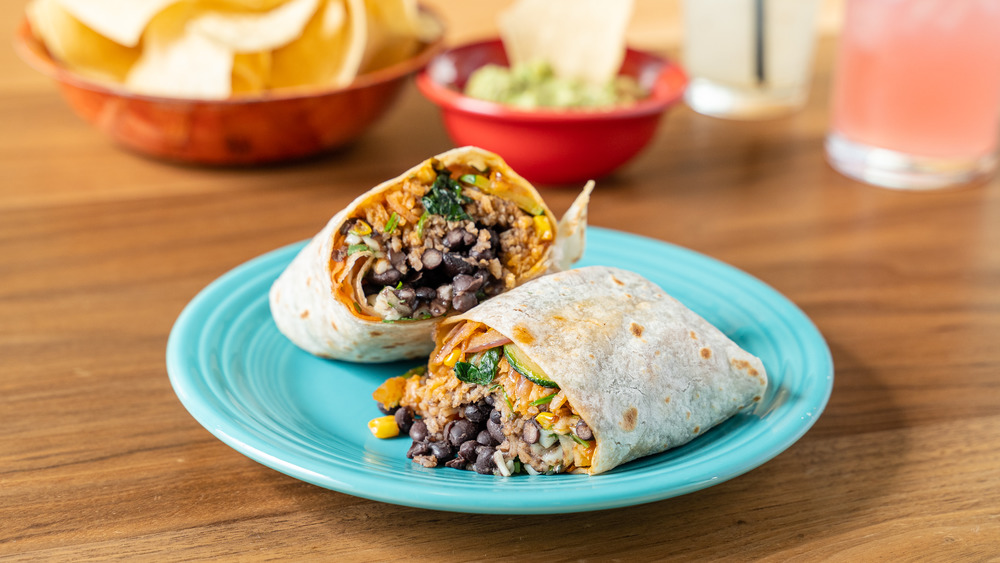 Shutterstock
The Instagram account @aldifavoritefinds posted about the find, asking their followers the most important question of all: "Are you a chicken or steak burrito kind of person?" While their unofficial poll seemed to show chicken just eeking out a win over the steak, the steak is certainly no slouch. To the contrary, Instagram user @brooke.edmisten, announced: "20/10 on the steak! So good! I want them to stay!"
It seems more people bought the chicken variety, perhaps because it has just slightly fewer calories than the steak. According to Aldi Reviewer, the chicken flavor comes in at just 290 calories per burrito, while the steak is 320 calories.
However, overall the result seems pretty unanimous. Aldi customers can't seem to get enough of both of these burrito flavors. Follower @kdista83 simply announced, "These are so good!!" while @pattycakes3691 celebrated: "Bought one of these today can't wait to try it!" User @amdurkin raved: "Just snagged more of these. I grabbed two last week for my boyfriend to try out and now he's obsessed. Aldi win!"