Everything You Need To Know About Making Perfect Latkes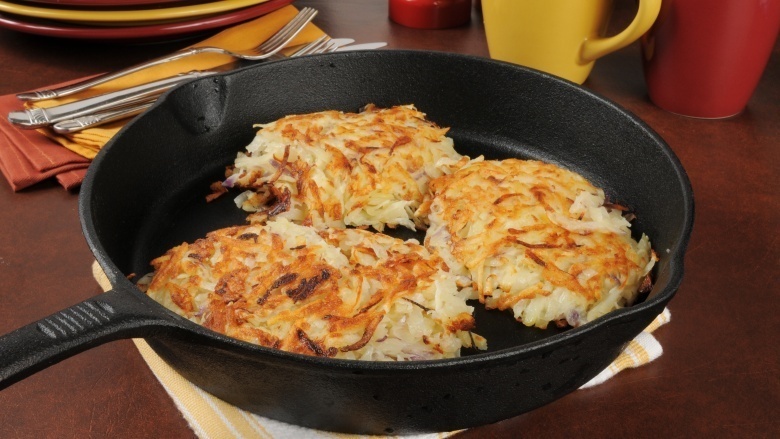 Shutterstock
The winter holidays bring many wonderful things, particularly food. If you're observing Jewish holidays or simply enjoying Jewish dishes, you might find your table covered in delectable sufganiyot (jam or custard-filled doughnuts), crispy potato cakes called latkes, tender brisket and rich noodle kugel. This fried Jewish specialty is charmingly rustic in its makeup, wonderfully textured due to the use of grated potatoes, and deeply flavorful. During my college years and in my early 20s when flying across the country for Christmas every year was cost-prohibitive, I often joined my Jewish friends and their families to celebrate Hanukkah. From those warm experiences, I thankfully observed that no table was complete without a heaping plate of latkes.
A whole latke history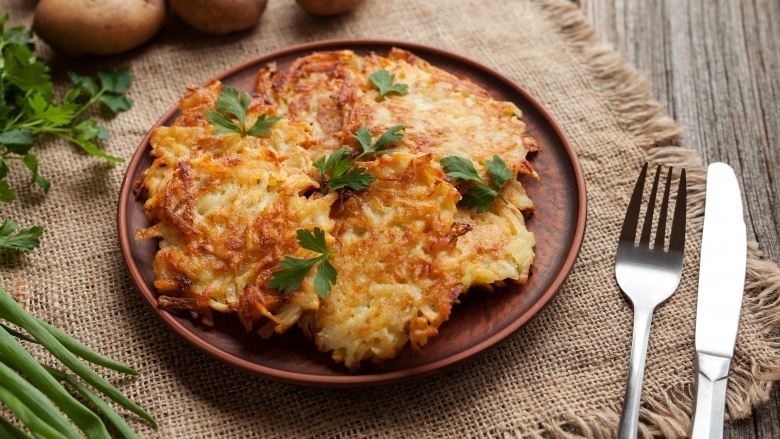 Shutterstock
Sure, Christmas attracts a lot of attention once December rolls around, but what about Hanukkah, which is also referred to as the Jewish Festival of Lights? With its rich historical origins and memorable traditions, this special holiday deserves more oohs and ahhs than it gets. Celebrated over eight days in November or December to commemorate the Maccabean rebellion against Greek-Syrian oppressors, Hanukkah is observed by way of traditional foods and games as well as symbolic rituals.
Following the Jewish uprising, the Maccabees sought to renew hope and energy by rededicating the Second Temple in Jerusalem, which had been desecrated during the struggle. With only enough sacred oil to keep the candles on the candelabrum lit for a single night, they somehow managed to remain lit for eight days. As a result, Jews celebrate the eight days of Hanukkah by eating fried foods to memorialize the miracle of the temple oil. Good thing they did.
The anatomy of a latke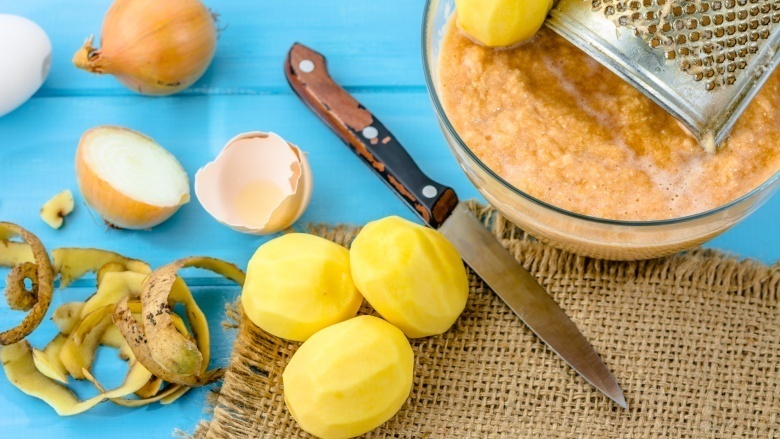 Shutterstock
Latkes are simple, delicious little things, but they are difficult to make the first couple times. I'll explain why later. To start with, it's crucial to understand the anatomy of a latke, the nitty gritty stuff. What is it? More importantly, what is it not? What are the ingredients? Once you get a handle on the premise of the latke, the rest comes a whole lot more easily.
Yes, a latke is made using potatoes, but it isn't a potato pancake, nor is it a hash brown. A potato pancake is soft, smooth, and creamy in the center with a crisp exterior. And a hash brown is cooked until it has achieved an incredibly deep, dark golden color and burnt crispness on the outside, while the inside maintains just a tiny bit of softness. Neither of these groupings of qualities define a latke.
No, a latke in its truest form is fried until its color is browned to the max, becoming crispier at its edges — edges that fan out into thin, brittle wisps. The interior? Think soft and fat with still-discernible pieces of grated potato. I'd choose latke over run-of-the-mill potato pancakes and hash browns any day.
Latke ingredients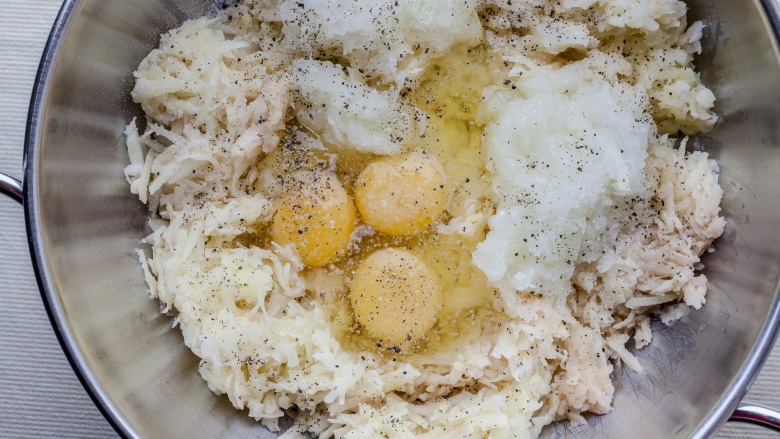 Shutterstock
Now that we've gone over what latkes are, let's talk ingredients. There are three primary components: the potato, the onion, and the binder. The first two are easy enough to understand. Use russet potatoes. They are cheap and perfect for frying. Since texture is desired, you don't even need to peel them. Simply throw in some elbow grease and scrub them well during rinsing, then grate away. A white onion is fine, but a Spanish onion lends more flavor. Don't go red, though. Red onions possess a flavor that's too overwhelming for such a streamlined dish. For the binder, you can use just egg, but your latkes may end up soggier than the burnished, crispy ideal. Your best bet is to combine egg with potato starch and matzo meal for optimum texture and flavor.
As for frying oil, use a neutral one such as canola or peanut, both of which have high smoke points to boot. Don't be shy about using a generous amount depending on the size of your pan.
The right latke tools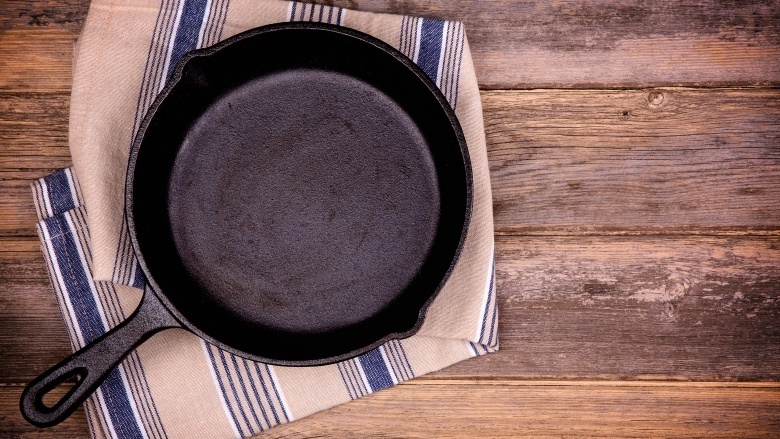 Shutterstock
Now that we're on the same page with ingredients, let's go through what equipment you'll need. For times like these when you want your cooking vessel to retain heat, pull out the reliable, trusty cast-iron skillet. It promises to help you achieve the coveted deep brown, crispy crust. Next you'll need a box grater for turning your russets into lovely, starchy strands. This last item isn't absolutely necessary, but I recommend it. Get a cheesecloth. While you can use paper towels to absorb and wring out all the excess moisture from the latke mixture, they tend to get soggy and fall apart pretty quickly. A cheesecloth allows to you really work that liquid out without going through all the household paper products.
Latke prep techniques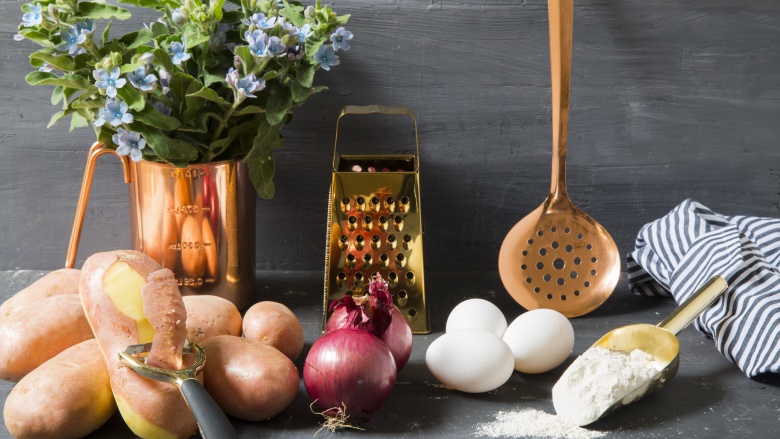 Shutterstock
Starchiness is highly desirable in latke-making. It helps bind the mixture together. However, excess moisture will prevent your latkes from frying up nice and crisp. The answer? Wring the liquid from the grated potato into a bowl and place the drained strands in a separate bowl with the chopped onion. When you're finished, allow the drained water to sit until the light-colored potato starch has separated from the brownish water. Discard the water, then reincorporate the starch into the potato mixture.
Determine the size of your latkes based on the occasion for which you are serving them. If they are meant as a more substantial part of the meal, you can form them into larger, thicker disks about the size of burger patties. If you're serving your latkes as an appetizer at a party, you can turn them into small, slightly flatter rounds. Adjust the cooking time, but they'll be tasty in either size.
Latke cooking techniques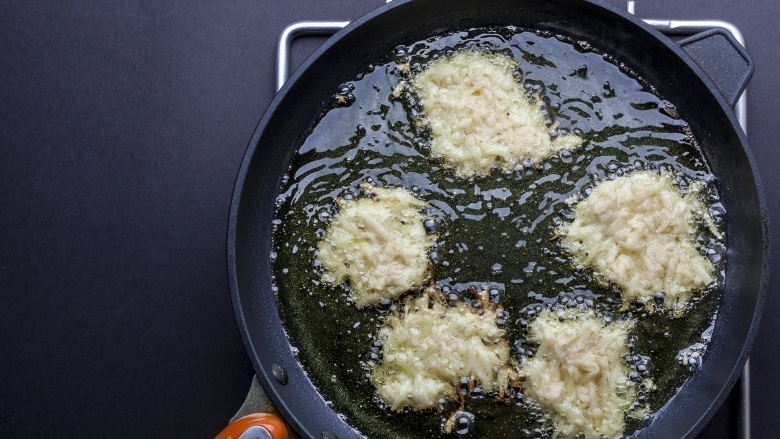 Shutterstock
Fill the skillet with oil so that it covers the latkes at least halfway up. Heat the oil over medium-high heat until it feels hot when you hover a hand above the pan. As with pancakes, crepes, or any other finicky pan-fried food, start with one latke to determine if the heat level is on point. This sacrificial latke also allows you to taste and adjust the seasoning as needed.
Lastly, be sure to put a little space between each latke in the pan, lest they reach out for each other and form one giant latke. (Although this wouldn't be such a tragedy.) And flip and move them around every now and then so the hot spots hit every latke.
Dips to accompany your latkes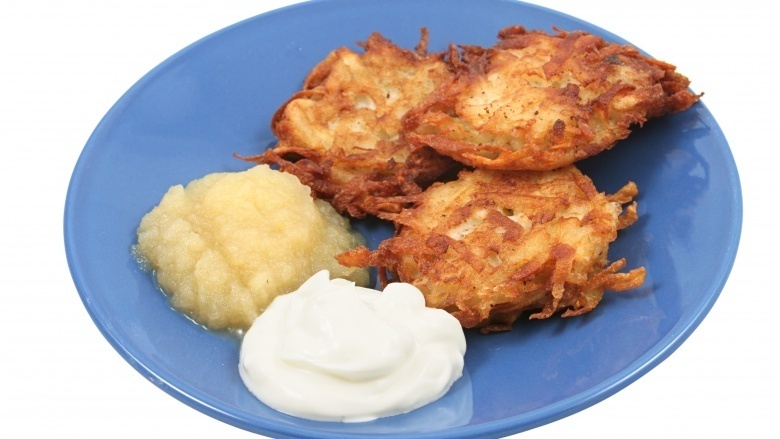 Shutterstock
Latkes are traditionally served with applesauce or sour cream alongside. I like to get both into the mix at once. The savory latke tastes heavenly with a touch of cool, tangy cream combined with the subtle sweetness of applesauce.
If you want to make your own applesauce, go for it! Easy stuff. I like Ree Drummond's recipe for its bare bones simplicity. Plus it tastes pretty dreamy by itself.
Latke recipes to try this season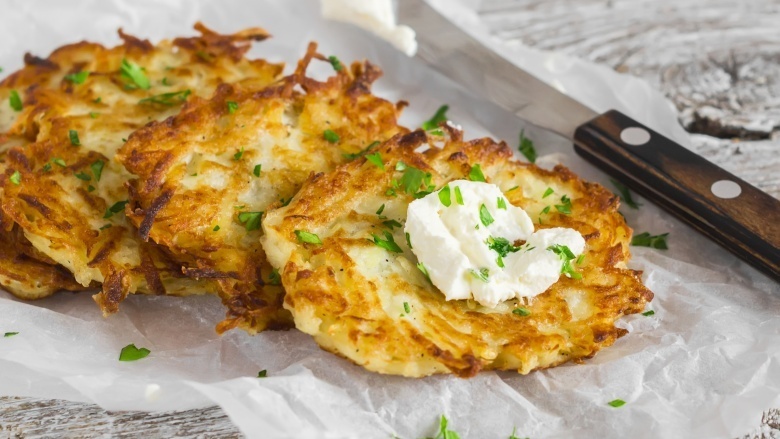 Shutterstock
For classic latkes, try using Tori Avey's traditional recipe. It's a great starter recipe that gives you plenty of room to experiment for yourself. She opts for Yukon Gold potatoes instead of russets, which you may prefer. Tori also suggests a food processor for grating the potatoes, but you can certainly grate them manually. In short, this recipe gives you a solid place to start your latke-making adventure.
If you want to make sure gluten-free guests don't miss out on Hanukkah latkes, check out this recipe from Jesse Lane Wellness. The binder for these combines egg with rice flour, while retaining the grated potatoes and onion. The result is crispy on the outside and soft on the inside. These are ideal for the holiday season or as a snack any day. You'll never even miss the gluten.
If you regularly use the word "brunch" as a verb, then this recipe from What Jew Wanna Eat is for you. This Hanukkah-inspired take on eggs Benedict tops classic latkes with delicately poached eggs and creamy hollandaise sauce accented with fragrant dill. You'll be mesmerized as soon as you break that beautiful soft yolk and it spills over the crisp potato beds, mingling with smooth, decadent hollandaise.
Even more latke recipes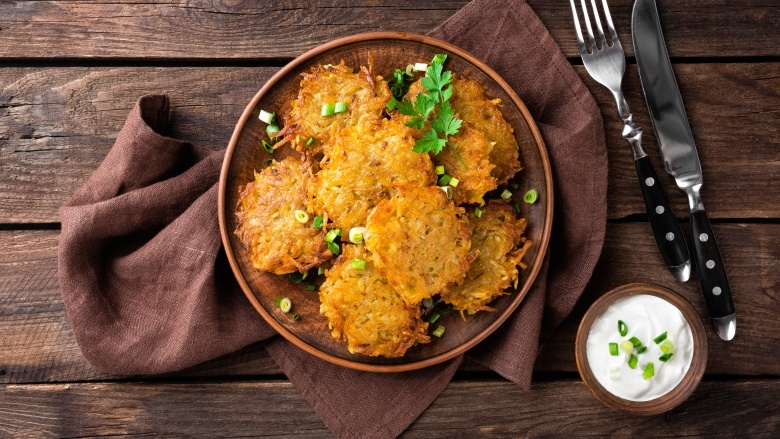 Shutterstock
If you're a nonconformist, you'll love this cheesy, veggie-forward take on latkes from The Kitchen Alchemist. They are wickedly rich from the generous use of dairy. Yogurt, Parmesan and Edam cheeses, and eggs work together to bind the carrots and courgettes that are used in place of potato. While these latkes might have some traditionalists pulling their hair out, you'll find the results surprisingly good.
If you thought the last recipe was nuts but intriguing, you ought to try this recipe from The Iron You. It's a perfect holiday season mashup of turkey burger and latke. Sweet potato latkes serve as the buns for tender turkey burgers topped with Thanksgiving staples such as cranberry sauce and gravy. While this dish might seem bonkers, the combination of flavors play surprisingly well together.
While latkes are the traditional food of Hanukkah, there's nothing written to prevent you from enjoying them whenever you want to. Once you whip up a few batches, you can take your confidence and run with it, adding your own special touches to this crispy fried favorite.