Costco's Massive Fudge Brownies Are Turning Heads
It's the middle of winter, the time of year when many people began to feel dreary and a little down, but Costco's bakery department now has the perfect pick-me-up to help their customers get through the winter months. The wholesale market has just released the mother of all desserts in the form of their Decadent Fudge Brownie, which is packed with almost four pounds of fudgy, chocolatey goodness. According to social media, these brownies are seriously giant and seriously delicious.
@costcobuys wrote on their Instagram account: "How incredible do these HUGE 60oz fudge brownies look?! They're definitely new to Costco... I seriously cannot WAIT to try!" Some lucky followers had already gotten the chance to sample this new treat, and they couldn't get enough. The Instagram user @zig_zaggin raved: "Had em already. Can confirm they're bomb af. Super moist. So moist they need to be refrigerated. Bombbbbb."
But shoppers are also warning that this giant brownie is rich. User @bpfef said, " I'm a chocoholic and this was RICH. Top tastes like brownie mix," and @rodchepe agreed, posting: "It's Crazy Delicious rich rich chocolate flavor !!" There's no denying Costco's Decadent Fudge Brownie certainly lives up to its name. The top is covered with fudge icing, topped with brownie crumble, and the whole thing is drizzled with extra milk chocolate sauce to finish it off.
Costco's Decadent Fudge Brownie is perfect for sharing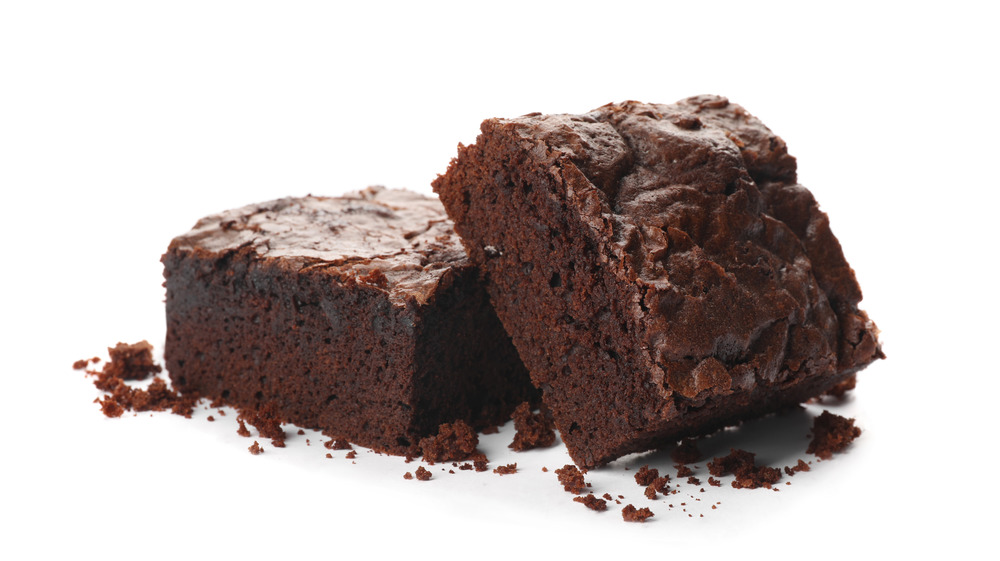 Shutterstock
User @hapa_meli did warn "they aren't sliced which means it's just one brownie." Regardless, this decadent treat is definitely meant for sharing. At 60oz of rich, gooey chocolate, it's certainly more than any one individual can consume on their own, no matter how much of a chocolate fan they are. In fact, user @andismom072501 was a fan of the treat, but cautioned shoppers to be mindful of their serving size, saying: "So so rich! Need milk! And whatever size you cut for yourself, cut it in half and put half back. The family also says to heat it up a bit, they said it tastes phenomenal!"
There is certainly plenty of sugar, butter, and corn syrup in the ingredients (via Reddit), so it's best to enjoy in moderation or share with friends. At well over three pounds of brownie, this sweet treat is certainly big and tasty enough to serve a whole party, and it's cost-effective, too. All that decadence is only $12.99, which is far cheaper than the average birthday cake.
So whether you're celebrating a special occasion or your family is simply in need of a rich, chocolatey pick-me-up to share, this brownie is worth the buy – just don't forget to pick up a carton of milk to go along with it.