Boston Market Just Entered The Chicken Sandwich Wars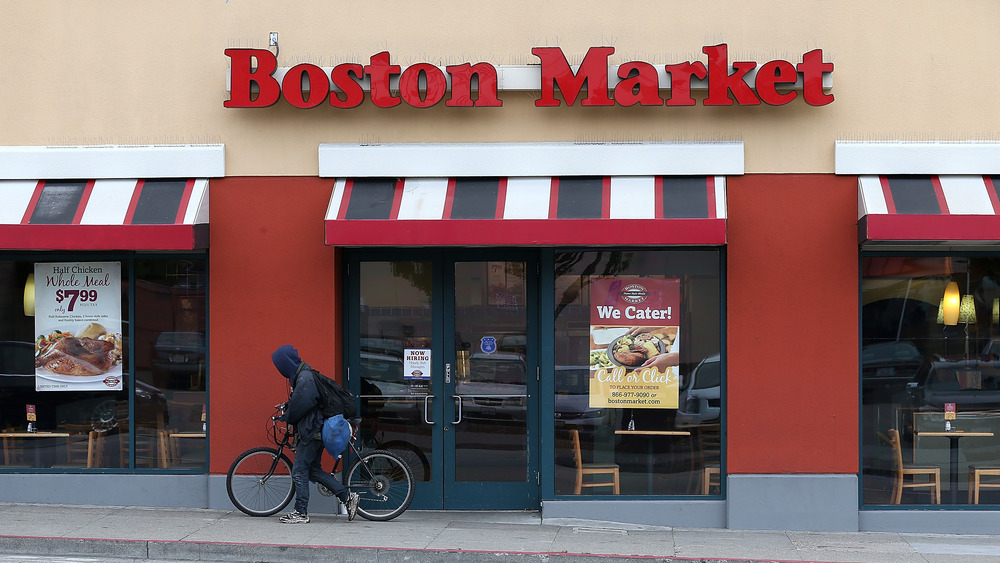 Justin Sullivan/Getty Images
If you thought the chicken sandwich wars had ended in 2020, buckle up — 2021 has only reached week three, and the conflict has escalated to new heights! According to Delish, KFC rolled out a chicken sandwich that the brand claimed as its "best ever" and three days ago, Taco Bell announced their plans for an entry to the fast food battle with their own take on chicken (via Fox News). If that can't make your head spin, just wait until you hear about the latest challenger who hopes to claim the title of best chicken sandwich!
According to QSR Magazine, Boston Market has launched their new Nashville Hot Crispy Chicken Sandwich, a meal seasoned with cayenne pepper, chili powder, secret spices, sugar, and garlic and served on a brioche bun with pickles and ranch dressing. The new menu item comes with two sides and cornbread, and you can even order it rotisserie-style! The new sandwich comes alongside the release of a new Crispy Chicken BLT Sandwich and Crispy Chicken with White Gravy meal, making this a great time for chicken-lovers over at Boston Market.
Boston Market is a dark horse contender to win over fried chicken fans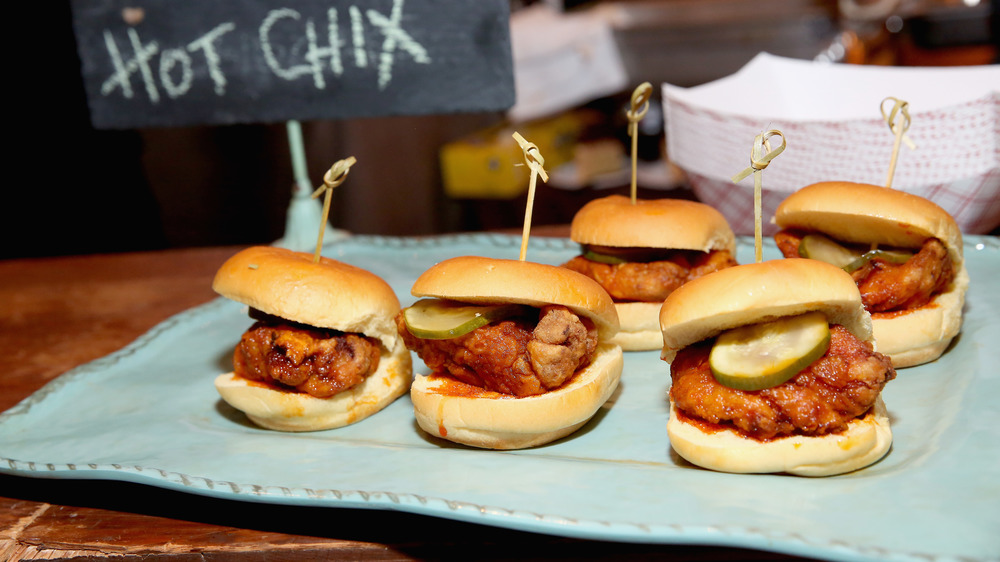 Monica Schipper/Getty Images
The introduction of the new sandwich is no mere coincidence. According to Cleveland.com, Boston Market intentionally introduced this menu item so that they could enter the chicken sandwich wars. "With this new menu, we wanted to introduce Music City's legendary hot sauce flavor to all of our guests across the country, and there's no better way to do that than alongside our legendary rotisserie chicken and a crispy chicken sandwich that will quickly become the best thing our guests (and probably our competitors) will have ever tasted," Randy Miller, Boston Market's president, stated via press release. He led this statement by saying "2020 is behind us, and so are the chicken sandwich wars. We've been bringing the heat in our rotisserie ovens for more than 30 years, and our new Nashville Hot Crispy Chicken Sandwich proves that there's only room for one chicken expert in this country. Boston Market is and always will be king," according to QSR Magazine. 
If this new chicken sandwich contender already has your mouth watering, you need to make a dash to your local Boston Market soon. The sandwich debuted earlier this week and if you stop in between January 25 and 26, you can also grab a buy-one-get-one drink with a coupon from Boston Market's website. Come by soon — you don't want to miss this chicken experience that might change your life!