Aldi's Mac And Cheese Bites Are Turning Heads
There are few things more satisfying than biting into the savory, cheesy goodness of a mac and cheese bite. Perhaps the only thing that can make the experience better is enjoying them from the comfort of your own home, and now, thanks to Aldi, you can. The supermarket chain is now selling cheesy, gooey mac and cheese bites in two different delicious varieties: Bacon and buffalo chicken. They are an Aldi's special find, which means they won't be available in stores long, so don't wait to grab yours in your local Aldi's freezer section.
The popular account @adventuresinaldi alerted their followers to the find, posting: "Bacon mac & cheese & Buffalo chicken Mac & cheese bites!! We bought these last year & they were delicious! Have you tried them yet?! Which one are you grabbing?! Found in the special buy freezers this week for $3.99!" User @lc.budget_momma replied: "Found them today! I bought both!"
Aldi's mac and cheese bites are an indulgent savory treat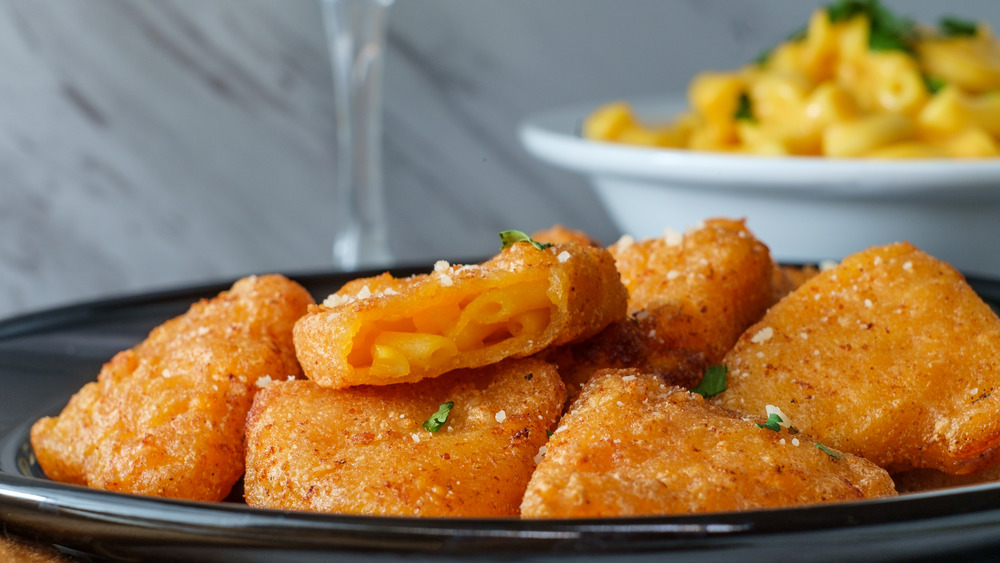 Shutterstock
According to Aldi, each box of Appetitos mac and cheese bites contains 12 bites. The buffalo variety includes buffalo sauce, three cheeses, pasta, and chicken in a panko crust. The bacon option features sharp white cheddar, parmesan, mozzarella, pasta, and bacon covered in crispy panko. 
Instagram user @ocfisherfamily advised: "The Buffalo chicken ones in the air fryer were sooo good!" But even if you do not have an air fryer, these mac and cheese bites will bake to crispy, golden-brown goodness within around 10 to 15 minutes in your average oven. If you are in a rush, you can even cover them and pop them into the microwave for around one or two minutes, or until they are warm on the inside. Just be sure to let them stand for an additional minute or two before biting into them. 
The average recommended serving size is four bites, although it can be difficult to limit yourself, as Reddit user u/sunnysweetbrier knows all too well. "I've eaten an entire box, all by myself, twice...so now I can't buy them anymore lol," they joked.
While they aren't necessarily a health food, they are a great appetizer or happy hour treat. Paired with one of Aldi's specialty wines or signature beers, these mac and cheese bites are a great way to kick off the weekend, or simply indulge after a long day of work.