Costco's Garlic Butter Shrimp Is Turning Heads
While seafood is part of many healthy and delicious dishes, the meal prep required to cook shellfish or crustaceans is often cumbersome and time-consuming. That is, unless you take a trip to your local Costco, where you can get already prepared shrimp at reasonable prices. SeaPak's garlic butter shrimp is selling at Costco for just $13.99 per box, and at 2 lbs per package, they certainly aren't skimping on quantity (via Instagram).
They aren't neglecting quality, flavor, or nutrition, either. The tail off shrimp is prepared with white wine and butter and seasoned with garlic, oregano, and parsley. SeaPak promises to "deliver authentic coastal seafood flavor straight to the home dining table" (via SeaPak), and if social media is to be believed, they certainly haven't failed to deliver. The popular Instagram user @costcobuys shared the find on their account, writing: "Yum! @seapakshrimpco garlic butter shrimp looks great!" "Bought this last week and it's pretty good," follower @lischristie1 agreed.
Garlic butter shrimp makes a great addition to any number of recipes, from pasta to tacos, skewers, and even salads. Follower @oddie132 recommended making this part of a hearty Italian dinner, noting the shrimp was "Good over angel hair pasta, salad and garlic bread." No matter how you like to prepare your shrimp, Costco is sure to have just what you need to please every palate in your household.
Shrimp is a healthy and tasty meal addition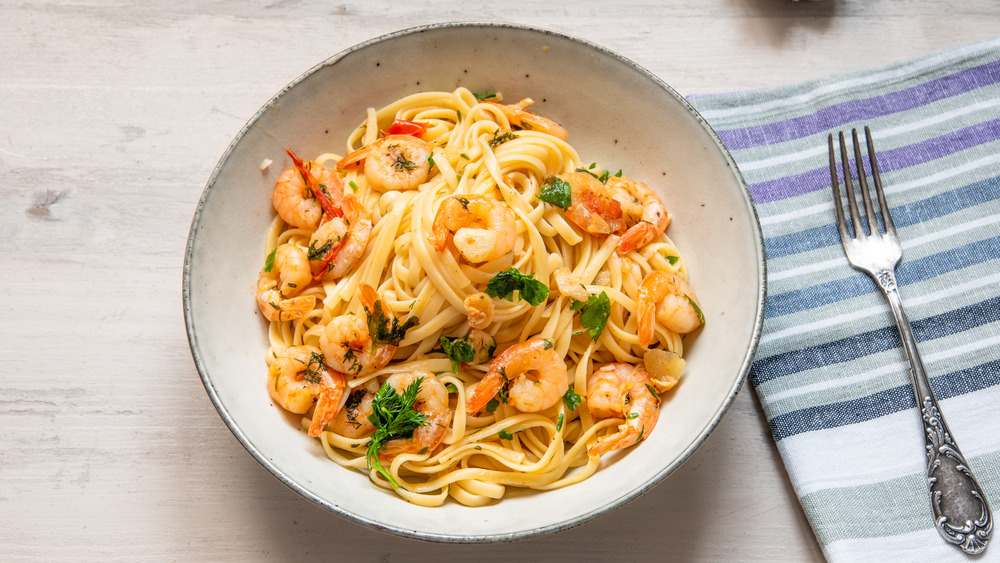 Shutterstock
In addition to tasting great, shrimp has also been shown to be a good source of antioxidants, omega-6 and omega-3 fatty acids, and the essential mineral iodine, which helps maintain brain health and aids in proper thyroid functioning, according to Healthline. Shrimp is also high in protein and contains a carotenoid called astaxanthin that may help strengthen arteries and prevent inflammation. 
Garlic has been proven to boost immunity and help protect against sicknesses like the common cold, Healthline also reports. Garlic also contains compounds that have been shown to reduce blood pressure, lower cholesterol, improve bone health, and even prevent against other illnesses like Alzheimer's, dementia, and heart disease.
Per WebMD, white wine — which is featured in the garlic butter shrimp — even has heart-healthy antioxidants, although the white wine and butter can certainly pack on some additional calories along with the extra flavor. Costco's garlic butter shrimp clock in at around 270 calories per serving, so shoppers should be mindful of their portion sizes. Still, as Instagram user @so_fee_uh03 put it, garlic butter shrimp is a "love language."