Costco's Sriracha Ketchup Is Turning Heads
Costco's Sriracha Ketchup is one of those products that can taste brilliant with nearly everything that you decide to try it with. According to Delish, this is yummy sauce fares better than its contemporaries and is great to eat with meals like omelettes, chicken strips, sandwiches, and burgers. Plus, an Instagram post from @costcosisters pointed out that packs of four Sriracha Ketchup bottles are available at $7.79 each. Sweet!
One commentator praised the product on Instagram, writing only one fix: They'd like it to be slightly spicier to suit their fancy. But if you prefer things that aren't too hot, this is a perfect choice. The bottom line? This hot chili sauce is perfect for turning up the heat in your dishes and can make a boring meal far more exciting than usual.
What works well for the sauce? One, it's the fact that it's a unique blend of Sriracha and ketchup which means that you don't need to create your own blend by mixing the sauces that you already have at home. What makes Costco version really shine in particular, as per Delish, is the fact that it's a good mix of sweet and spicy that can take your tastebuds for a unique ride.
Costco's new Sriracha ketchup is a highly versatile product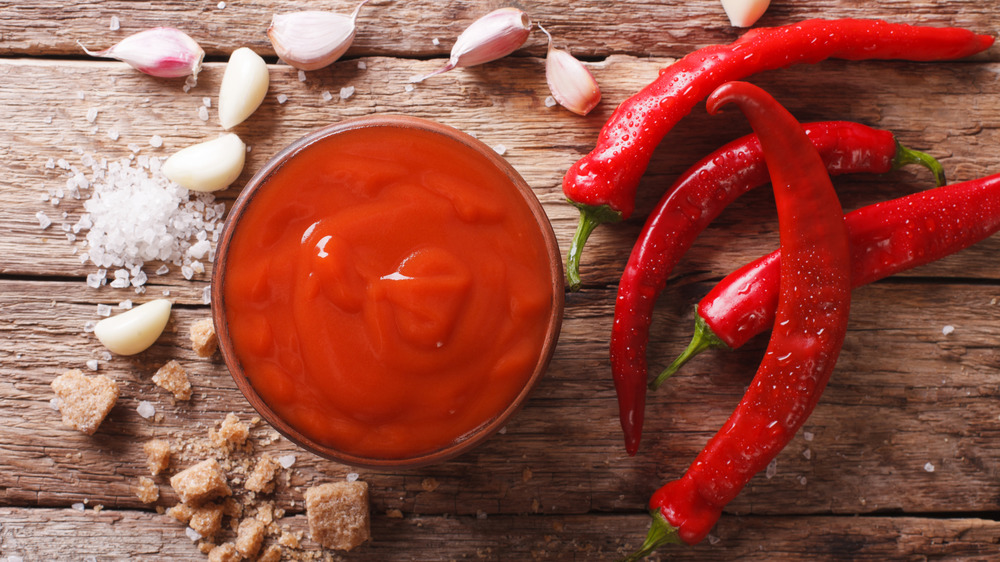 Shutterstock
Why Sriracha sauce, though? According to Bloomberg, this sauce was first created over 80 years ago by a woman called Thanom Chakkapak in Thailand. It has slowly managed to enthrall America's consumers who enjoy the unique flavors offered by its spicy composition that's a far cry from other classic options, such as plain ketchup that might be a bit too bland for certain occasions. 
While the market already has some popular brands that offer their version of Sriracha sauce, such as Tabasco, Frank's Red Hot, Heinz, Huy Fong Foods, and others, Costco has entered the race by offering its version of Sriracha from Red Gold Tomatoes — and it is becoming a definite crowd favorite. The family-owned company offers a range of products including classic ketchup, Sriracha sauce, and Jalapeño sauce. Excited to get yourself a red hot bottle yet?