Here's How Subway's B.M.T. Sandwich Got Its Name
Though Ireland ruled that Subway's bread is technically cake, the sub chain still reigns supreme as one of the most popular fast food sandwich spots around. There are reportedly 37 million sandwich combinations possible at the chain, which means there's always some kind of way to, as the chain puts it, "eat fresh" (via Huffpost). Despite this freedom, Subway customers keep coming back to one of the chain's set offerings: the Italian B.M.T., which QSR reports was once voted "the nation's favorite Footlong."
The B.M.T has been around since 1975, according to The Daily Meal, and its name currently stands for "biggest, meatiest, tastiest." According to Subway's website, the sandwich comes with Genoa salami, Black Forest ham, and spicy pepperoni, as well as whatever veggies (or lack thereof) the eater desires.
As The Daily Meal reveals, Subway's B.M.T. didn't initially stand for "biggest, meatiest, tastiest." Rather, it was named for a component of the New York City subway system known as the BMT.
The B.M.T. gives a more literal meaning to Subway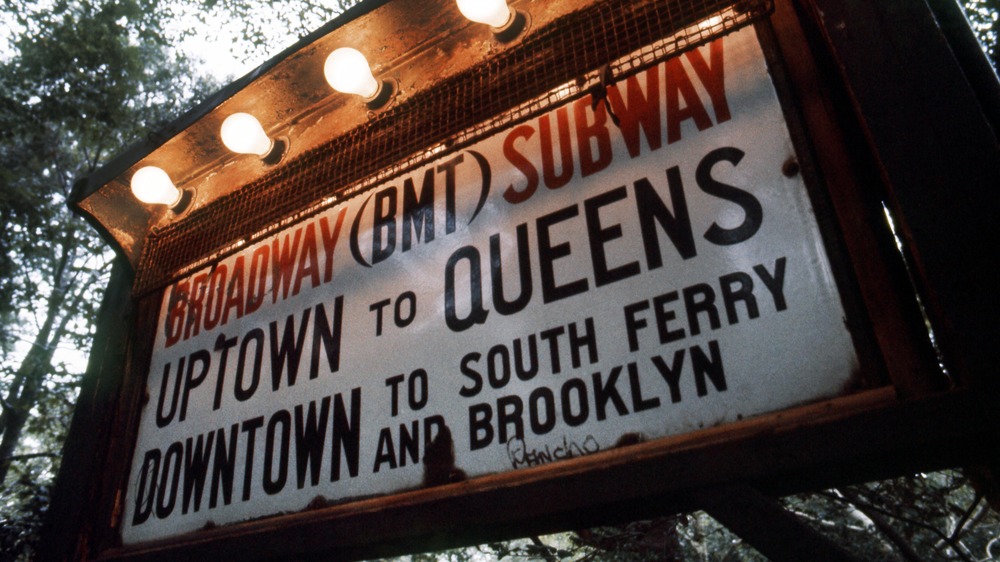 Donaldson Collection/Getty Images
Before the city unified the subway system, The New York Times explains, the BMT controlled a component of it, which today encompasses the B, J, M, N, Z, and L trains. According to Delish, the popular sandwich was named after the Brooklyn-Manhattan Transit System "to go along with the chain's transportation theme."
Aside from the obvious — the name "Subway" — it's unclear what other components of the chain align with this theme. There's a comedic video from 2013 that proposes Subway sandwiches named after NYC subway lines, but it's far from officially sanctioned by the chain (via Brokelyn).
Interestingly, Untapped Cities discovered that when the B.M.T. was created in 1975, there actually weren't any Subway locations in New York. However, they acknowledge there were Subways in nearby Connecticut and Massachusetts at the time. People who live in these neighboring states often take public transit (aka the subway) to jobs in New York, the home of the B.M.T.'s namesake. Does this make the B.M.T. the first commuter sandwich?