Spicy Noodles Recipe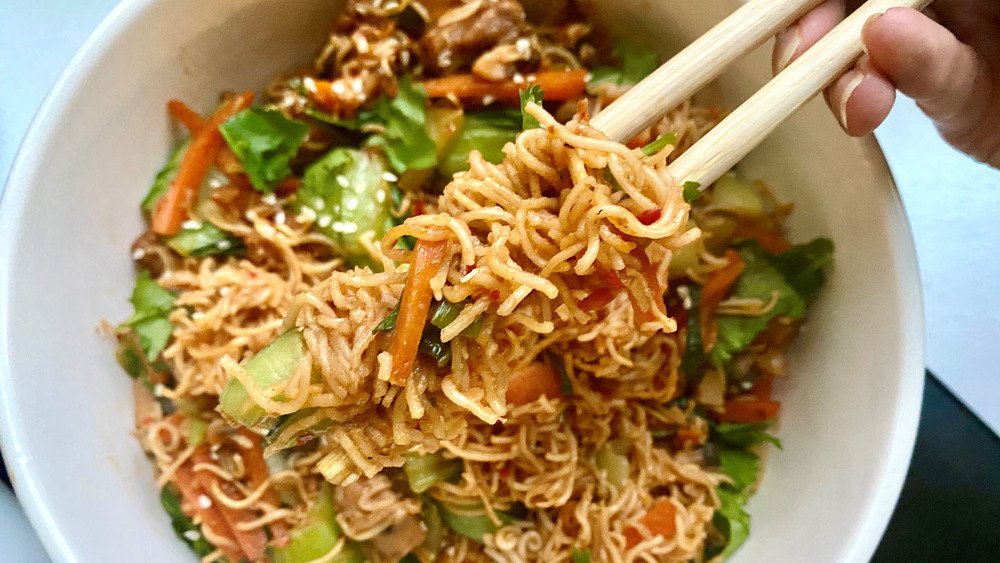 Krisna Bharvani/Mashed
When you think of ramen noodles, you might think of cash strapped college kids whipping up a hotplate of cheap ramen noodles because they're starving and don't have anything else to eat. Plus, if the cafeteria is closed, they don't have many options either. Thankfully, the exceptionally inexpensive ramen noodles, which cost less than $1 per package, also can be used in a fantastic flavorful recipe created by Krisna Bharvani. It's perfect for college kids on a strict budget to families seeking an affordable and tasty dish that takes just 35 minutes to fix from start to finish.
"This dish is definitely an easy way to upgrade ramen noodles and something you can put together in under 40 minutes. All the sauces used in this dish are very common in Asian cooking, so once you have them in your fridge, you can create a lot of Asian dishes easily. If a college kid is able to buy these sauces, then yes, this dish would be a great option for a poor college kid. But otherwise, it's a great dish for adults, too. I like whipping it up when I want a quick and hearty meal, or when I unexpectedly have friends over and need to put something together quickly for all of us to enjoy," Bharvani said.
Gather up the spicy noodle ingredients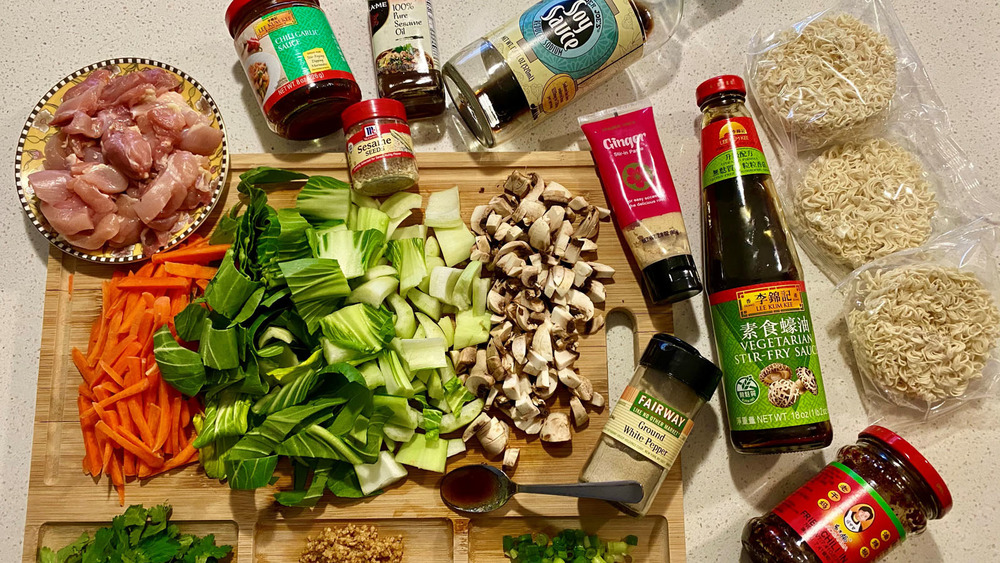 Krisna Bharvani/Mashed
There are several sauces involved in the creation of this recipe, which Bharvani said easily can be found at the store. You'll need to pick up soy sauce, chili garlic sauce, and oyster sauce, along with chili oil and sesame oil.
"These sauces are all staples at any Asian grocery store or the Asian/international aisle at a regular grocery store. You can also replace the soy sauce with coconut aminos," Bharvani said.
In addition to the sauces, oils, and ramen noodles, you'll need brown sugar, white pepper, cloves of garlic, fresh ginger, chicken thighs, one carrot, baby bok choy, mushrooms, green onions, and optional garnishes of sesame seeds and cilantro.
Grab a pot and a bowl for the spicy noodles' sauce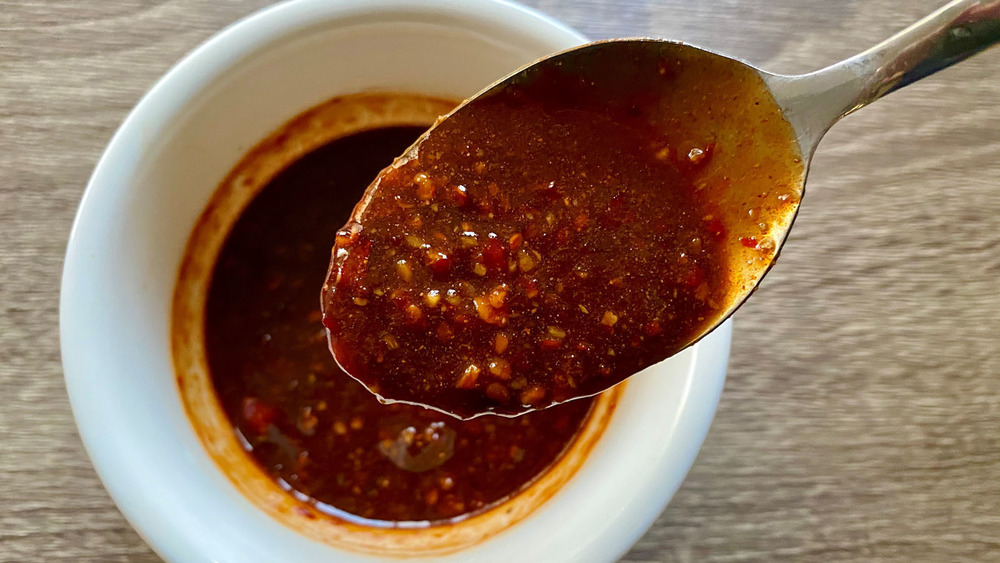 Krisna Bharvani/Mashed
Fill a pot with water, bring to a boil, and cook one packet, or six ounces, of ramen noodles. You won't need the flavor packet so either stow it away in your seasonings cupboard or toss it. Once tender, drain the noodles and set them aside. "If you don't want to use ramen noodles, you can use rice noodles instead," Bharvani said.
Grab a small bowl and mix together 3.5 tablespoons of soy sauce, 1.5 tablespoons of chili garlic sauce, 1 tablespoon of chili oil, and 1 tablespoon of oyster sauce. Grate your fresh ginger to equal 1 tablespoon and add to the oils and sauces, along with 1 teaspoon of brown sugar, half a teaspoon of white pepper, and two minced cloves of garlic. Wait, what's white pepper?
"White pepper actually comes from the same plant as black pepper, but the difference between them comes down to how they're picked and processed. In terms of flavor profile, white pepper tends to be brighter, sharper and more herbaceous than black pepper," Bharvani explained.
Pause and sample the spicy noodle sauce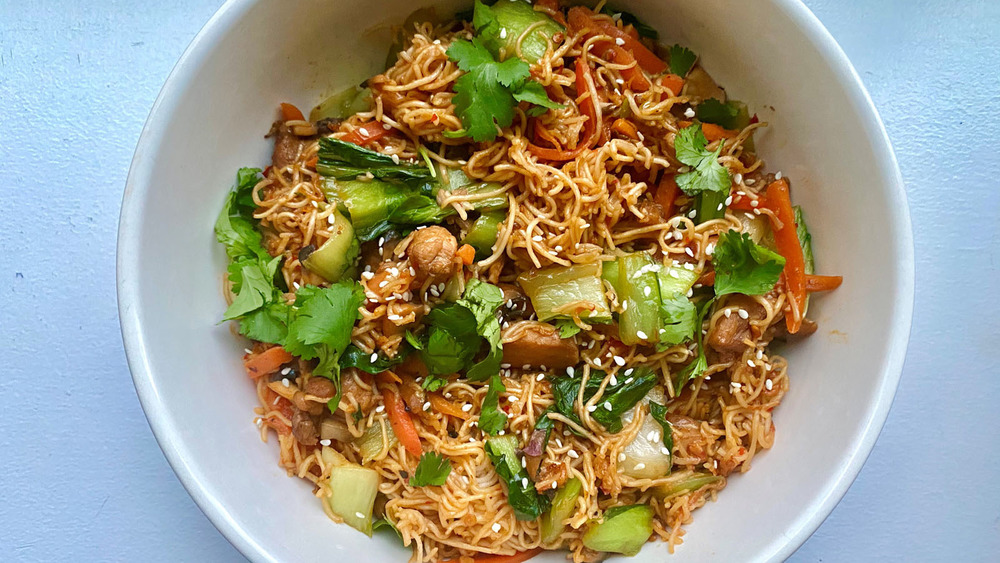 Krisna Bharvani/Mashed
Bharvani recommends everyone stop for a second and ensure the concoction meets your taste preferences before proceeding. Maybe you prefer a little more kick or possibly you need to back it off a bit. This is the time to make adjustments to your recipe before your go any further.
"This dish packs a decent amount of heat, but if you don't like intense spice, I would recommend omitting the 1 tablespoon of chili oil and reducing the amount of white pepper from half a teaspoon to 1/4 of a teaspoon," Bharvani said. "This recipe is always a big hit. Because of the familiar look of the ramen noodles, people always ask 'wait are those instant ramen noodles? But they are always mind blown by the taste of the dish because, besides the appearance of the noodles, it's got a delicious garlic-spicy flavor and is packed with veggies and protein."
Whip out the wok for your spicy noodles' protein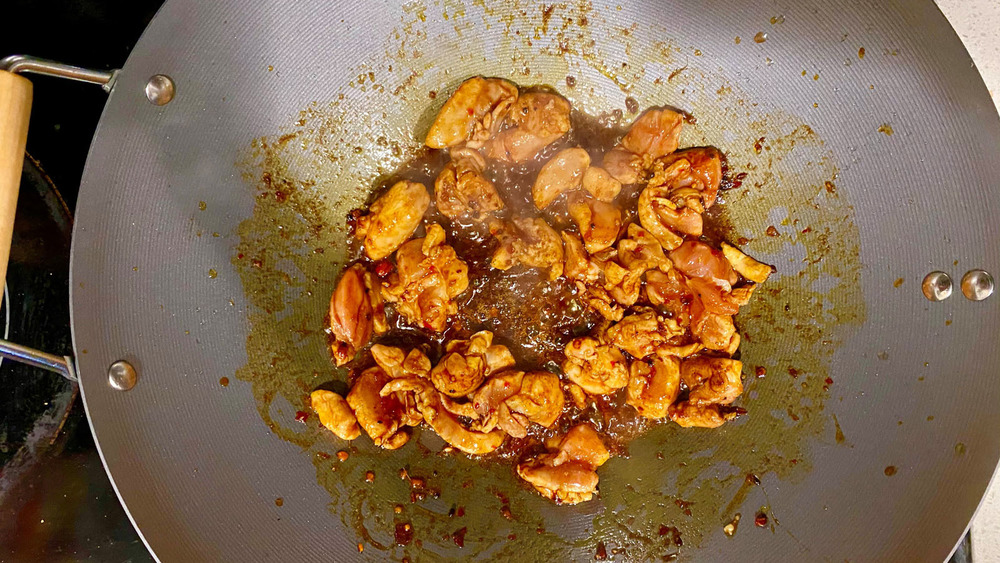 Krisna Bharvani/Mashed
Heat 1.5 tablespoons of sesame oil in a wok over medium-high heat. If you don't have a wok on hand, a large skillet will work just fine, Bharvani said. Add the remaining two minced garlic cloves and fry until lightly browned. Cut up half a pound of chicken thighs into bite-sized pieces beforehand and add them to the wok, along with two tablespoons of the sauce mixture. Cook until the chicken is completely cooked, approximately five to six minutes.
If you aren't familiar with using a wok, according to First We Feast, when seasoning and adding oil to the wok, be sure to swirl it around in the wok first before adding any food. Allow the oil to get quite hot before using it. A wok spatula also is handy to have around, especially if you use a wok often. Otherwise, any long handled utensil will work.
Add in the healthy spicy noodle veggies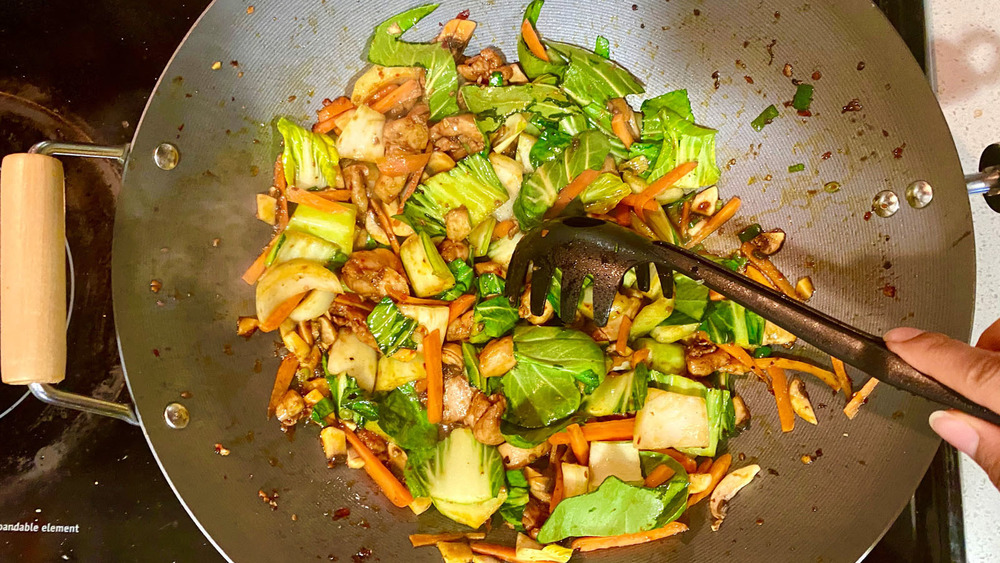 Krisna Bharvani/Mashed
Toss in one julienned carrot, two stalks of sliced green onion, one bunch of baby bok choy chopped up and four ounces of chopped mushrooms. Stir fry and cook the veggies until they're tender, approximately three to four minutes.
"Baby bok choy is widely available from Whole Foods to Fairway Market to Walmart to Target. If you can't find baby bok choy, you can get regular bok choy. The main difference is the color of the leaves and overall size. Any mushrooms work for this dish. I prefer to use cremini, shiitake or trumpet royale," Bharvani said.
Finish the spicy noodles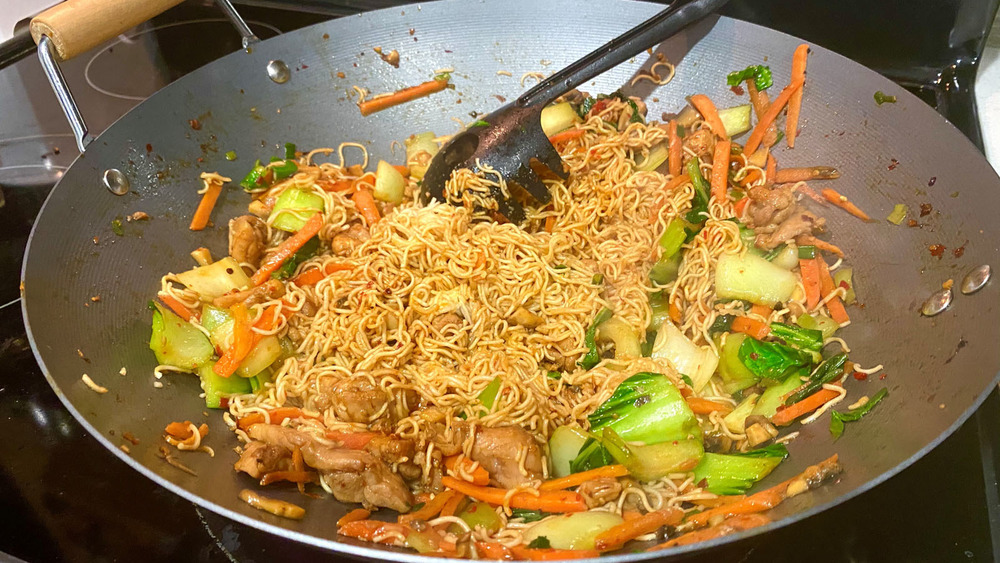 Krisna Bharvani/Mashed
Reduce the wok's heat to medium and add in the cooked ramen noodles. Stir them around a bit to loosen them up. They tend to cook in one big block. Add in the rest of the sauce mixture and stir thoroughly until the chicken, veggies and noodles are completely coated, then cook for another three or four minutes.
At this point, you can spruce up this recipe by sprinkling sesame seeds across the top and adding a bit of cilantro. Serve right away while still hot and spicy.
"This dish is one of my easy go-tos. It's extremely versatile and you can essentially use any veggies or protein you have laying around in the fridge as the sauce mixture goes with most combinations. These noodles are always a hit with family and friends, and honestly the best way to upgrade a packet of instant ramen," Bharvani said. "It's super easy to prepare, just requires a little bit of chopping and prep work and the dish comes together in just a few minutes in a wok or skillet."
Spicy Noodles Recipe
A packet of ramen noodles isn't too exciting on its own. This recipe takes those noodles and instantly upgrades them to a spicy dish that's full of flavor.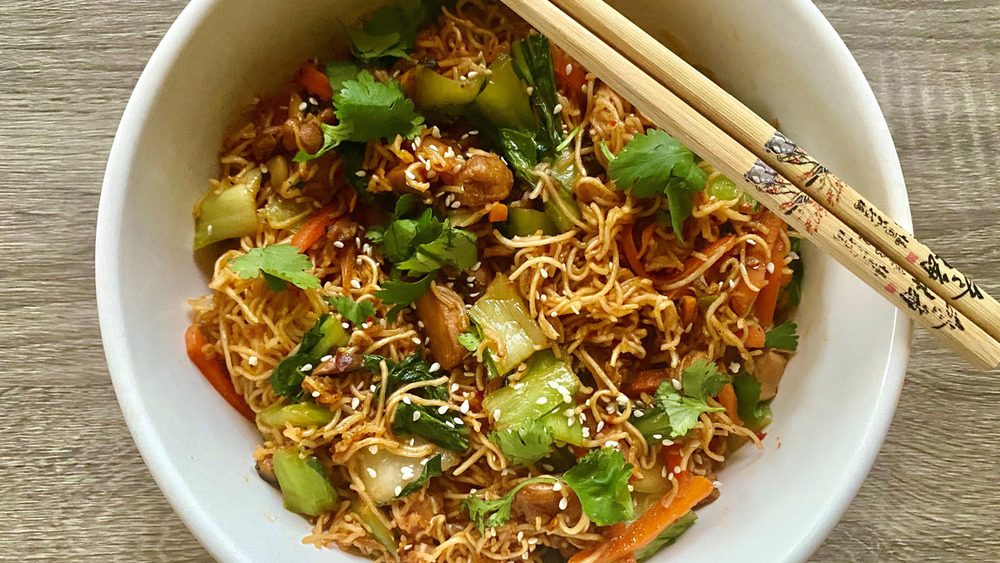 Ingredients
6 ounces of ramen noodles
3.5 tablespoons soy sauce
1.5 tablespoons chili garlic sauce
1 tablespoon oyster sauce
1 tablespoon chili oil
1.5 tablespoon sesame oil
1 teaspoon brown sugar
½ teaspoon white pepper
4 cloves garlic, minced
1 tablespoon ginger, grated
½ pound chicken thighs, cut into bite-size pieces
1 carrot, julienned
1 bunch baby bok choy, chopped
4 ounces mushrooms, chopped
2 stalks green onion, sliced
Optional Ingredients
Directions
Boil water and cook pasta according to package instructions; drain and set aside.
In a small bowl, mix together soy sauce, chili garlic sauce, chili oil, oyster sauce, ginger, brown sugar, white pepper and half of the minced garlic. Taste and adjust to preference; set aside.
Heat sesame oil in a wok over medium-high heat. Add garlic and fry until lightly browned. Add chicken and 2 tablespoons of the sauce mixture; cook until the chicken is cooked through, about 5 to 6 minutes.
Toss in mushrooms, carrots, green onion, and bok choy into the wok. Stir fry and cook until tender, about 3-4 minutes. Reduce heat to medium and add in cooked ramen noodles, stir around to loosen the noodles. Add remainder of the sauce mixture until well combined, about 3 to 4 minutes.
Garnish with sesame seeds and cilantro, if desired. Serve immediately.
Nutrition
| | |
| --- | --- |
| Calories per Serving | 860 |
| Total Fat | 51.6 g |
| Saturated Fat | 14.1 g |
| Trans Fat | 0.2 g |
| Cholesterol | 111.1 mg |
| | |
| --- | --- |
| Total Carbohydrates | 67.5 g |
| Dietary Fiber | 5.5 g |
| Total Sugars | 6.9 g |
| Sodium | 3,486.2 mg |
| Protein | 33.5 g |