Trader Joe's Wool Trivets Are A Total Steal
Trader Joe's gets extremely creative when it comes to food, and you'd be hard pressed to find a shop that didn't have some delicious and innovative soup, snack, dip, or refreshing beverage. It helps, too, that its products are normally quite a good deal in terms of price. According to Thrillist, some of the best items at the store include its cookie butter (yum!), chicken soup dumplings, peanut munchies, and beer. But scoring a good deal isn't just limited to grocery items at Trader Joe's.
As Real Simple puts it, you can't go wrong with the Ultra-Moisturizing Hand Cream if you need a quick fix for dry skin, and there are a plethora of other skincare goods you can find, too. But aside from restocking your bathroom cabinet, Trader Joe's can assist you with home goods as well. Another product that doesn't belong to the grocery aisle and has been getting a lot of love from shoppers at Trader Joe's as of late are its wool trivets. Yes, you read that correctly. The brand is selling some truly affordable and pretty wool trivets that have made a comeback this year. Here are more details on these colorful beauties.
Trader Joe's felted trivets are the perfect addition to your kitchen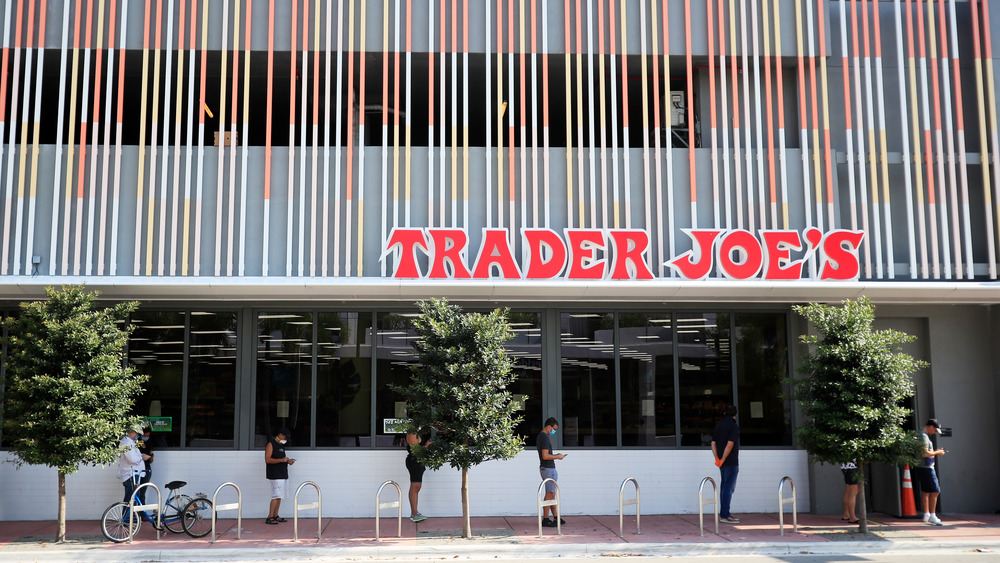 Cliff Hawkins/Getty Images
Trader Joe's has consistently offered its customers a range of beautiful felted wool trivets that work especially well if you need to make your kitchen look a bit more lively while protecting your cooking space at the same time. As explained by Food & Wine, trivets are a great investment if you're trying to keep your kitchen clean and tidy. Or you could set them beneath dishes of food on your dining table to prevent things like condensation, heat, and steam from causing damage. One Instagram user even took it a step further by putting it underneath a candle!
As per Kitchn, these picturesque trivets from Trader Joe's specifically have been created in Nepal using sheep's wool by experienced artisans. And yes, a lot of work goes into designing these handy pieces. The best part? They're highly versatile and can work well for countertops, ovens, bathroom counters, and more. They're a worthwhile investment, considering you'll be paying just $4.99 for each. Trivets for the win!