Trader Joe's Shoppers Are In Love With These Jelly Bean Hearts
February 14th is just around the corner, which means it is time for people to start thinking about the best ways to show their loved ones they care. This year, Trader Joe's is making it easier than ever to spoil your loved ones with delightful heart-shaped treats. They are bringing back their sweet and chewy Jelly Bean Hearts, which are hitting shelves just in time for Valentine's Day.
The Instagram account @traderjoeslist alerted their followers to the news, writing: "THEY'RE BACK...JELLY BEAN HEARTS... I found these above the reach in freezers. Does anyone know why sweets are a symbol of love? I find it so interesting ... Any who, here's some jelly beans that contain no beans and no jelly but are shaped like hearts." Their followers were excited to see the return of these charming heart-shaped jelly beans.
Follower @bijin55 couldn't get enough of these beans, raving: "These are amazing. Best jelly beans I've had. I like them because they're extra chewy and all the flavors are delicious! I was skeptical when I saw the bag thinking they were cinnamon flavor and was so glad it wasn't!" Other shoppers were delighted by the unique flavors in the bag, like @hannah_torok, who wrote: "These are so good! The white ones taste like buttered popcorn to me." (According to Instagram account @wetriedtraderjoes, the white jelly beans are actually coconut.)
Trader Joe's is your one-stop shop for Valentine's Day treats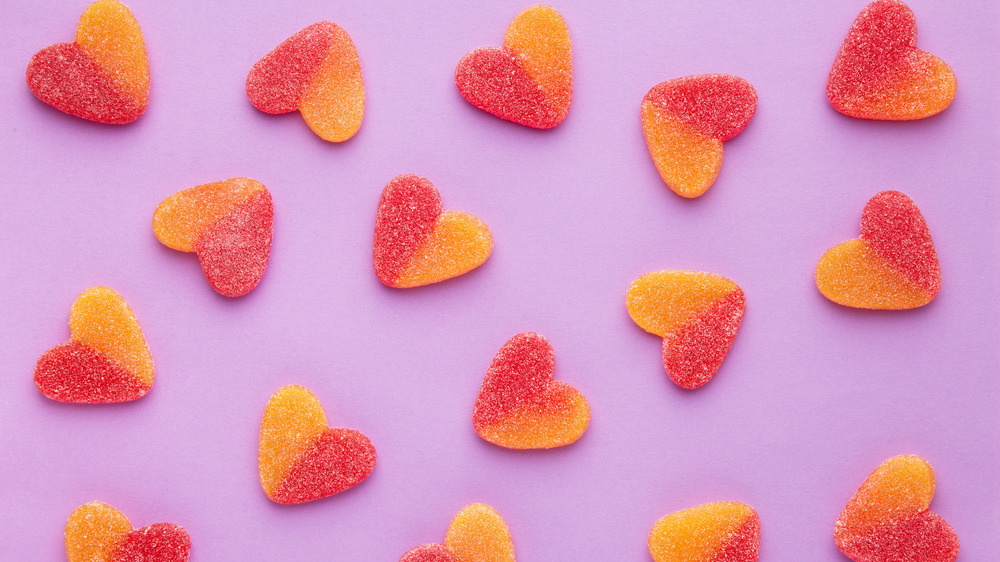 Shutterstock
User @i_made_plans posted: "Got 'em. Devoured them! Can't wait to make a Valentine's snack board with the other seasonal items I picked up!" And Trader Joe's certainly has no shortage of other festive treats to help you celebrate the holiday, according to Real Simple. In addition to these Jelly Bean Hearts, you might want to grab a container of Trader Joe's rich dark chocolate covered cherries to share with your partner. If you want to kick the romance up a notch, their mini heart cookies pack all the same chocolate decadence into a heart-shaped, dark-chocolate covered shortbread cookie.
For a lighter dessert, you can't go wrong with their sweetly romantic heart-shaped shortbread cookies, filled with a tart and tasty raspberry jam. Or if baked goods aren't your thing, you can simply pick up a package of Joe's dark chocolate-covered pomegranate seeds for a delicious, heart-healthy snack. So whatever you like to celebrate with, your local Trader Joe's has the perfect snacks to treat your loved one — or yourself — on February 14th.