Good News For Fans Of Red Lobster's Lobsterfest
Lobsterfest, Red Lobster's annual lobster-themed limited-time offer, will begin once more on February 1. Chef Dustin Hilinski, Executive Chef and Director of Culinary at Red Lobster, enthusiastically announced in a press release, "We're excited to introduce a truly ultimate version of the classic surf and turf, featuring a tender filet mignon, succulent Maine lobster tail and sweet sea scallops wrapped in crispy bacon." The other menu debut features kung pao noodles with fried lobster, consisting of a battered and fried lobster tail with noodles, sweet and sour sauce, cabbage, cashews, green onions, and edamame.
The rest of the dishes are seasoned veterans. The Lobsters Lovers Dream serves a roasted lobster tail and a butter-poached lobster tail in a lobster and shrimp linguine. The Bar Harbor Lobster Bake presents more lobster tails, this time split and roasted, with other seafood upon a bed of, again, linguine. The Lobster, Shrimp and Salmon and Lobster Linguini are what the name suggests, a collection of seafood with the former and a seafood-stuffed pasta dish with the latter. But all of the main courses may risk getting upstaged by Red Lobster's beloved Cheddar Bay Biscuits, which come with each entree.
Red Lobster says you can safely dine at one of its locations or at your own home when you order touchless delivery or to-go options.
Red Lobster considers its lobsters' future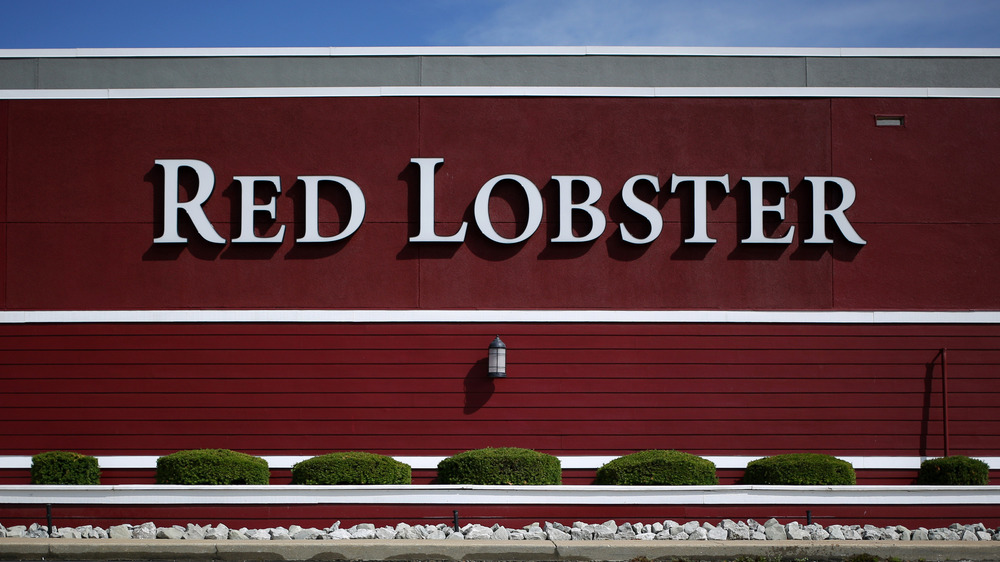 Bloomberg/Getty Images
For a couple of sentences between salivating over the various fates awaiting all its lobsters in the coming month, Red Lobster does give some heed to lobster sustainability. In 2017, Food and Wine reported that if the global temperature of the oceans continues its upwards trajectory, then the year 2100 could be a cataclysmic period for the species. One of the researchers said the effects could already be seen in New England: "There has been a near-total collapse in Rhode Island, the southern end of the fishery, and we know our waters are getting warmer."
So, in the press release, Red Lobster notes that for every Lobster Lover's Dream, a portion of the payment will go to support research into how changing temperatures threaten Mainer lobsters and rock lobster Fishery Improvement Projects in Nicaragua, Honduras, Belize, and Brazil. A fishery improvement project, as described by Fishery Progress, is a private sector response to the challenges in the fishing industry. Clearly, Red Lobster has a vested interest in ensuring the continued existence and continued deliciousness of lobsters.