This Is The Difference Between Victoria And Genoise Sponge Cake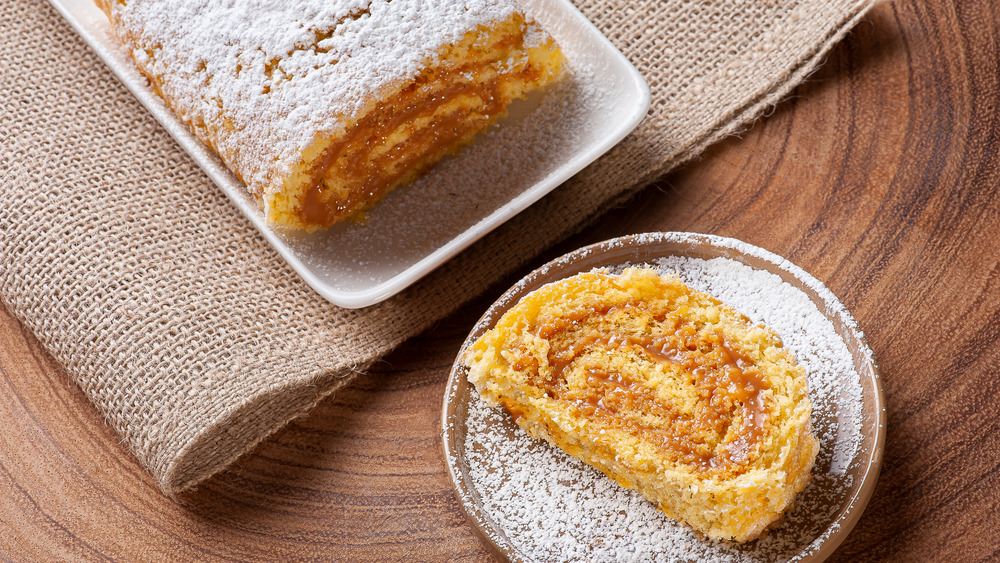 Shutterstock
When you have to whip up a special dessert for an important occasion, you need to pull out all the stops and use time-tested recipes guaranteed to impress even the most finicky eaters. Nothing can turn heads like a cake featuring refined Victoria or Genoise sponge, two varieties of prepared cake that have impressed eaters for generations. 
According to The Nibble, Genoise sponge cake has a French origin and received its title from Genoa, Italy, the city where a precursor of the recipe appeared in the early 19th century. This variety of sponge forms the basis of many French-style cakes, and can easily wrap around whipped cream or jam. The flexibility of this cake comes from eggs getting beaten whole in the batter, rather than separating egg whites and yolks apart, making a Genoise sponge perfect for roulades or Swiss rolls (via The Nibble).
A few other baking secrets give the Genoise its unique flavor and texture. According to A Small Kitchen, the cake should only feature eggs, sugar, flour, and butter, distinctly lacking any trace of baking powder. This delicate cake holds up perfectly for intricate desserts, but if you want a sponge with more structure, you need to stick with a Victoria sponge.
A sponge cake perfect for any occasion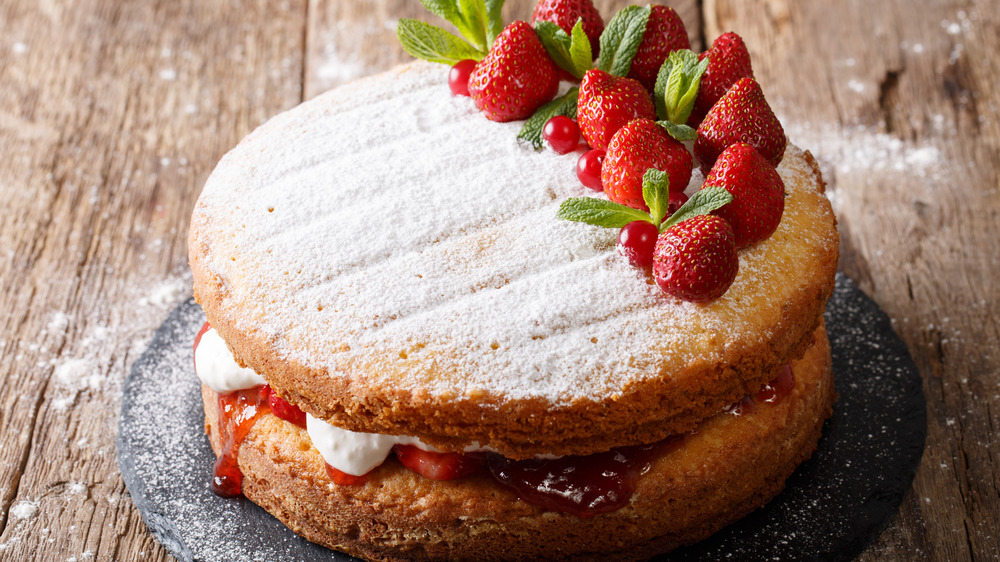 Shutterstock
When you need a no-frills cake base that can handle anything you can throw at it, look no further than your favorite Victoria sponge recipe. This cake style got its name thanks to the nod of approval it received from Queen Victoria and started to appear on English dessert menus around 1843 (via Anges de Sucre). 
According to Seasoned Advice on Stack Exchange, this sponge distinguishes itself from a Genoise thanks to the egg whites and yolks getting separated before they are incorporated into the batter. 
This style of cake also contains baking powder, a new invention at the time of the cake's creation (via Anges de Sucre). Thanks to this added ingredient, the sponge can handle a greater amount of butter, making it a much richer cake and perfect for pairing with jam and whipped cream in its classic form. 
The cake can easily hold its shape, and can even withstand enough weight to act as the cake base for wedding cakes! For an all-purpose cake with a light touch, you can't go wrong with a Victoria sponge. Next time you need to impress, make sure to remember the strengths of Victoria and Genoise sponge when you have to decide on the perfect cake batter for your recipe.