Aldi Shoppers Are So Excited About These Vegan Dessert Hummus Flavors
Aldi has great news for shoppers with a sweet tooth. Two of their popular dessert hummus flavors have made a triumphant return to Aldi's shelves. The decadent flavors, carrot cake and chocolate cherry cheesecake, are rejoining Aldi's roster of Park Street Deli dessert hummus selections, which include Vanilla Bean, Brownie Batter, Pumpkin Pie, and Sea Salt Caramel flavors. Those are also available in select stores as long as supplies last, per Aldi's website.
The popular Instagram account @aldi.mademedoit tipped off followers about the new item, posting, "O dessert hummus, O dessert hummus How lovely are thy dessert hummus! New flavors make me happy especially carrot cake and chocolate cherry cheesecake! Which are you going to grab?! (Ps. Carrot cake is amazing with graham crackers and vanilla wafers!)" Based on the flavors, it sounds like these dessert hummuses could be enjoyed in any number of ways. Perhaps they could be paired with pretzels or fruit the same way a chocolate hummus might be (via A Virtual Vegan). They could possibly be used as a tasty filling in between cookies or crackers or applied as an ice cream topping. They can serve as frosting or simply be eaten straight out of the tub with a spoon.
Aldi's dessert hummus is both vegan and gluten-free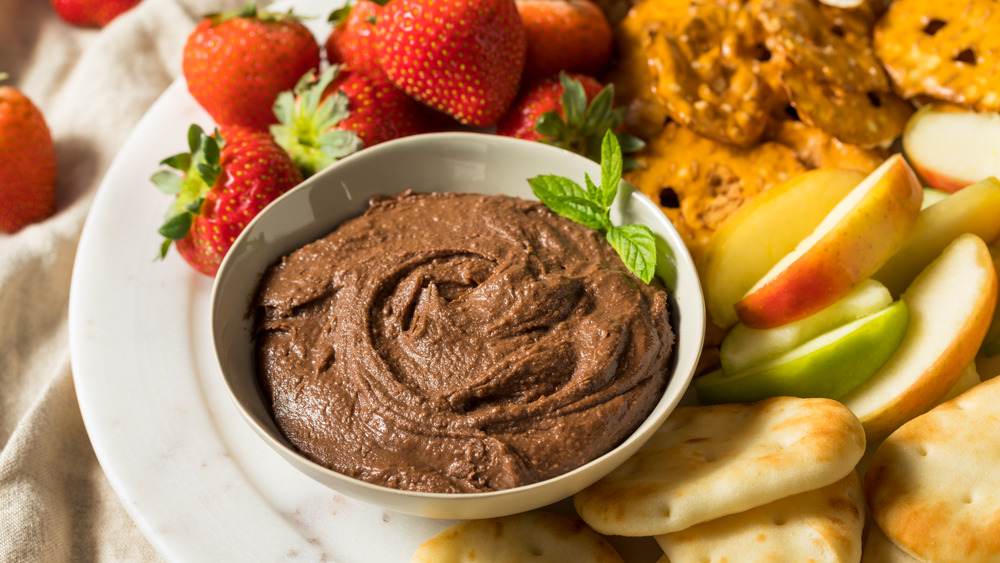 Shutterstock
Many Instagrammers posted about their excitement over the sweet hummus, like @o.swanny, who raved, "I'm SO HYPED for the return of the carrot cake! I LOVED it last year. I've tried several flavors of various brands for dessert hummus and by far, this flavor by aldi has to be my #1!!" Instagram user @jam_dee007 wrote, "Oooh!!! I must try them!" and @hirving44 celebrated: "Omg I love aldi dessert hummus!"
The best news is that these specialty hummuses are not just delicious; they are also vegan and gluten-free, so they can accommodate a wide range of dietary restrictions. They are also both under a hundred calories per serving, with the carrot cake containing 80 calories per 2-tablespoon serving, and the chocolate cherry cheesecake coming in at just 50 calories per serving. These flavorful hummuses are a great way to punch up any dessert, and when they surfaced in April 2020, an 8-ounce container could be purchased for around $1.79, per EatingWell. So they also sound like a steal.