What You Didn't Know About Guy Fieri's Famous Car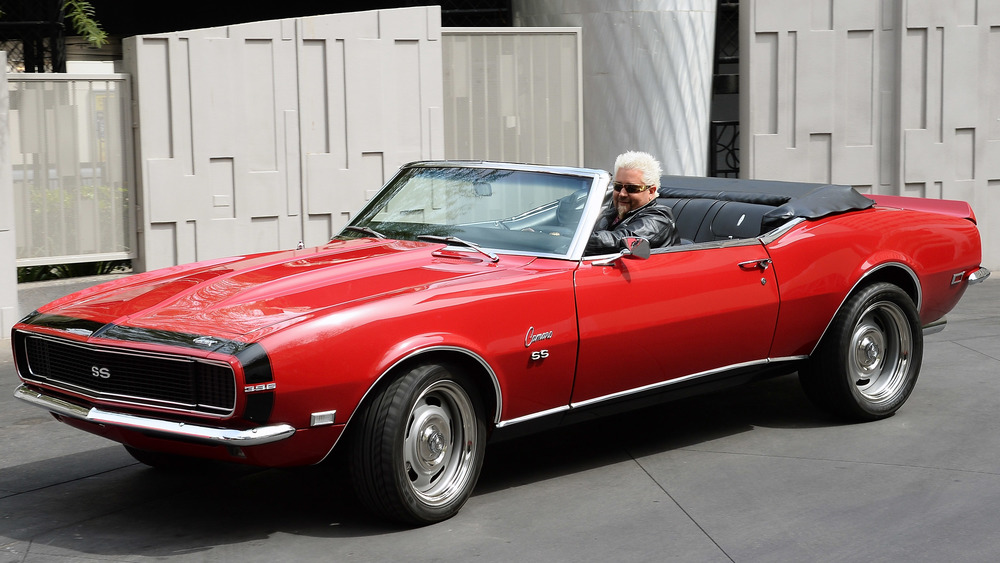 Ethan Miller/Getty Images
The opening sequence of Guy Fieri's long-running Food Network show, Diners, Drive-Ins, and Dives, is well-known to many. Fieri, sporting his signature blonde spiky hair, sits behind the wheel of a cherry red convertible car. Specifically, a 1968 Chevrolet Camaro SS convertible that's been restored and updated with a more powerful engine (via Alt Driver). "Hi, I'm Guy Fieri, and we're rolling out, looking for America's greatest diners, drive-ins, and dives," he proclaims from the driver's seat before each episode.
Fieri's car has been the subject of much talk on Reddit. Namely, Redditors on the r/FoodNetwork subreddit wonder how much (if at all) Fieri drives the car while filming his show. As it turns out, the car is more of a flashy set piece than a practical vehicle: People magazine reveals that Fieri actually has a driver to take him to each location. The Camaro does come along for the ride, but it's transported by a crew member — per People, Fieri tackles the task of opening and shutting the door and making it look good on camera.
The car doesn't sit in a trailer all the time. Reddit user oooomami even claims to have seen Fieri driving it somewhere on the east coast.
The Camaro isn't Fieri's only car
Triple D (as Diners, Drive-Ins, and Dives is nicknamed) devotees may know the '68 Camaro wasn't always the designated show car. In a YouTube video for Chevrolet, Fieri explains they "drove a bunch of different cars" when the show was first getting off the ground. When asked which car he wanted for future episodes, he pointed out a '67 Camaro convertible, explaining that the retractable roof made it easier to film him in the car. Well, that and it looks cool.
Alt Driver notes that the initial '67 Camaro belonged to Triple D's former executive producer. As Fieri explains in Chevrolet's video, he bought the '68 Camaro himself. In addition to the well-known red convertible, Fieri also has a notable car collection. In a video from Jay Leno's Garage, Leno and Fieri tour Fieri's "car barn," a building from 1891 (via YouTube). In it lies Fieri's brightly-colored array of American muscle cars, particularly convertibles and Chevrolet models. There are a 1969 Chevrolet Corvette and 1971 Chevy Chevelle coupe, both in canary yellow. There's a red 1971 Chevy Chevelle convertible and a black 2007 Shelby Cobra. And of course, there's the famous '68 Camaro.