Reese's Is About To Make A Big Change To Its Peanut Butter Cups
Who doesn't love biting into the sweet, peanut buttery perfection that is a Reese's? Chocolate and peanut butter are a classic dessert pairing, and the perfected peanut butter cup has been delighting customers since 1928, per Snack History. But if you're someone who has been trying to improve your diet by eating only organic ingredients, that usually means cutting back on the packaged tasty treats and chocolatey snacks — until now. 
Reese's has just announced they will be releasing an organic version of the classic chocolate and peanut butter treat this year. For an item to be certified organic, it must contain 95 percent organic ingredients, according to Delish, and the newly introduced peanut butter cups will meet these requirements. However, the company has also assured its fans that the Reese's cups will still have all the sweet milk chocolate and creamy peanut butter deliciousness they have come to love, just with higher-quality, organically-sourced ingredients.
Hershey's Co. will be releasing additional organic and sugar-free products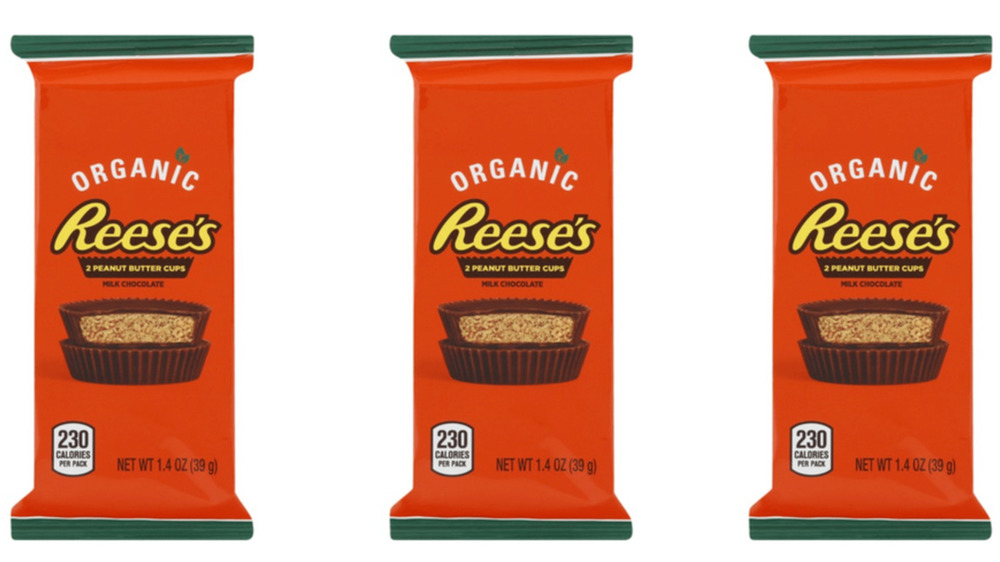 The Hershey Co.
"The bulk of the relaunch is about repositioning sugar free in a way that is more contemporary," Michele Gross Buck, chairman, president, and chief executive officer of The Hershey Co., which owns Reese's, said in a press release, via Food Business News. "Our sugar-free platform has been performing well and we believe this will enable us to reach more households and provide consumers with more great tasting ways to enjoy their favorite Hershey brands. And while the organic chocolate market is small, it is growing rapidly, and we are excited to bring consumers great tasting organic versions of Reese's and Hershey's through this targeted launch," Buck explained.
Organic Reese's will be joining Hershey Co.'s new line of organic and sugar-free releases, including organic dark Hershey's bars, sugar-free Jolly Ranchers, and zero sugar York peppermint patties. The Reese's will contain around 230 calories per package. These revamped peanut butter cups will be hitting grocery store shelves soon, so don't forget to keep an eye out for them on your next shopping trip.