Aldi Shoppers Are In Love With These Premade Tea Lattes
Some mornings, it's just so hard to get going that you need to order a jolt. Thanks to Aldi, you don't even have to leave your home to get a premade caffeine fix now. The beloved budget-friendly grocery store has just brought back its Simply Nature Tea Lattes, and they're the perfect grab-and-go way to start the day.
The teas were first spotted again on Monday, February 8th by Aldi fan account @aldi.mademedoit on Instagram. Within a day, the post had more than 900 likes. The caption read, "Look who's back back again!!! One of my favorite drinks ever!!! I always grab the chai tea latte! Who else loves these?! Which flavor do you grab or want to grab?!" The best news of all might be that these premade tea lattes come in three flavors that customers can choose between. There's chai, dirty chai, and London fog. Not to mention, the packaging is super cute too.
This is the tea latte flavor that Aldi fans are buying up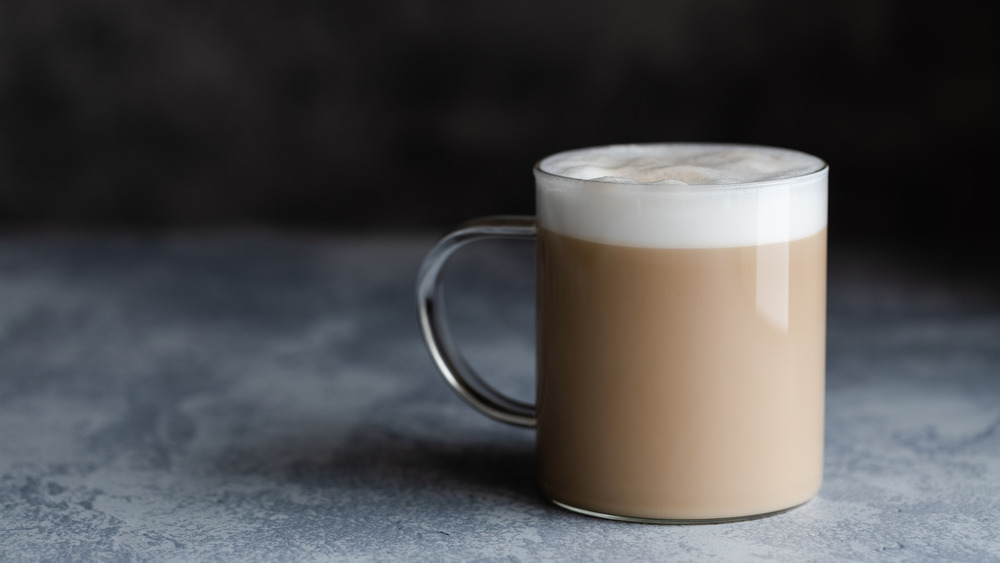 Shutterstock
Plenty of people were simply excited to find out about these flavored tea lattes. One person said, "we do!!!!!" in response to the caption's question of who loves the easy drink, which just requires some addition of milk. Another comment said, "I need to try these." Someone else wrote, "just in time for my Aldi run." Finally, one comment read, "I love these." Clearly, this is a pretty popular buy. 
Others discussed the best flavors. Someone said, "London fog is my absolute favorite, I'm an earl gray girl for life." According to the packaging, the London Fog tea latte concentrate combines earl grey tea flavors with bergamot and lavender. Another person seconded the flavor writing, "I always get 2 of London Fog!" Even a third person wrote, "London fog and dirty chai for sure! Love both of these drinks." Eventually, someone vouched for all of the flavors saying, "all of them are so good!"
According to Aldi, the Simply Nature tea latte concentrate is sold for $2.99 for 32 ounces. No matter which flavor appeals to you most, you'll want to act fast. Chances are these flavored tea lattes won't last long on shelves with so much attention.