These Cute Beer Cans At Trader Joe's Have Shoppers Excited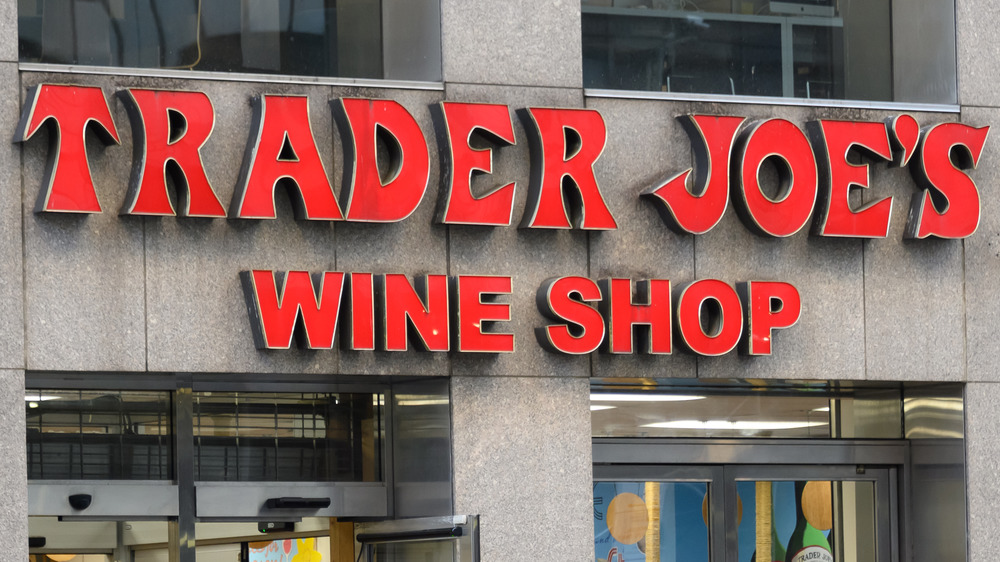 Noam Galai/Getty Images
Trader Joe's is no stranger to tongue-in-cheek names. Scandinavian Swimmers, anyone? Inner Peas? Everyone's favorite addictive snack store usually has a penchant for funny yet chaotic names, as one blogger explained on Medium (not to downplay the recent controversy over some of them, per Delish). But this time, it's one of their beer suppliers, Paperback Brewing Company out of Los Angeles, coming out with guns ablazin' in the names department. Or should we say, chainsaws.
The beer in question has a bright pink label on its pints, emblazoned with the name, "Bunny with a Chainsaw Double Hazy India Pale Ale." The can features a vintage looking Easter bunny, gleefully handling a giant chainsaw and the tagline: "His cuteness will cut you to pieces!" The brewing company makes a slew of other craft brews with a similar nostalgia-tinged pulp fiction feel like, "Heads with Wings" and "One Night with Nora."
Fans react to new bunny beer cans at Trader Joe's
We don't know if you have to have a knack for cutesy naming to get on TJ's shelves, but so far, people seem to be enthusiastic. Commenting on a post by the Instagram account @traderjoeslist, one user said, "Lol cute and scary all at once." Another added, "It's the grown up version of Happy Bunny from Hot Topic." As for the taste, however, another Trader Joe's account wasn't so sure. The account @traderjoesobsessed commented that it was "just ok especially for $4.25 a can." No matter, commenters still recommended the beer to friends in dozens of comments and announced their plans to pick up this murderous bunny beer.
As with anything that gets attention ever, the naysayers came out to play, too. One commenter wrote, "Don't like the 'cuteness', too enticing to the younger set. Along the line of flavored vape/tobacco products. Sorry." They may have a point, but you have to imagine a kid wouldn't be able to get away with casually picking up a pack of these at their local Trader Joes. At the end of the day, though, people just want it for that very same cuteness. "I don't drink beer but I want it just for the packaging," said one. If there ever was an example of judging a book by its cover, this edgy can in the age of craft beer is it.