Aldi Shoppers Can't Get Enough Of These Spinach And Cheese Manicotti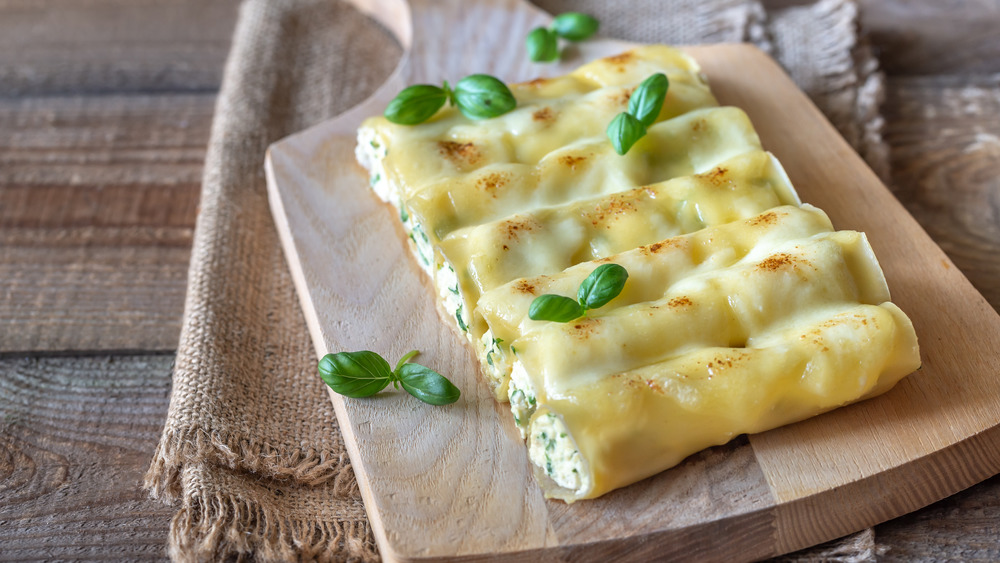 Shutterstock
Sometimes you need to have a few items stocked in your fridge or freezer that can make dinner fast and easy. Occasionally, you just need to be able to heat something up without giving it much thought or effort. Luckily, Aldi is carrying the perfect answer for a fast weeknight meal that tastes as good as it is simple to make. And it's something everyone loves to eat — pasta. 
Aldi fan account @theamazingaldi, recently spotted spinach and cheese manicotti at Aldi and posted a photo. The caption read, "suuuper easy meatless Monday supper." The photo showed a package of five Priano Spinach and Cheese Manicotti rolls, and within a day, the image had more than 600 likes. The best part, is that the 19-ounce package of pasta is only $4.99, making it a total steal. That's low enough that you could pick up several packs and freeze some, until you're ready to heat them up.
How customers feel about the new spinach and cheese manicotti at Aldi
Aldi shoppers and fans of the Instagram account were quick to chime in with their thoughts on the premade pasta. One wrote, "omg these look amazing." Another said, "I love easy dinners!" But, who doesn't? Someone else wrote, "oh that looks gooooodddd." There were plenty of folks who have already tried them, and their reviews didn't disappoint.
One customer wrote, "these were great!!!!" Another commented, "very good!" One comment described the spinach and cheese manicotti as "good stuff!" Someone else was lucky enough to get the pasta at a deep-discount price. They said, "these were $0.99 at my Aldi!!!!" But the truest testament to how scrumptious the pasta is might have been the comment that said, "love them! Got them last week, should have got 5!" So, don't wait to pick these up because chances are they won't last long. And don't forget to pick up a jar of pasta sauce to serve them with too.