The Bizarre Way A&W Wants To End This Chicken Sandwich Wars For Good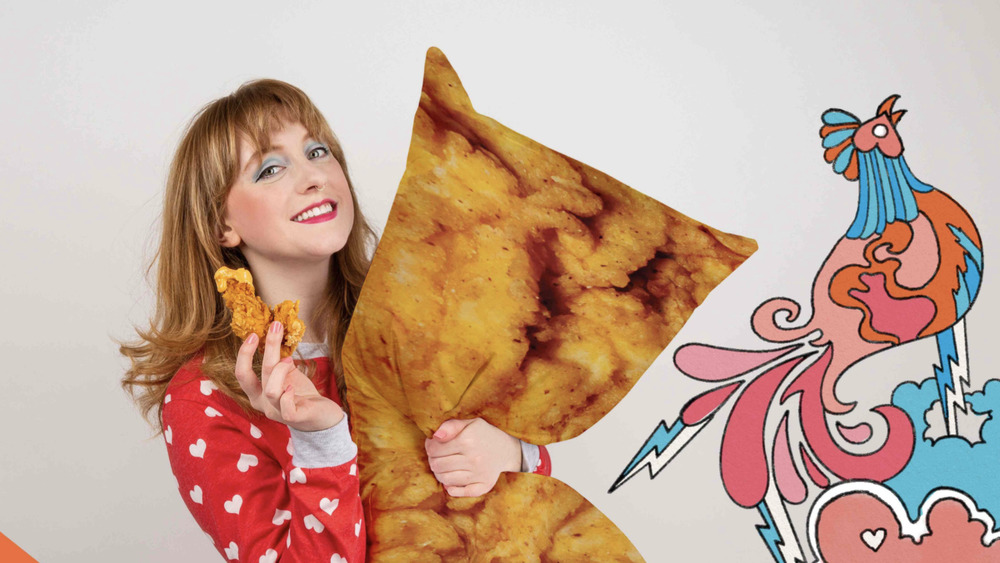 A&W
A&W brings to mind certain foods and drinks. The company has defined itself thanks to its signature root beer, while pioneering some of the first fast food accomplishments, like championing the original bacon cheeseburger (via Thrillist). This massive chain that grew from a humble roadside stand now plans to take on Popeyes, KFC, Chick-fil-A, and every other major fried chicken chain in the chicken sandwich wars, albeit in the strangest way possible. 
According to a statement sent to Mashed, A&W wants to call a peaceful end to the chicken sandwich wars with the introduction of their Valentine's Day-themed Chicken Tender Lovin' promotion. Beginning on Feb. 10, fried chicken fans can enter to win a ton of chicken tender-themed merchandise from the fast food chain by inputting their info on A&W's Facebook, Twitter, Instagram, or official site in order to potentially win prizes like a chicken tender body pillow, chicken tender lip balm (made with A&W fryer oil) and more strange prizes. The promotion aims to get people to put down their chicken sandwiches and simply embrace the love of fried chicken together.
A strange advertising campaign for A&W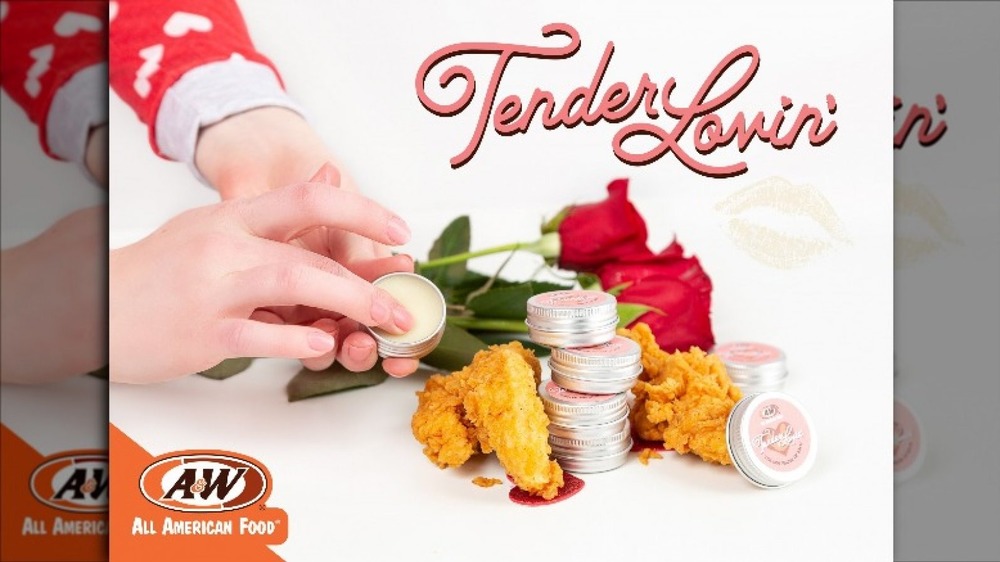 A&W
If you believe that A&W only plans to campaign for fried chicken peace because they lack chicken products, guess again. According to A&W, the chain sells a two-piece chicken tender sandwich, among a variety of other chicken products depending on which location you visit. Whatever the case may be, you don't want to miss out on this special Valentine's Day deal. According to the statement, you can't get any special deals on the chicken itself, but when you have the chance to snag one of many weird prizes, what's not to love?
If you love coming together around fried poultry and would love to win that special chicken tender body pillow, this promotion has your name on it and you need to act fast. According to the statement, the sweepstakes ends on Feb. 17, meaning you only have a few days to celebrate the love at the center of each piece of A&W's chicken tenders and potentially grab the fryer oil lip balm!