Aldi's Pork And Chicken Egg Rolls Are Turning Heads
There's nothing quite as satisfying as biting into a perfectly cooked, savory, crispy egg roll, packed with delicious fillings. However, it requires a lot of time and skill to make the delicious rolls by hand, and that's where Aldi comes in. In their special buys sections, they are now selling ready-to-serve chicken and pork egg rolls, which are available for purchase for only $2.79 per package for a limited-time.
The chicken egg roll contains freshly chopped cabbage, carrots, onions, and all white meat chicken, for just 130 calories and one gram of saturated fat, per serving. The pork version packs fresh pork with sliced cabbage, carrots, and onions, all for just 120 calories. The popular Instagram account @adventuresinaldi made a post raving about the egg rolls, asking their followers: "Are you an egg roll person? Are you going for pork or chicken?? Found in the special buy fridges!!" Their followers were quick to chime in with their own positive reviews of the product.
Aldi's egg rolls were a hit on social media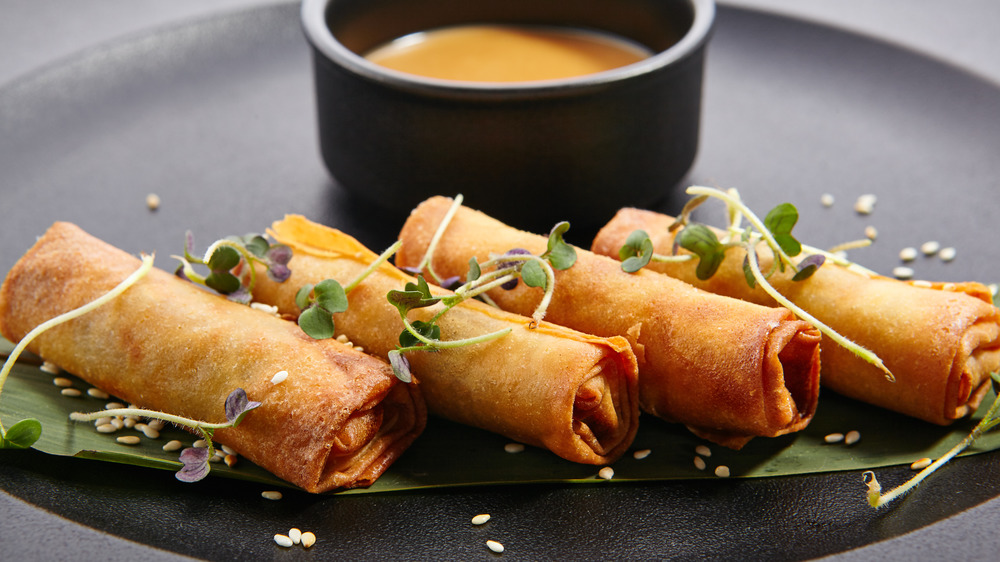 Shutterstock
One person commented on the Instagram post, "Just tried the chicken one tonight for dinner with this week's edamame freezer find and they were so good." Another added, "The pork ones were 10 less calories than the chicken ones. I baked them in the oven and they were very delicious and crispy." Other shoppers suggested baking them in the air fryer to keep the outside pleasantly crispy.
One wrote, "The chicken was delicious!! Cooked them in the air fryer." Another user agreed, "We cooked them in the air fryer the other night... and completely agree! Yummy!" The egg rolls are already thoroughly cooked, so they can also be microwaved and ready to eat in just five minutes for hungry diners that are in a rush.
These egg rolls join Aldi's many other Asian-inspired products, like their sriracha teriyaki sauce, crunchy rice rolls, crab rangoons, and their sweet and sour stir fry (via Instagram). So if you've been craving Asian cuisine, or simply want to mix up your dinner menu this week, now is the perfect time to head to your local Aldi and stock up on these special finds.