Krispy Kreme Will Have A Space-Themed Donut For One Day Only, Here's How To Get Yours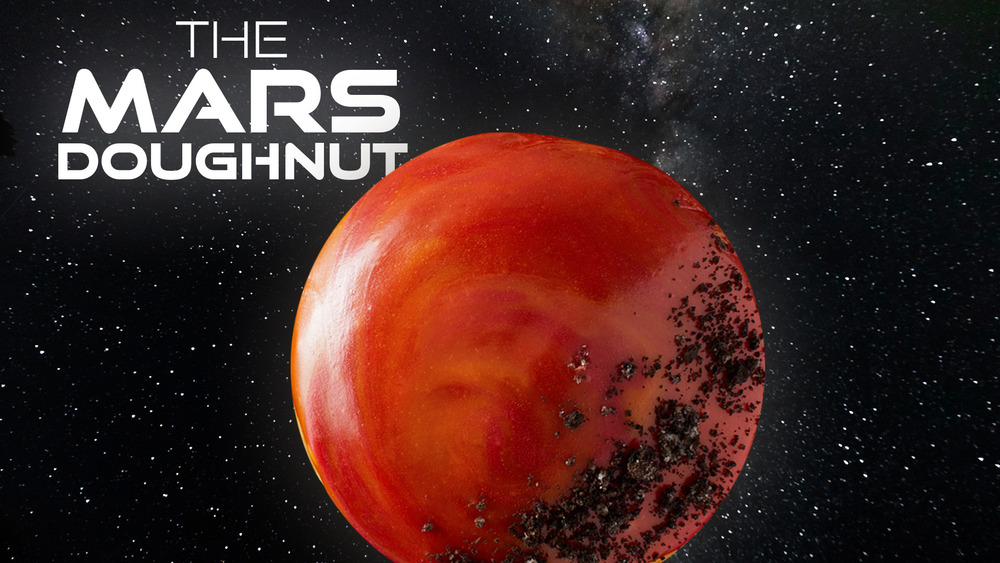 Krispy Kreme
On Thursday, February 18, Krispy Kreme will celebrate the landing of NASA's Perseverance Rover on Mars with a special, one-day offering: the Mars Doughnut. To resemble its namesake, a press release shared with Mashed explains that Krispy Kreme's Mars Doughnut features a Chocolate Kreme-filled doughnut topped with caramel icing with a special red swirl. It's finished off with a sprinkling of chocolate cookie crumbs.
"The landing of Perseverance on Mars will be an epic and important achievement," Dave Skena, Krispy Kreme's chief marketing officer, said. "So, we're celebrating the best way we know how: with an amazing new doughnut discovery right here on earth."
As a further treat, Krispy Kreme will offer a Mars Doughnut for free to any of the nearly 11 million people who participated in the "Send Your Name to Mars" program, in which NASA included the names of the participants on their rover. To receive your free donut, you can flash the Perseverance boarding pass issued to all participants. Otherwise, seize your wallet and run, for on Friday the donut will be gone.
You can watch the landing while eating your Krispy Kreme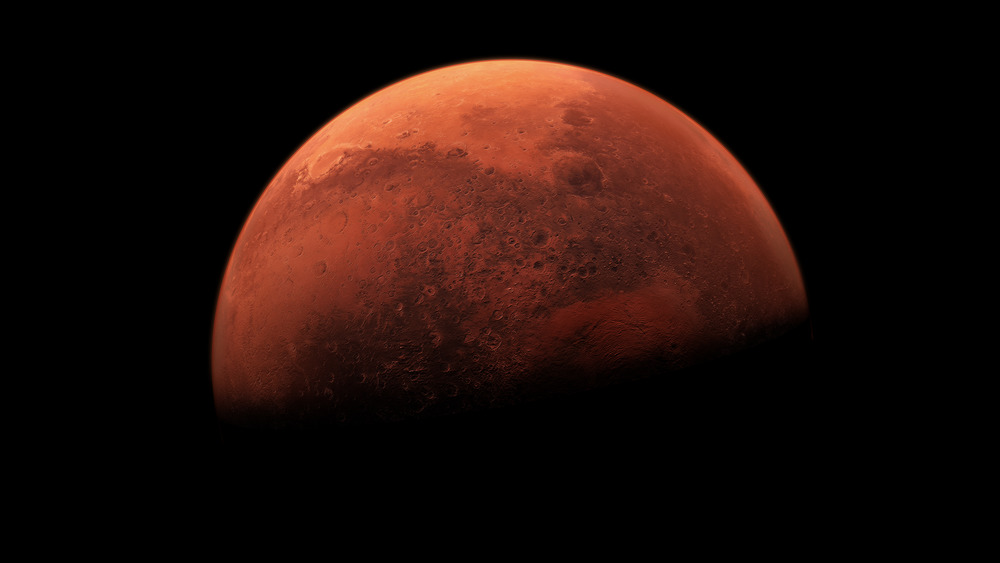 Shutterstock
In case a commemorative donut is not enough, you can also watch as Perseverance lands after traveling nearly 300 million miles. The broadcast of the Perseverance mission will be provided on many feeds (via NASA) and will begin on Thursday at 2:15 p.m. EST. Its mission briefing is expected at 5:30 p.m. EST at the earliest.
This viewing will include what has been dubbed "seven minutes of terror." This segment, as USA Today reports, consists of the atmospheric entry and final touchdown, all of which the Perseverance will handle automatically. "Just looking at that and thinking about landing really gets the blood flowing for me," Al Chen, NASA's entry, descent and landing lead at the Jet Propulsion Laboratory in California, admitted to USA Today. "Because of how long it takes for radio signals to get back from Mars all the way to Earth, Perseverance has to do this all on her own." 
However, as NASA emphasizes in a press release for the event, Perseverance is the fifth Mars rover, so the team behind it has the experience to pull this off. Just don't drop your Krispy Kreme in excitement as Perseverance navigates the buffering and entry. The Mars Doughnuts at Krispy Kreme are a one-day-only event.