This All-Star Academy Contestant Revealed A Touching Behind-The-Scenes Moment With Andrew Zimmern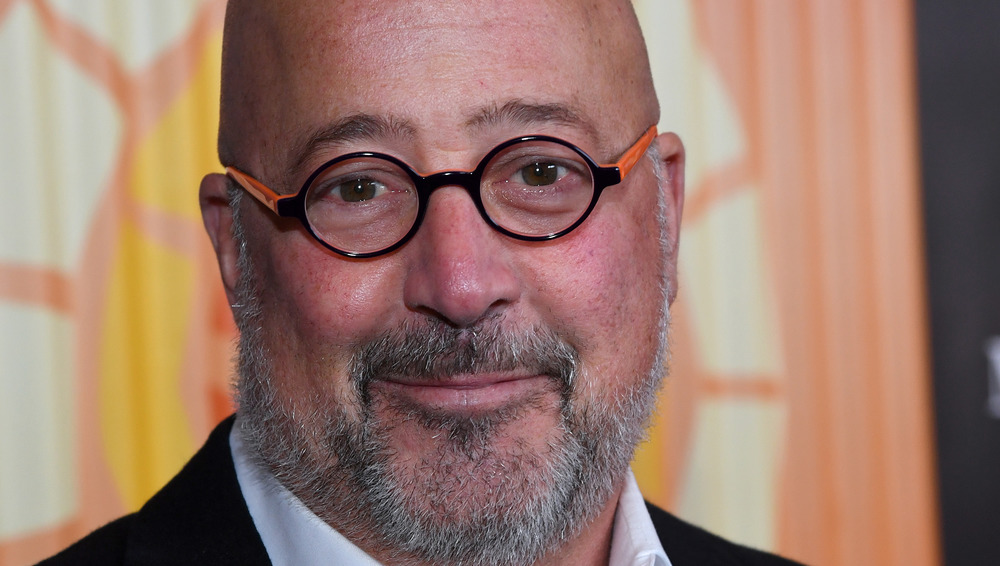 Kevin Mazur/Getty Images
Celebrity chef Andrew Zimmern is a considerate man. As described by HuffPost, Zimmern cares deeply about being a better person and giving back to society. Well-known for his TV show, Bizarre Foods, Zimmern has often used the opportunities he gets to "bridge cultures through food" and demonstrate that we're not too different from each other and can find ways to connect (via HuffPost). As he once said himself, it pains him to see people hurt each other for being different and having diverse religious beliefs and sexual preferences among other things.
Everything said and done, Zimmern likes being humble instead of bragging about his work in the non-profit arena. He explained, "I don't like talking about it because there's no way to talk about doing work for other people without sounding like a real douchebag." It's also clear that Zimmern likes to put time and energy into young, up-and-coming chefs.
Recently, one culinary pro took to Twitter to thank Zimmern for his kindness and talk about how the chef helped her out when she was just a newbie. Here's what happened. 
Zoe Kelly is very grateful for Andrew Zimmern's guidance
Chef Zoe Kelly, who was a part of the show All-Star Academy, wrote about how Andrew Zimmern comforted her at a particularly low point. She revealed on Twitter how she was unsure of herself when she made it as a contestant, struggling to stand out amongst her peers. While she managed to impress everyone with hard work and grit, she said that it was not easy for her to get to the finals. 
She added that Zimmern was incredibly kind and motivated her to believe in herself. She wrote, "I was the youngest on the show and probably not the most skilled (I cringe watching the episodes back) but I had a lot of heart and I knew flavor. After two weeks of back-to-back shoots, I made it all the way to the final." She confessed that losing against her competitor made her feel very defeated but Zimmern offered her words of comfort, whispering in her ear after her loss, "This is only the beginning." Kelly, for her part, can never forget how life-changing that moment was.