Read This If You Recently Bought Litehouse Salad Dressing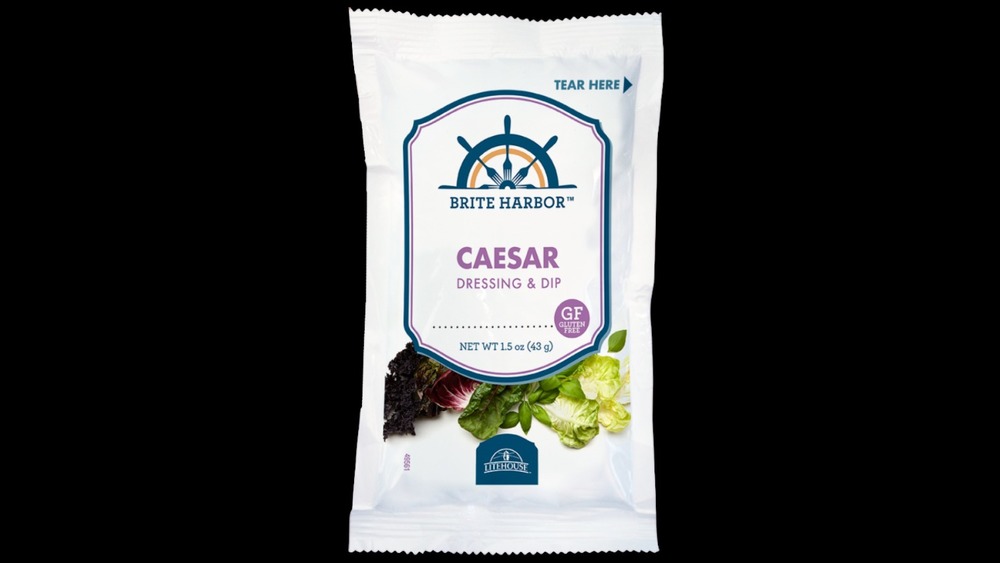 Litehouse Food Service
If you recently bought a salad from a retail store in Washington, Oregon, Idaho, and Utah, and picked up a pillow-packet of Caesar dressing/dip or Blue Cheese dressing/dip to go with it, or if you otherwise find that you are in possession of a pillow-packet of Caesar or Blue Cheese dressing in one of these states, it would be a good idea to check the label of such dressing/dip immediately, because 13,500 such pillow-packets are subject to a recall issued February 15, 2021, according to the U.S. Food and Drug Administration (FDA). 
Specifically, Litehouse Inc. has issued a voluntary recall of 225 cases of such packets of dressing/dip (each containing 60 individual pillow packets) that had been distributed by the company to retailers in Washington, Oregon, Idaho, and Utah. A significant labeling error has put consumers at risk for exposure to undeclared anchovies. Please note that Litehouse Inc. distributes these pillow packs in bulk under the brand name BRITE HARBOR.  To determine if you have one of the recalled packs of dressing, please read on. 
A packaging snafu means you might be exposed to undisclosed anchovies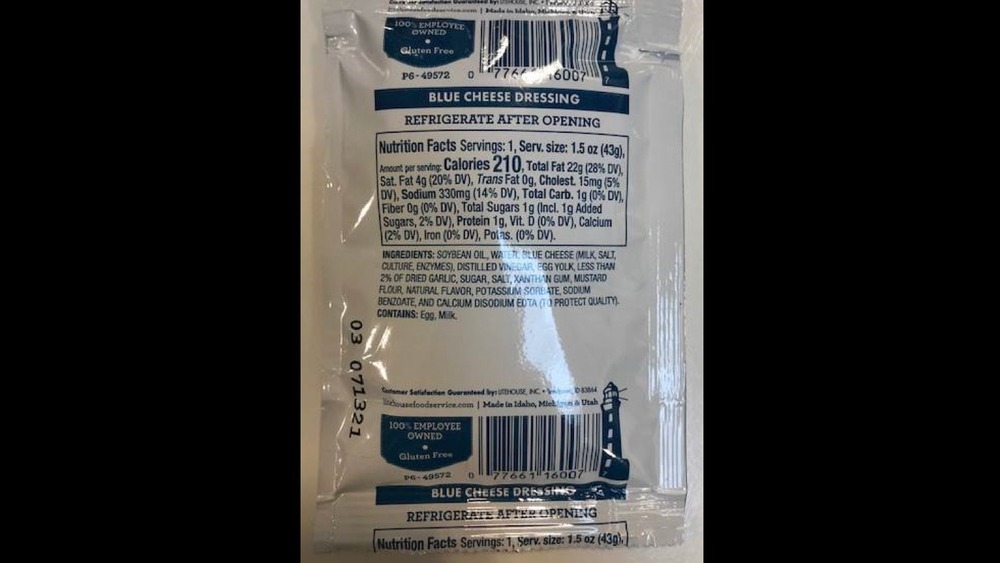 Litehouse Inc. is voluntarily recalling 225 boxes of 60 pillow-packets (1.5 ounces) of Brite Harbor Dressing & Dip because a packaging error resulted in the packets being labeled "Caesar" on the front of the packet and "Blue Cheese" on the back, according to an allergy alert issued by the FDA on February 15, 2021. The affected packets have a "Best Used By' date of "03 071321" and a lot code of "03 071321 16002 60/1.5 oz Brite Harbor Caesar."
Customers who have such packets under the belief they contain blue cheese dressing/dip may discover they contain not blue cheese but Caesar dressing, which contains anchovies. Those anchovies would not have been disclosed on a blue cheese dressing label because blue cheese dressing does not contain anchovies. If you have any of this product on hand, Litehouse asks that you not eat it and, instead, return it to wherever you acquired it in exchange for a refund. 
"Litehouse took this action proactively because people who are sensitive or have allergies to anchovies could be at risk of an adverse reaction if they consume this product," the alert stated. So far, no reports of adverse reactions resulting from the consumption of the affected dressings/dips have been reported, but anyone concerned about such a reaction should contact a healthcare provider, the alert advised. Consumers with questions may contact Litehouse customer service at 1-800.578.1652 or litehousefoods.com/contact.