Wendy's Is Shaking Up The Chicken Sandwich Wars With This Bar Food Classic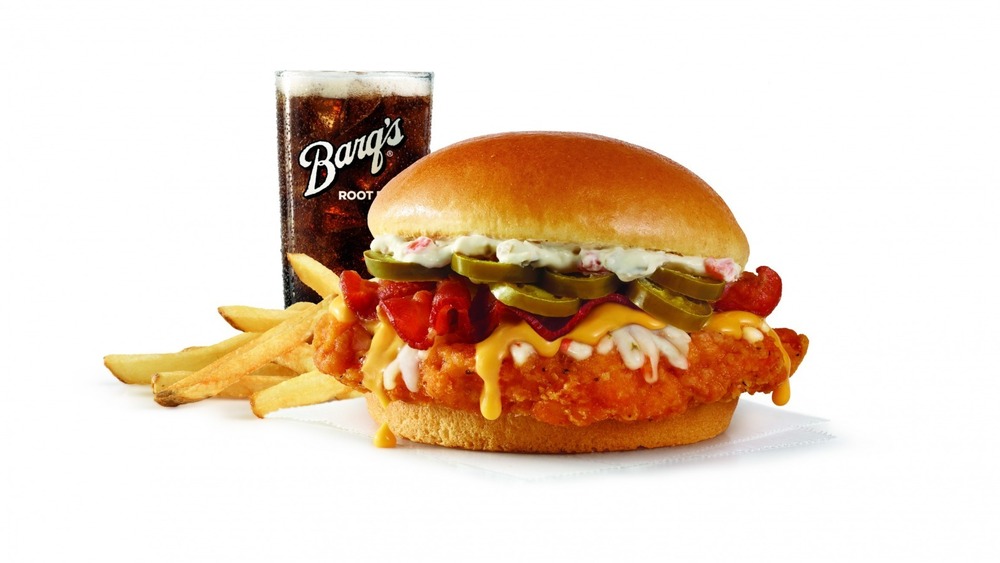 Wendy's
It's looking like the chicken sandwich wars are not only here to stay, but are consistently revving up each time a new sandwich is released onto the chicken-crazed market. This delicious poultry pseudo-war was launched back when Popeyes released its now infamous chicken sandwich and rival fast food restaurant Chick-fil-A took notice, per Restaurant Business. Since then, other fast food joints jumped in looking to stake their claim as the best. From Golden Chick's Big & Golden Chicken sandwich to BurgerFi's Spicy Fi'ed Chicken sandwich, everyone wanted a piece of the pie and were coming at it with full force. 
Who could have predicted that something as simple as bread, chicken, and a few condiments would have spurred up such a savory frenzy for fast food aficionados? Well, after revamping its classic chicken sandwich, Wendy's is bringing the heat again (figuratively and literally) with the release of its new fiery and tasty Jalapeño Chicken Popper sandwich, Chewboom reports.
Wendy's new chicken sandwich packs on the spice with jalapeños and a spicy cream cheese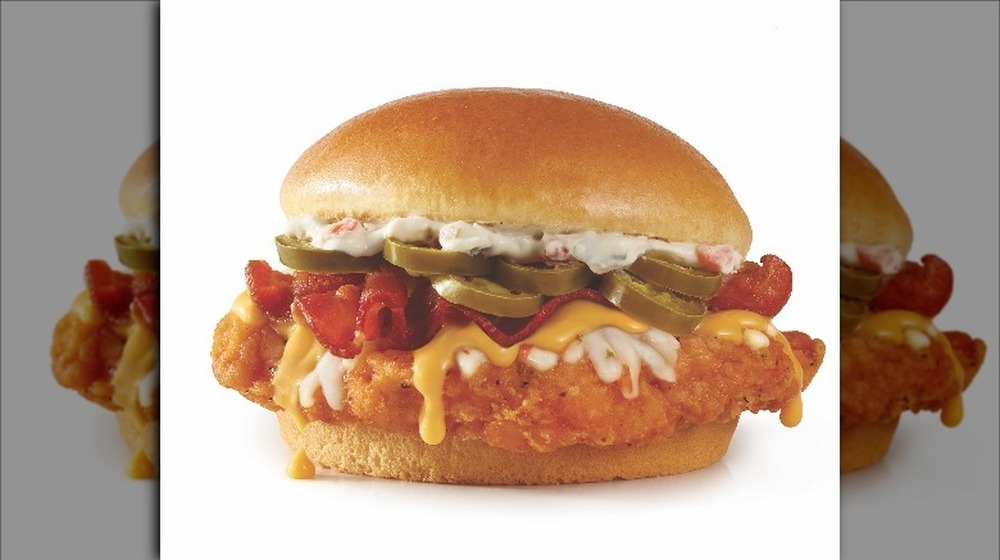 Wendy's
In a press release sent to Mashed, Wendy's revealed that it is updating its menu with its latest chicken sandwich iteration: the Jalapeño Chicken Popper sandwich. What can chicken sandwich lovers expect from the newest handheld chicken delight to hit the market? The sandwich is said to include six jalapeños, a decadent jalapeño cream cheese, three strips of their signature Applewood bacon, cheddar cheese, and shredded pepper jack cheese — all between two toasted buns. 
Carl Loredo, Chief Marketing Officer for Wendy's, explained in the press release that the restaurant is looking to enhance the chicken sandwich experience with their latest offering. CNN Business reports that the sandwich, which will join Wendy's chicken sandwich lineup, will set you back a cool $5.99. 
Not in the mood for a fried chicken patty? A representative for the company told Mashed that you can swap out the spicy fried chicken patty for Wendy's classic or grilled patty versions instead. Sandwiches not your thing? Wendy's has your back with their Jalapeño Popper Chicken Salad. The salad is laid out on a bed of mixed greens and topped with tomatoes, crispy jalapeño and cheddar croutons, and a creamy jalapeño ranch dressing.