Smugglers Tried To Hide Over $2.8 Million Worth Of Cocaine In This Cereal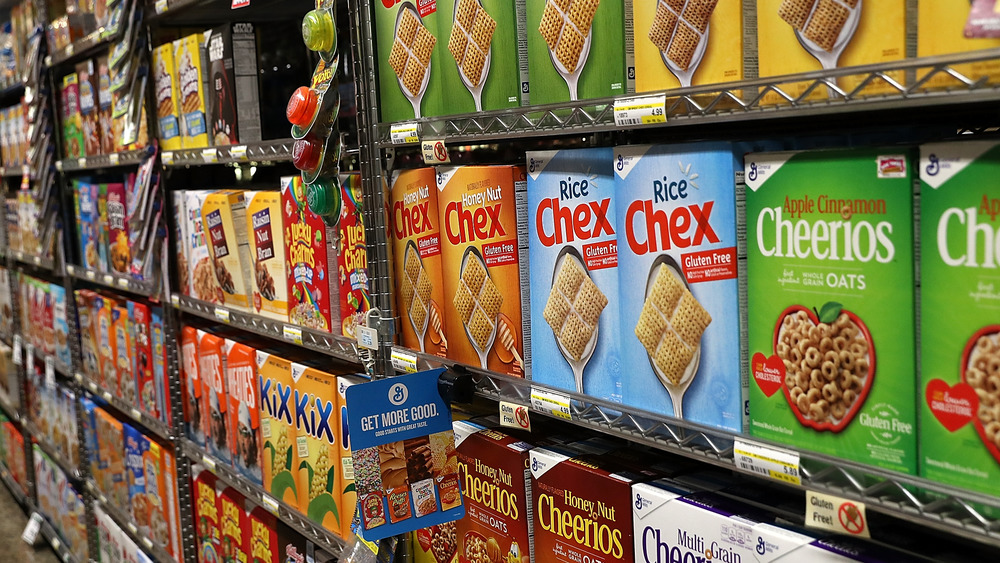 Justin Sullivan/Getty Images
On February 13, the U.S. Customs and Border Protections in Cincinnati reported the seizure of 44 pounds of cocaine that had been hidden in boxes of Corn Flakes. The value of this haul, the agency estimated in an announcement published on the 19th, was $2,822,400 (via CBP). 
The suspect Corn Flakes were headed to Hong Kong but not before they were flagged by CBP's Narcotic Detector Dog "Bico." Reportedly, the smugglers did not just shove the pouches into the emptied boxes but coated the flakes with cocaine.
Corn Flakes frosted with coke is a great image for a headline. However, drugs being smuggled in cereal boxes is actually a more frequent occurrence than you may realize. Perhaps it's less surprising when you take into account the 3,677 pounds of illegal goods that the CBP claims to have confiscated on a typical day across ports in America last year. One of these, as another announcement reported, occurred when agents discovered packages of meth in cereal boxes last September (via CBP).
A third, non-CBP case involved boxes of Lucky Charms, which MSN reported were filled with cocaine. Presumably, the idea behind these smuggling attempts is that these boxes are easily transportable and deflect attention, but with their repeated flagging as drug containers, cereal boxes seem to be more of a red flag than anything else.
Cereal box smuggling is more common than you think
Shutterstock
In 2014, the most egregious cereal box-based smuggling case came to light: turtles. The Detroit News ran the story that a local man had been arrested for shipping thousands of turtles across the world, packaged in cereal boxes and snow boots. The kind of cereal? Corn Flakes again. The haul consisted of more than 700 hatching diamondback turtles as well as other species. This, Assistant U.S. Attorney Sara Woodward, announced, was part of an international turtles smuggling ring in which they sold endangered turtles for $1,800 each.
Since then, Kai Xu, the ring leader, pled guilty to six counts of smuggling turtles, according to the Eastern District of Michigan in 2016. He was sentenced to 57 months in prison. The turtles, as The Global News was careful to discover, were handed over to the care of the Detroit Zoo. Again, considering all the questionable uses that cereal boxes have been put to, it would be more unusual to find someone traveling with a genuine box of cereal than one deployed as a tool for smuggling.