Everything You Need To Know About Popeyes' New Cajun Crispy Shrimp Combo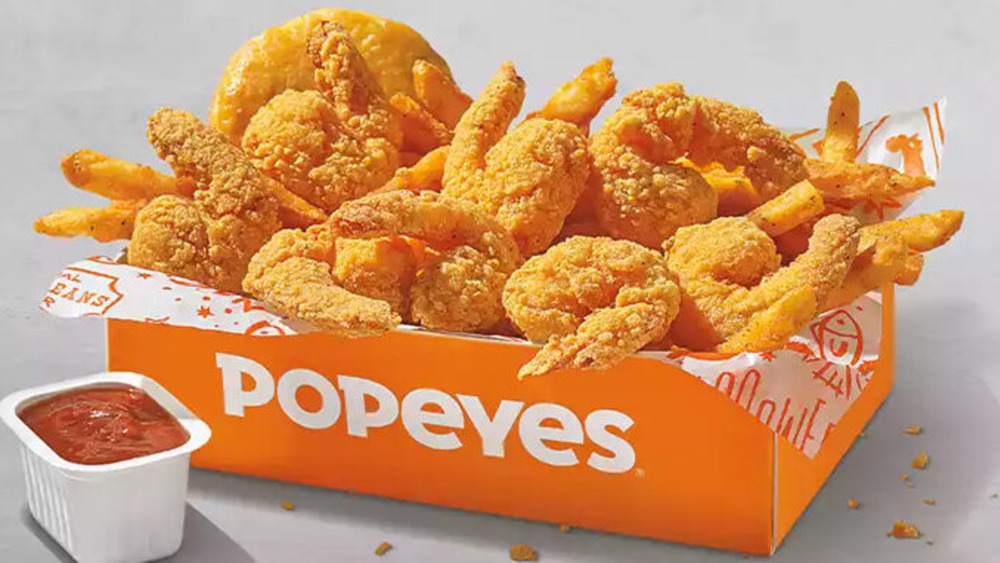 Popeye's
This year, Popeye's is updating its menu to make it easy for those avoiding chicken to still find something tasty to eat at its restaurants. While Popeye's is usually synonymous with fried chicken, the fast food chain is adding some new seafood items to the menu to better serve those customers, who are following a pescatarian diet or those that are trying to avoid red meat. According to Chew Boom, one of Popeye's new menu items is its Cajun Crispy Shrimp.
The new sandwich includes fresh butterfly shrimp that is marinated in Louisiana seasonings, battered, breaded, and then fried in a coating of cajun black pepper. Yum. And for a limited time, the popular chain is also offering a Cajun Crispy Shrimp dinner combo meal, which includes eight Cajun Crispy Shrimp, one signature side of your choice, a biscuit, and one dipping sauce, all for just for $5. That not only sounds delicious, it sounds like quite a bargain. 
Popeye's will also be adding the Cajun Flounder Sandwich to the menu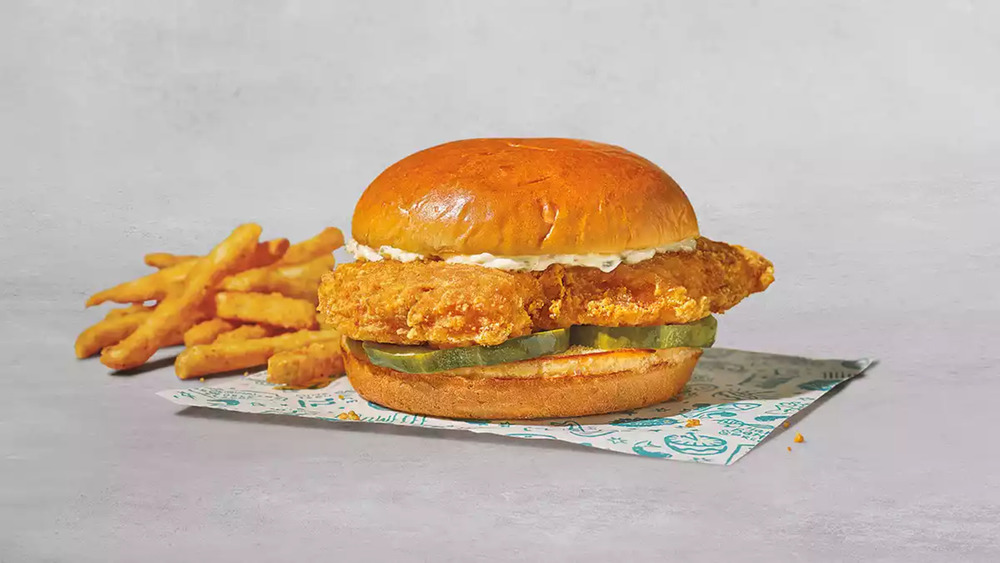 Popeye's
For people that aren't giving up meat entirely, but want to give the new shrimp a try, they can also purchase the $5 Cajun Shrimp Surf & Turf combo meal, which comes with four Cajun Crispy Shrimp, two chicken tenders, your choice of side, and a biscuit, per Brand Eating. This Cajun Crispy Shrimp joins Popeye's other new seafood offering, the Cajun Flounder Sandwich, which features a fried flounder fish fillet, with tartar sauce and cured pickles served between a toasted brioche bun (via Popeye's). 
These new items will only be on the menu at participating locations for a short time, so if you are abstaining from meat, or are simply a fan of seafood and want to give these tasty offerings a try, then now is the time to head to your local Popeye's for some seafood fare.