Costco Fans Are Loving These Pre-Cooked Beets
Beets are a healthy vegetable that contains a host of health benefits. They are a low-calorie source of many essential vitamins and nutrients, including folate, iron, manganese, and potassium. According to Healthline, beets may also help improve cognitive function, aid in digestive health, and even boost athletic performance. The antioxidants in beets may also help reduce the risk of some diseases, including high blood pressure, diabetes. and certain cancers.
Beets are a great addition to any diet, and now, Costco is making it easier to harness the health-boosting properties of this root vegetable. The store is now selling 4-packs of Love Beets organic cooked beets, so shoppers can enjoy all the benefits of the superfood without the hassle of preparing and cooking them yourself. Social media user @costcodeals posted about the new deal, writing: "@LoveBeets Organic Cooked Beets Club Packs are right now on sale for $3.30 off in @Costco warehouses nationwide! Promo deal ends 3/8!" (via Instagram)
Love Beets organic cooked beets can be added to a number of dishes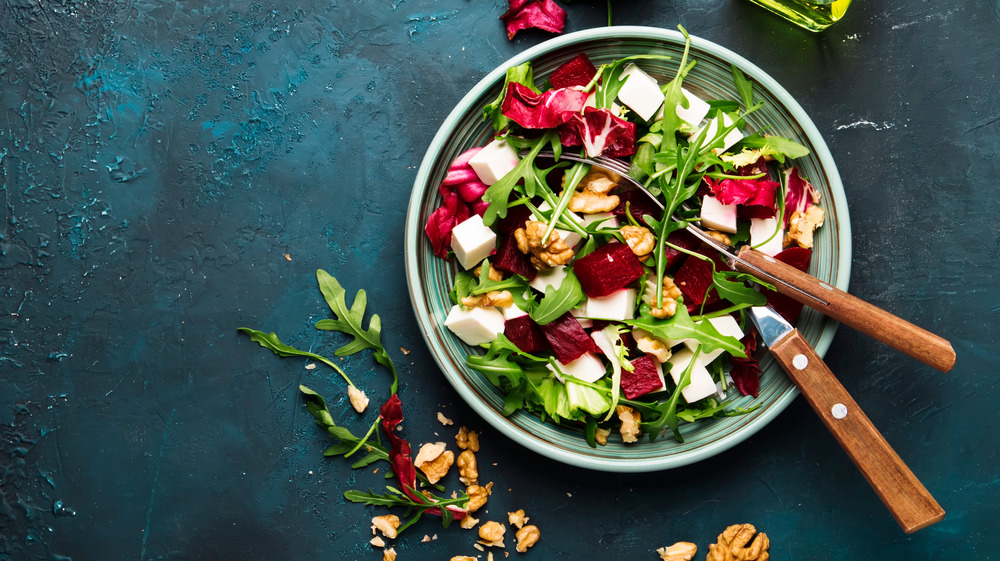 Shutterstock
User @costcodeals went on to explain "these delicious beets are precooked and ready-to-eat which means none of the hassle and mess beets can be known for," and their followers were quick to express their delight at this healthy, easy-prep, no-mess deal. "I love beets and they taste really great on salads too. Need some soon .. looks like a Costco run is on my list of errands this week," follower @qarmenca53 replied.
Not only are Love Beets precooked offerings healthy and easy to prepare, but they are also completely organic, kosher, gluten-free, and vegan. The company website says it also uses all-natural ingredients, with no added colors, preservatives, or GMOs, so if you're health-conscious, you might love these beets even more.
Cooked beets are a "versatile" ingredient, according to Love Beets. They make a great addition to salads, sandwiches, soups, and even desserts. Instagram user @thambelleena suggested: "I cut up a couple and add to my salads. They have a really great natural flavor. They will stain so be careful with the juices. If you like feta and walnuts in your salad, all will [complement] the beets really well. Enjoy!" No matter how you like them, Love Beets organic beets sound like an easy, tasty, and healthy product to add to your next Costco run.