Homemade Pad See Ew Recipe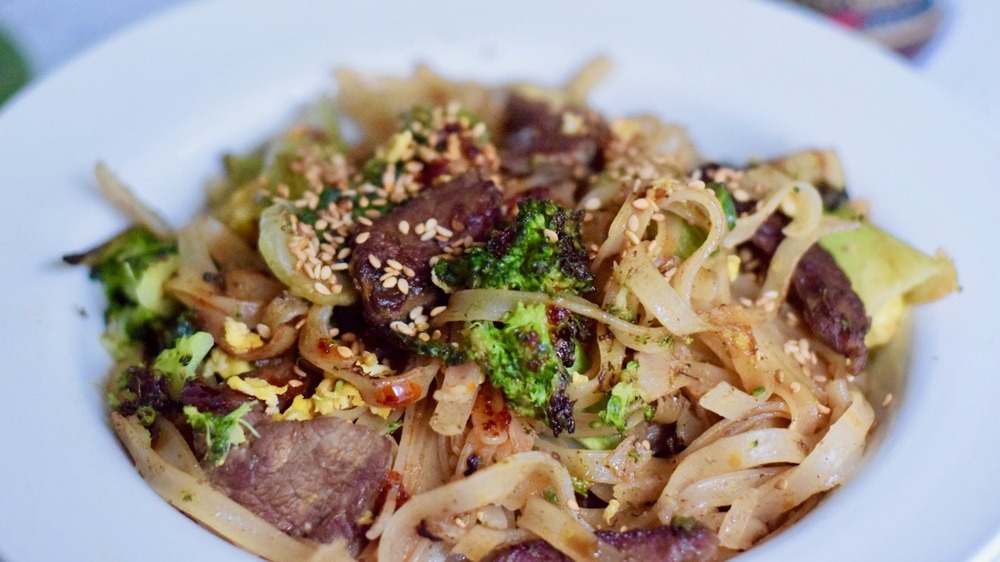 Tara Rylie/Mashed
There's nothing better than ordering take-out Thai or Chinese food, curling up on the couch in baggy sweatpants, and eating your heart out while you binge-watch the best Netflix shows. We know this because we love the ease and comfort of take-out nights, too! But what if we told you, you could create some of your restaurant favorites at home in just under an hour?!
Like this pad see ew, a popular stir-fried noodle dish in Thailand with Chinese influences. The name itself actually means "fried soy sauce" which is perfectly fitting as pad see ew has a soy sauce-based sauce that actually uses both dark and light soy sauce. The dish is also known for using Chinese broccoli and wide noodles, a few ingredients that can be hard to find.
Thankfully Chef Tara Rylie of RylieCakes created a recipe for pad see ew that you can easily make at home and below she walks you through the ins-and-outs of what's truly traditional and what's a little more practical for at-home chefs.
Traditional wok vs practical saute pan when making pad see ew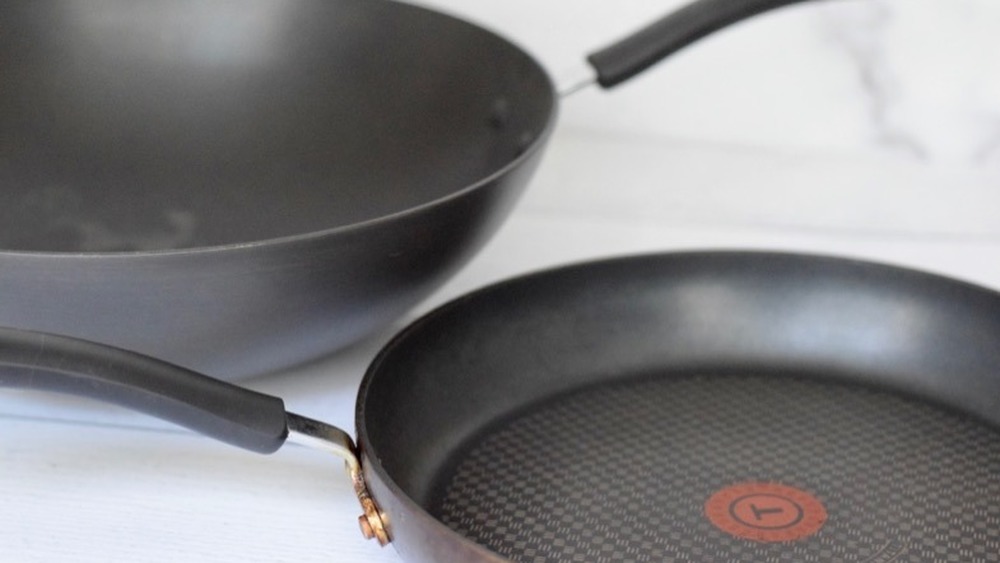 Tara Rylie/Mashed
To make a traditional pad see ew, a wok is needed. Woks are the perfect vessel for stir-frying because of their rounded bottoms and deep sloping sides. This form allows your cooking oil to concentrate at the bottom, cooking whatever is in the center of the wok while keeping the rest of your ingredients heated on the sides. Cooking in a wok is much faster than using a saute pan and helps create crisp edges on your meat, veggies, and noodles while not overcooking them.
However, not all home chefs have a wok on hand and that's okay, you can use a saute pan for this recipe. It will take a little longer and you'll want to cook your meat and veggies in batches rather than continually add to the pan. We've created this recipe with a saute pan in mind so just follow it step by step and you'll be good to go!
Make a quick steak marinade for the pad see ew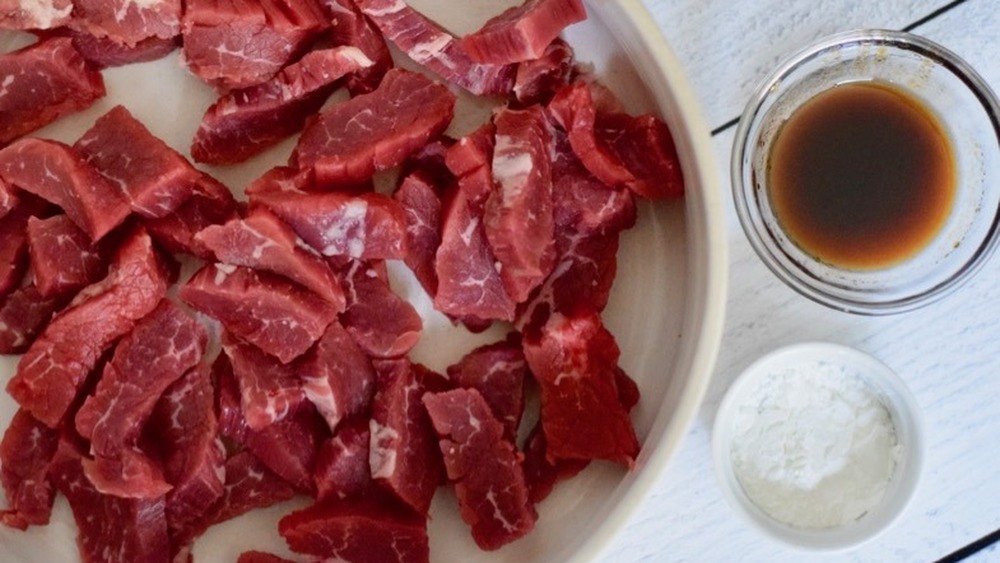 Tara Rylie/Mashed
The first step in this recipe is to marinate your flank steak. It's just a quick marinade so don't feel like you have to do this hours ahead of time. Simply coat your flank steak slices with cornstarch, this will help make the edges crispy when frying, and then pour your canola oil and soy sauce over it. Use a spatula to stir the steak up a bit, ensuring that each slice is saturated in the sauce. Set your steak aside until you're ready to use it.
Tips on cutting: for a more tender bite of flank steak, cut it across the grain to shorten its tough fibers.
Everything you need to know about rice noodles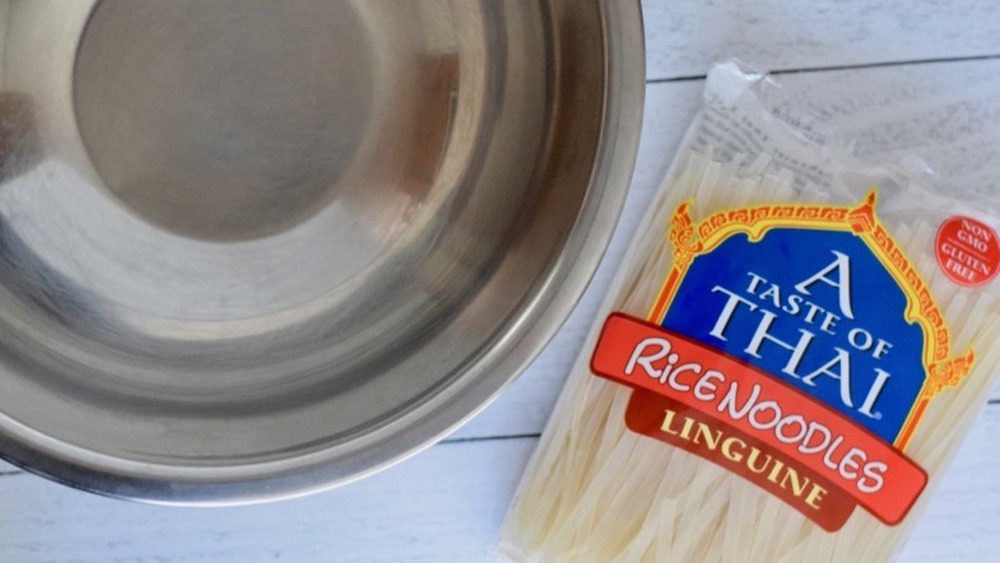 Tara Rylie/Mashed
To make this pad see ew truly authentic, you'll want to use fresh wide rice noodles. However, we found these can be nearly impossible to find! After going to three grocery stores — including both large chains and local supermarkets — and calling an Asian supermarket near us, we weren't able to get our hands on wide rice noodles, fresh or dry. So if you've exhausted all your resources and you can't find any either, use dry linguine rice noodles instead.
They aren't as wide and definitely aren't fresh but they do the trick and your pad see ew will be just as delicious. And on the plus side, they were available at all three grocery stores we tried as well as at the Asian supermarket.
The best way to cook your noodles is according to the package. Most rice noodles have instructions for stir-fry or for soups and stews. Be sure to cook the noodles according to the stir-fry directions which is usually done by placing the noodles in a large bowl, pouring steaming hot water over top, and letting them sit.
All about the pad see ew sauce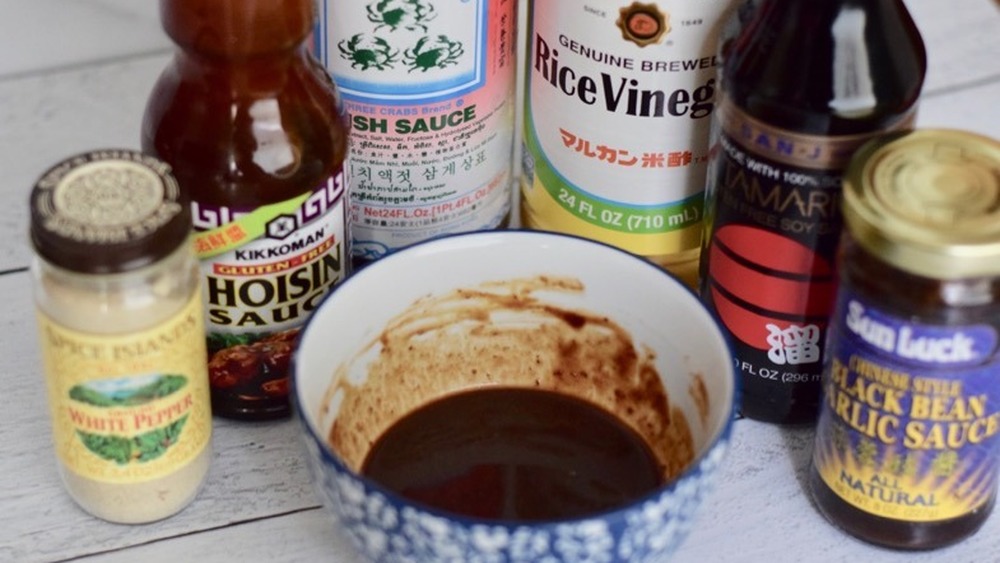 Tara Rylie/Mashed
While your steak is marinating and your noodles are soaking, go ahead and whip up the sauce for this dish. As mentioned before, pad see ew has a soy sauce-based sauce. However, just like the noodles, we found dark Thai soy sauce hard to come by so we created a sauce with a few other everyday ingredients that are a little easier to find. 
If you want to make this dish completely authentic, substitute dark Thai soy sauce for the black bean garlic paste and substitute oyster sauce for the hoisin sauce.
When you can't find Chinese broccoli for pad see ew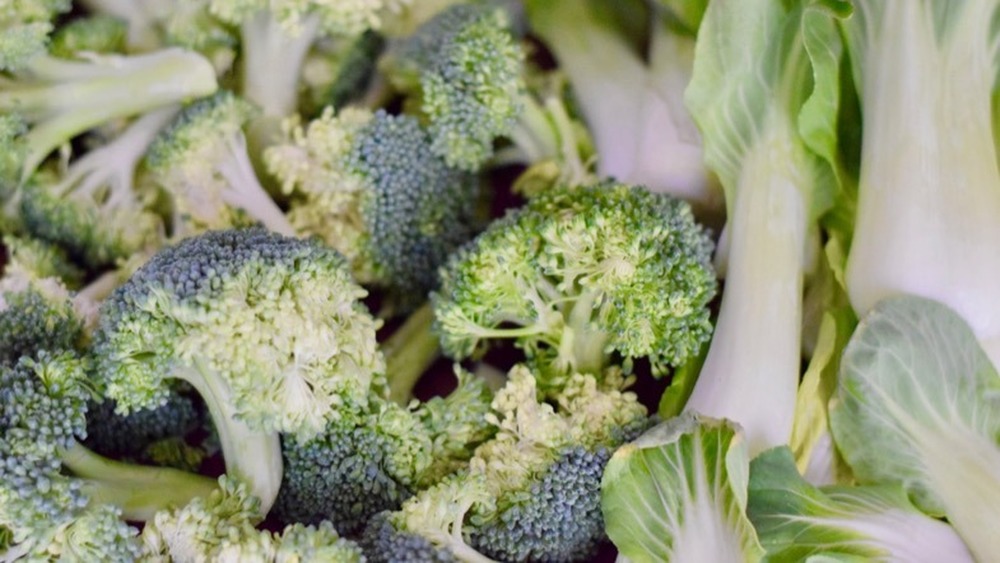 Tara Rylie/Mashed
Last but not least, let's talk about Chinese broccoli. It's a leafy vegetable with thick stems and florets similar to broccoli but, you guessed it, it can also be hard to find. Just like the other tricky ingredients, there are a few great substitutes for Chinese broccoli that will make this dish just as good!
Broccolini is a great choice because it's actually a hybrid of broccoli and Chinese broccoli. This would naturally be our first choice. But if you can't get your hands on broccolini either, go for a mix of broccoli and spinach or broccoli and bok choy. The broccoli will mimic the florets from Chinese broccoli while the spinach or bok choy will replace the leafy greens. As you can see, you have plenty of options here to make the dish just how you like it and still taste like your favorite restaurant take-out.
Stir fry the pad see ew ingredients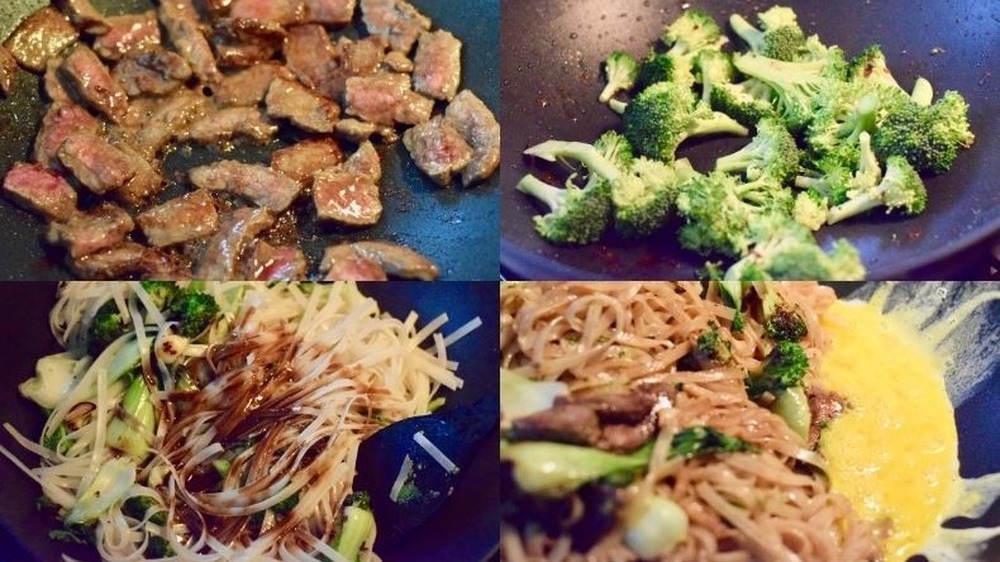 Tara Rylie/Mashed
So you've got your steak ready, your noodles cooked al dente, your sauce whipped up, and your veggies prepped; you're finally ready to wok n' roll! Heat up a little canola oil in a saute pan or wok, whichever you choose, and once it's hot, sear your steak first. Then remove your steak from the heat and place your broccoli in the pan. Once it's seared, add your garlic slices and bok choy. Cook until your bok choy is starting to soften and then add your noodles and sauce. Stir it all together, add back in your steak, and then push it all to one side of your pan while you fry your eggs. Finally, combine your eggs into your noodle mixture and then let it all saute for a few more minutes until the sauce starts to caramelize on the noodles, giving them a tasty golden hue. Serve hot paired with toasted chili oil and sesame seeds.
We know we walked you through a lot of substitutions here, trying to giving you all the information possible to make this dish as authentic as it can be, but when it comes down to it, this pad see ew comes together quickly and makes for the perfect movie night in, comfort food dish.
Homemade Pad See Ew Recipe
Finding the ingredients for authentic pad see ew isn't always easy. Luckily, this recipe is very hackable and still delivers delicious Thai flavor.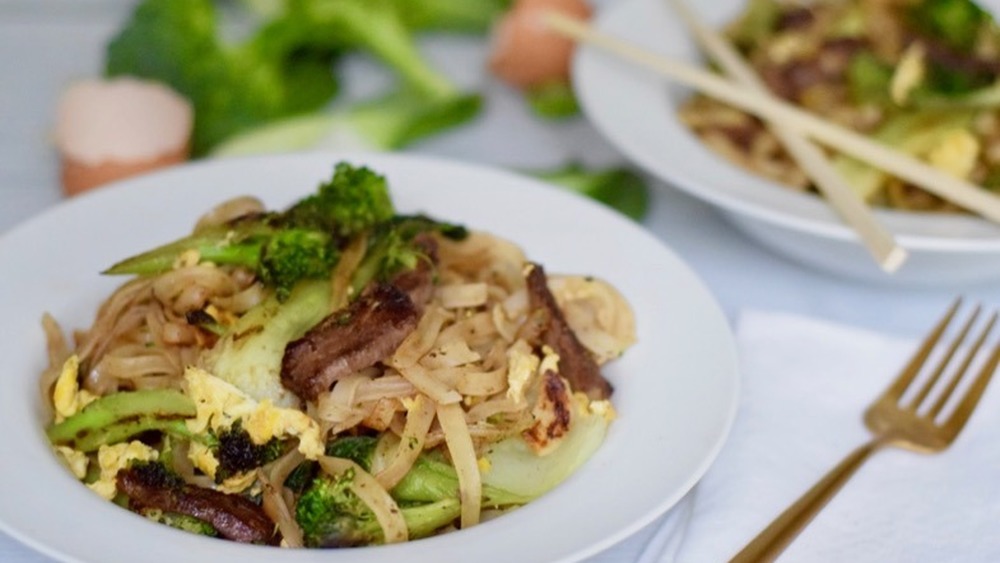 Ingredients
12 ounces flank steak, sliced ⅛-inch thick
1½ teaspoon cornstarch
2 tablespoons + 1½ teaspoons soy sauce, divided
5½ teaspoons canola oil, divided
1 teaspoon white pepper
2 teaspoons fish sauce
2 teaspoons rice vinegar
1 tablespoon hoisin sauce
2 tablespoons black bean garlic paste
1 lb dried wide rice noodles
1 small head broccoli, stem removed and cut into medium pieces
4 large garlic cloves, thinly sliced
2 small stalks of bok choy, leaves peeled from the base
2 large eggs, slightly beaten
Directions
Coat flank steak slices with cornstarch. Mix together 1½-teaspoons soy sauce and 1½-teaspoons canola oil in a small bowl and then pour over steak. Stir to combine and set aside.
For the sauce, whisk together white pepper, fish sauce, rice vinegar, hoisin sauce, 2-tablespoons soy sauce, and black bean garlic paste sauce in a small bowl. Set aside.
To cook noodles, follow directions on the packaging for stir-fry noodles. Make sure you cook the noodles al dente (slightly undercooked). Once cooked, drain noodles.
While noodles are nearly done cooking, heat wok or large sauté pan over high heat. Add 1 tablespoon canola oil to coat the entire base and sides of pan. Sear steak until it is nearly cooked through, then transfer back to marinade bowl.
Add 2-tablespoons of canola oil to wok/pan then add broccoli pieces. Let sauté until edges are starting to char. Add 1 tablespoon of canola oil, garlic slices, and bok choy. Stir constantly for about a minute until bok choy has softened.
Add drained noodles to wok/pan then pour sauce over noodles. Fold all ingredients together, add steak and fold one more time.
Push noodle mixture to one side then add beaten eggs. Once eggs start to cook, break them up with a spatula into smaller pieces. Fold eggs into noodle mixture.
Continue cooking over high heat for about 2 more minutes allowing noodles to caramelize and brown slightly.
Remove from heat and top with toasted chili seed sauce and toasted sesame seeds. Use tongs to serve up pad see ew immediately.
Nutrition
| | |
| --- | --- |
| Calories per Serving | 736 |
| Total Fat | 17.2 g |
| Saturated Fat | 4.5 g |
| Trans Fat | 0.0 g |
| Cholesterol | 151.0 mg |
| | |
| --- | --- |
| Total Carbohydrates | 109.1 g |
| Dietary Fiber | 6.7 g |
| Total Sugars | 5.1 g |
| Sodium | 1,186.2 mg |
| Protein | 34.3 g |