Denny's Has Good News For Hot Chicken Fans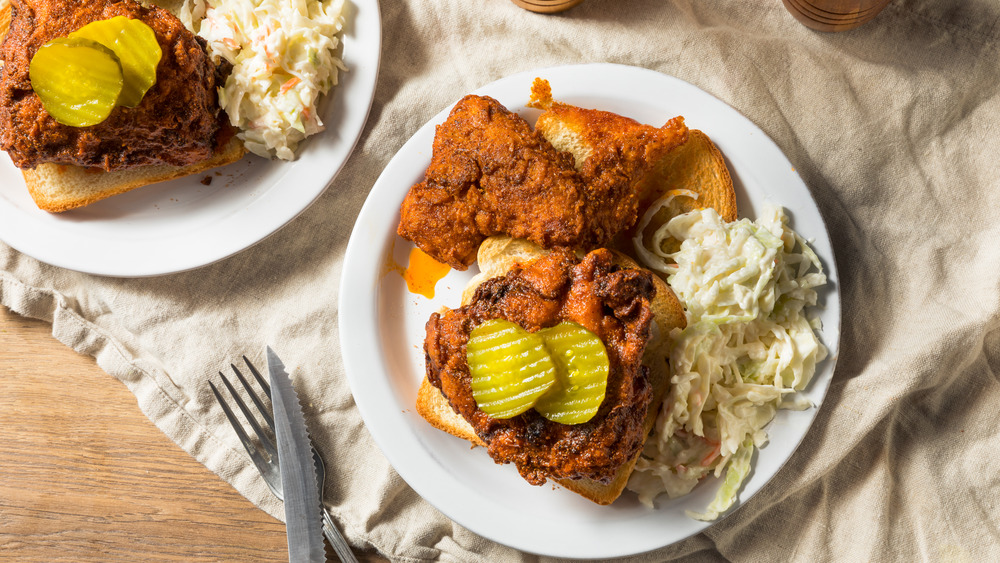 Shutterstock
Nashville hot chicken easily wins fans over thanks to its distinct, spicy taste, but a bit of mythologizing might have helped this regional chicken dish really take hold. According to Westjet Magazine, the chicken came to fruition thanks to the efforts of a woman seeking revenge on Thornton Price for cheating on her, and decided to douse his chicken with enough cayenne to burn his taste buds. Instead, Price loved the new culinary invention and started selling it at his restaurant, Prince's Hot Chicken Shack, introducing the world to the first hot chicken. 
If you love the taste of hot chicken, but don't want to make the expedition to Nashville to try some authentic hot chicken, Denny's now has a mouth watering solution for any poultry lover. According to Delish, Denny's has started to roll out a slew of new menu items, including their take on hot chicken. The entree comes in the form of the Nashville Hot Chicken Melt, pairing a deep fried chicken breast coated in hot sauce with Swiss cheese, tomato, pickles, and mayo, served on Texas toast. The item comes with a side of fries and should make its appearance at restaurants today, so get ready to start plotting how to grab one of these melts for yourself.
A hot chicken sensation at a Denny's near you!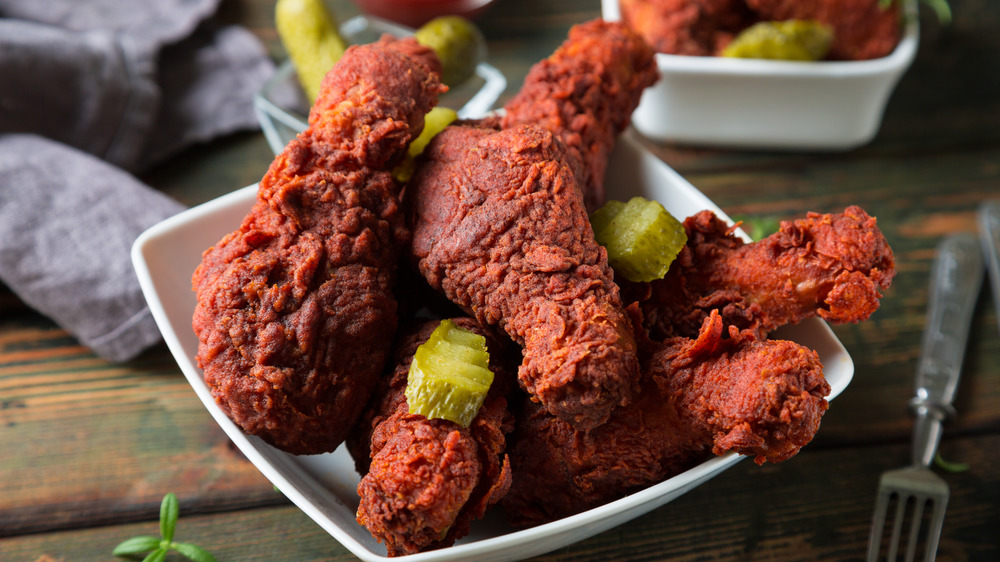 Shutterstock
As you make your way to Denny's to grab one of these new sandwiches, you can ponder which side you might like with your hot chicken. According to Chewboom, you can upgrade your fries to seasoned fries, onion rings, or even fruit if the mood strikes. 
Denny's has also started offering its new chicken melt alongside a handful of other items that can tempt you on your next visit. In addition to the hot chicken, you can now also score the Big Dipper melt, a pot roast melt that comes with a pot of au jus for dipping; Mama D's Pot Roast Bowl, featuring pot roast atop a variety of vegetables and gravy; and the Chicken Addiction Bowl, pairing grilled chicken breast with rice, broccoli, and Alfredo sauce (via Delish).
If you've been craving some new flavor experiences that guarantee to deliver a ton of comfort in every bite, you need to stop into your local Denny's and give their new Nashville hot chicken melt a try. It beats making a road trip to Tennessee to grab the local delicacy, and after tasting the melt, you might just discover your next favorite hot chicken sandwich.