This Cutthroat Kitchen Champ Released A Set Of Spices Honoring The Biden Administration
As part of the launch for her new spice store Just Savor, Chef Huda Mu'min, winner of Cutthroat Kitchen's episode S'mortal Combat, introduced two limited edition products to celebrate President Joe Biden and Vice President Kamala Harris (via Just Savor). The Biden Beau Monde features, among other spices, allspice, nutmeg, mace, and celery seed with a suggested use for roasts. The Kamala Masala proves more straightforward, mixing coriander, cumin, turmeric, cardamom, and others to celebrate the VP's Indian heritage (via Just Savor).
Just Savor is selling a 2.25 oz. container for the Kamala Masala and a 2.6 oz. one for the Biden Beau Monde, both for $9.99. According to a press release, a portion of the proceeds will go to support the Beau Biden Foundation and the American Heart Association. "My mission is to inspire people to cook, to share, and just savor a little bit more. Through foods, we can unite and empower people and our communities in a delicious way," Chef Mu'min explained in words that reflect the reasoning behind the presidential items as given with their product descriptions. Namely, celebrating bold change-makers with bold spices.
Chef Huda Mu'min has kept busy during the pandemic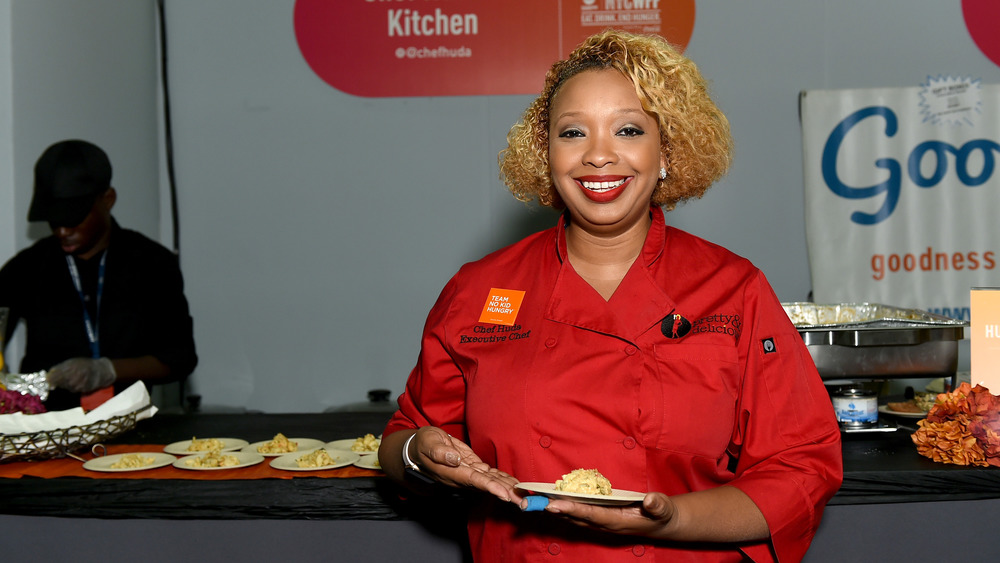 Mike Coppola/Getty Images
The ongoing effects of the coronavirus pandemic have confused the culinary industry utterly. For Chef Huda Mu'min, as Food & Wine explains in a piece featuring her presidential spice blends as one of their picks, things occurred no differently. Just Savor came into existence due to the various forced closings of Chef Huda's Kitchen, the restaurant she runs in Washington DC. 
At points during the lockdowns, Chef Mu'min has also hosted a series of Instagram Live videos called #KitchenQuarantineParty, which extended to a special Valentine's Day edition as well as a one for Red Nose Day (Comic Relief) (via Instagram). These have ended. However, according to Food & Wine, she is set to move into podcasts with a program called World of Hu, in which she will chat with food, fashion, and entertainment figures.
In short, a prolonged lockdown has not kept Chef Mu'min locked down for long.