These Lucky Charms Marshmallow Filled Cookies At Aldi Are Turning Heads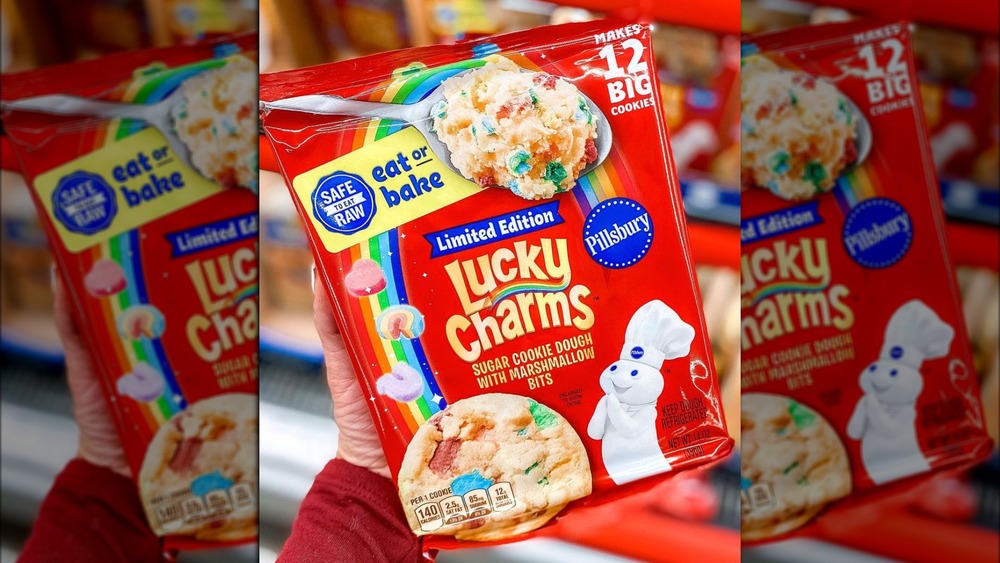 John Keeble/Getty Images
Aldi isn't a much-loved grocery brand for nothing. According to Mental Floss, the brand has definitely managed to become a heavyweight in the industry thanks to its affordable rates and unique offerings. The brand is pretty specific about its approach and focuses on adding a limited number of curated items — about 1,400 — instead of carrying countless options. So you'd find the things that you really need and can probably finish shopping much faster at the store. However, if you're looking for specific brands that you love and usually opt for, Aldi may not be the right pick for you. For example, Aldi currently only lists 19 cereals on its site, and classics like Cheerios, Froot Loops, and Cap'n Crunch are noticeably absent from the bunch.
With that in mind, when Aldi announces a collaboration with a favorite, iconic cereal brand, we are all ears. These days, Aldi shoppers are raving about Lucky Charms marshmallow-filled cookie dough from the store. Here are all the details you need about this limited edition item.
This Lucky Charms-filled sugar cookie dough can be eaten or baked
Spotted by Instagram account @aldi.mademedoit, Aldi's Lucky Charms sugar cookie dough with marshmallow bits is a definite hit if the comments are anything to go by. The Lucky Charms Sugar Cookie Dough With Marshmallow Bits from Pillsbury is a limited-edition item that can either be eaten raw safely or baked into 12 big cookies. A commenter mentioned how good the cookies are and wrote, "These cookies are amazing. Definitely going back to get more this weekend! Highly recommend these!" Whew!
Another Instagram user joked that their son loved the cookie dough so much that he ended up eating most of the packet before she could bake them. Another Aldi loyalist praised the product and wrote that they loved the smell which was "fruity" and basically, delicious. 
According to Delish, a similar Lucky Charms-filled cookie dough product also managed to make a splash in 2019. The gamechanger for Aldi's product is that the dough can also be eaten raw, as long as it is kept refrigerated. Sounds tempting? Well, it makes sense: you're basically looking at Lucky Charms cookies with colorful marshmallow pieces inside. What's not to like?