Disney Dole Whip Recipe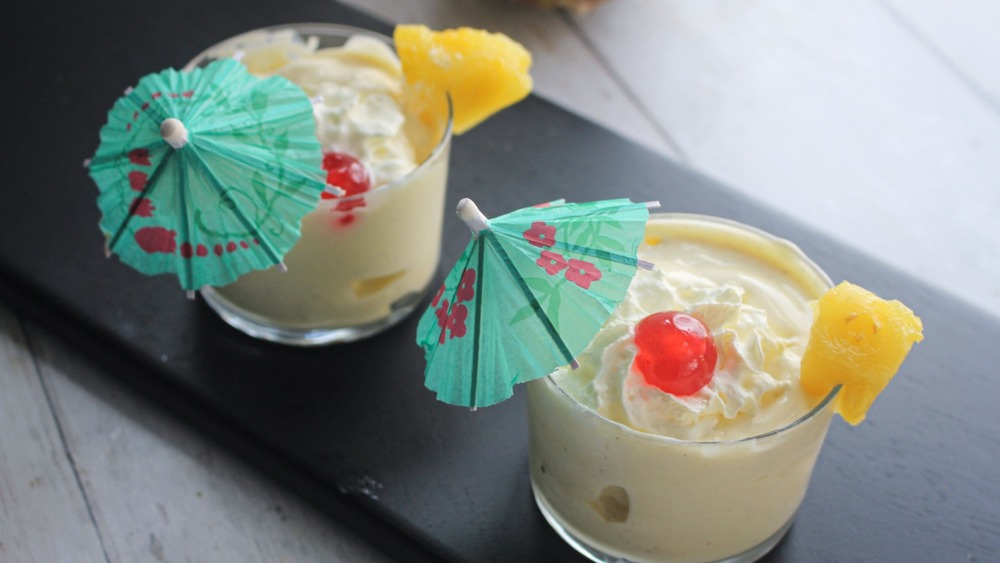 Susan Olayinka
Anyone who has visited Disney World or Disneyland and not sampled a Dole Whip ice cream treat is seriously missing out. Its cool, creamy, pineapple flavor can't be beat on a hot day taking in rides and attractions at the most magical place on earth! But it's okay if a Disney vacation is not in your future plans. U.K.-based recipe blogger Susan Olayinka, who shares family-friendly meal tips at The Flexible Fridge, has whipped up a copycat Disney Dole Whip recipe that she says, "is very close to the real thing." 
She adds about her super easy recipe, "It is so delicious." As for when Olayinka recommends serving up this frosty treat, she says, "The spring and summer are brilliant times to make it." She also suggests creating your at-home Dole Whip "when watching a Disney movie!" 
We think any time is the right time to enjoy a bit of magic at home — and you won't believe how simple this dessert is to make.
Gather your magical ingredients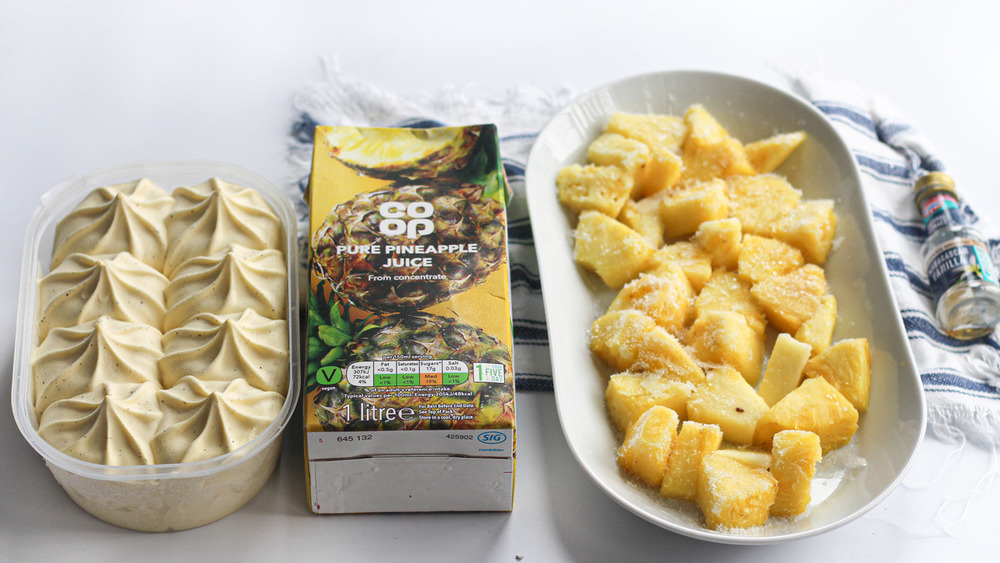 Susan Olayinka
To create your Disney Dole Whip copycat treats, simply add your favorite vanilla ice cream, frozen pineapple, pineapple juice, and vanilla essence to your shopping list. That's it! You can also purchase some whipped cream to top off your treat, but that's optional. 
Meanwhile, we asked Olayinka why she uses vanilla essence instead of extract here, and as she explained to Mashed, "Vanilla extract tends to be a lot stronger than vanilla essence. Vanilla essence can lend a lighter flavor to the Dole Whip." But don't stress if you can only find extract, with Olayinka assuring home dessert makers, "Either of these can be used."
She also explained to Mashed why she recommends using frozen pineapple specifically, noting, "Fresh pineapple wouldn't work as well here because you need a frozen texture to create the Dole Whip." Just think about how frozen fruit makes a smoothie come together, and you get the point.
Blend up your Disney Dole Whip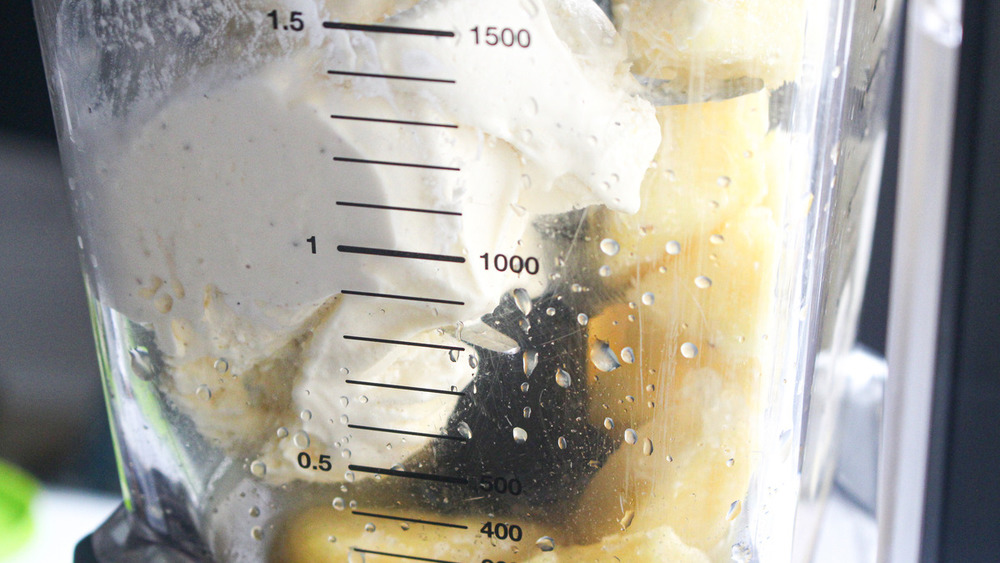 Susan Olayinka
Your Disney Dole Whip at home comes together in just a few minutes with the above ingredients and a blender. You will simply add all of your ingredients — the ice cream, frozen pineapple, pineapple juice, and vanilla essence — to your blender. Next, Olayinka recommends pulsing the mixture, or setting your blender to "crush" mode. 
Only do this for about 30 seconds to realize the perfect Dole Whip texture. You will notice the mixture getting incorporated, and then you know it's done. If the mixture is too chunky, keep blending. Ultimately, you will be pouring your Dole Whip mixture into a piping bag so you can create a truly professional-looking presentation. Yes, even if you are making these magical treats just for yourself. The presentation is an important aspect of feeling like you are enjoying the real thing — even if you live thousands of miles away from the nearest Disney theme park.
Pipe your Dole Whip into glasses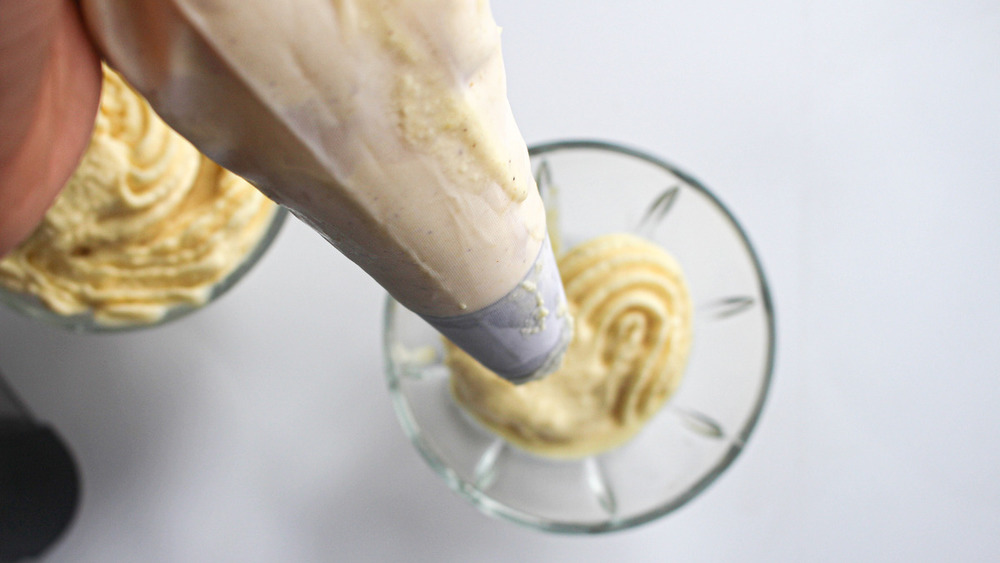 Susan Olayinka
Okay, so your pineapple mixture is blended to perfection. This is when you will transfer the sweet, delicious mixture to a piping bag, with Olayinka recommending you use one with a large nozzle. Don't have a piping bag in your supply of kitchen tools? That's perfectly fine, with Olayinka telling Mashed, "A sandwich bag or freezer back would work perfectly in replacement of a piping bag." She adds, "All you need to do is get a sandwich bag, and fill it with the Dole Whip mixture. Then, snip the tip of the bag with sharp scissors." 
You will pipe your dessert into either dessert bowls or glasses, and if you so desire, add some whipped cream on top. You can also garnish your sweet sensation with a cherry, a slice of pineapple, or any other fun touch you see fit. Olayinka added drink umbrellas to her creation.
Pro tip: You may need a spoon in addition to a straw to enjoy this thick, creamy dream of a dessert that will make your magical Disney memories feel a little bit closer to home.
Disney Dole Whip Recipe
We've whipped up a copycat Disney Dole Whip recipe that's so delicious, you'll think you're at Disney World.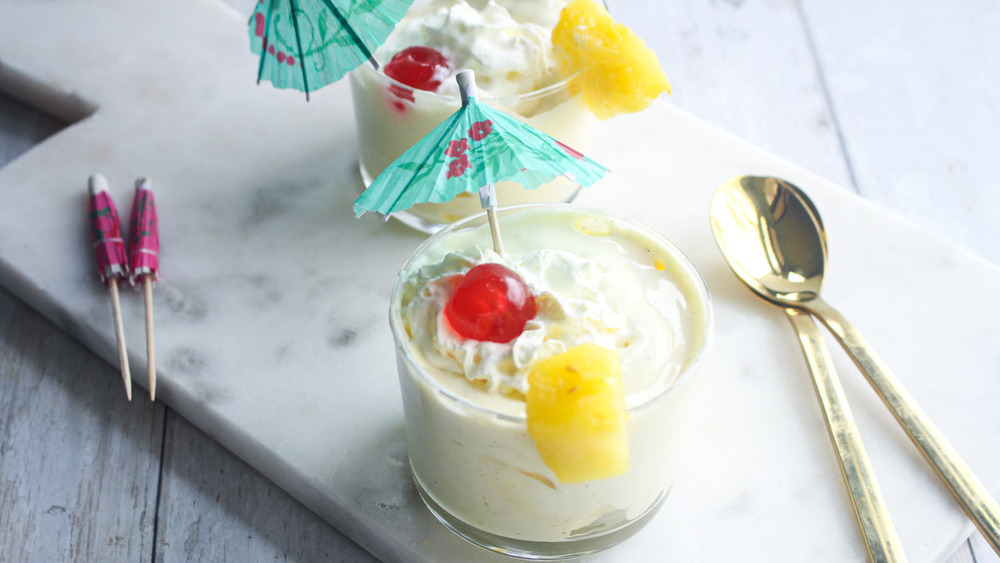 Ingredients
2 cups vanilla ice cream
2 cups frozen pineapple
½ cup pineapple juice
1 teaspoon vanilla essence
Optional Ingredients
Directions
Add the ice cream, frozen pineapple, pineapple juice, and vanilla essence to the blender.
Pulse the blender (or have it on crush mode) for 30 seconds, until the mixture is incorporated.
Once blended, transfer the mixture to a piping bag with a large nozzle.
Pipe the mixture into a dessert bowl or glass of choice.
Top with whipped cream and enjoy!
Nutrition
| | |
| --- | --- |
| Calories per Serving | 197 |
| Total Fat | 7.4 g |
| Saturated Fat | 4.5 g |
| Trans Fat | 0.0 |
| Cholesterol | 29.0 mg |
| | |
| --- | --- |
| Total Carbohydrates | 30.6 g |
| Dietary Fiber | 1.7 g |
| Total Sugars | 25.4 g |
| Sodium | 54.3 mg |
| Protein | 2.9 g |