Is Cracker Barrel Cheese Related To The Cracker Barrel Restaurant?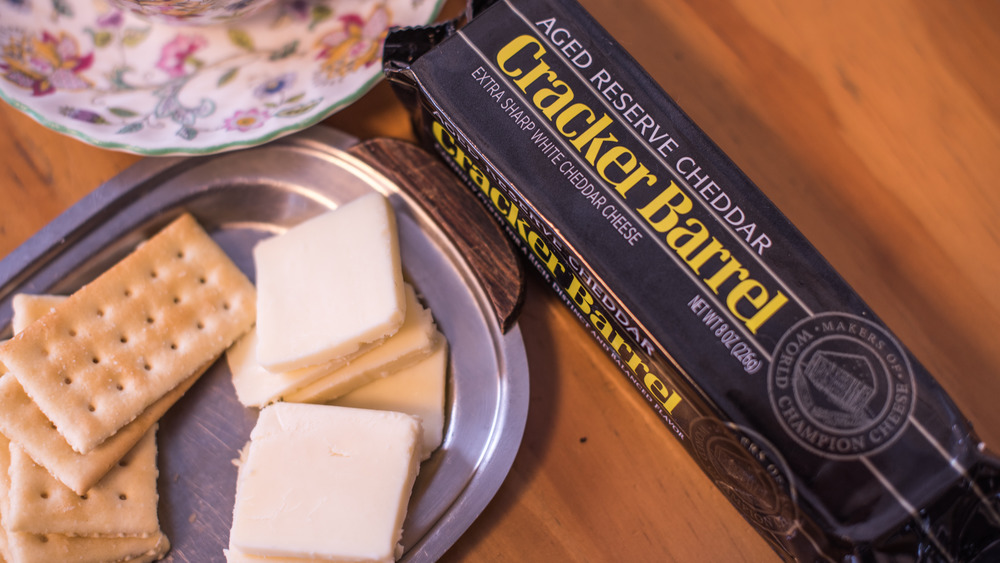 Bloomberg/Getty Images
Cracker Barrel is a restaurant chain that offers down home favorite foods like biscuits and fried chicken. It also happens to be the name of a cheese available in most supermarkets.  Since both are known brands that offer food products, you might think that they're related or owned by the same parent company.
They're actually not. Cracker Barrel cheese was introduced to the public in 1954 by Kraft Foods, according to the cheese's website. It was named after the barrels of soda crackers found in general stores in the 19th century. People would gather around the barrels to catch up on the news of the day, making the general store "the" place to be if you wanted to hear a little town gossip.
Crackers also play a significant role in how the cheese is sold; Cracker Barrel cheese is generally sold in long bricks rather than wheels or slices, the reason being that each piece fits well on the average cracker.
Though the Cracker Barrel restaurant chain is designed to feel like a nostalgic, old-fashioned eatery from the turn of the 20th century, it was actually founded in 1969 by Dan W. Evins. The first restaurant and country store opened in Lebanon, Tennessee and was designed to look like an "Old Country Store," as its name implies.  According to the Cracker Barrel website, within eight years, Cracker Barrel had expanded to 13 locations in several states throughout the southern United States. Today, there are over 600 locations in 45 states. 
A lawsuit over a Name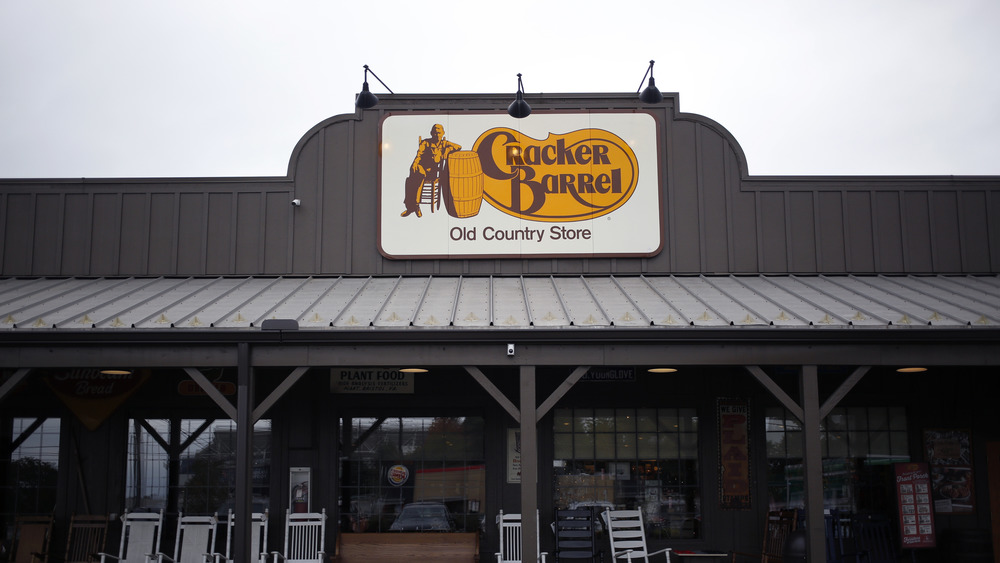 Bloomberg/Getty Images
For over 50 years there seemed to be a peaceful coexistence between the restaurant and the cheese brand. Until 2013.
In 2012, Cracker Barrel Old Country Store announced a partnership with Smithfield Foods to sell packaged ham, bacon, and lunchmeat under the Cracker Barrel Old Country Store name. The Chicago Tribune reported that Kraft Foods wasn't pleased with the decision and took the restaurant chain to court. According to the lawsuit, Kraft claimed, "consumers will be confused by the similarity of the logos and think that food products so labeled are Kraft products, with the result that if they are dissatisfied with a [Cracker Barrel Old Country Store] product, they will blame Kraft." 
In October of 2013, Kraft Foods and Cracker Barrel Old Country Store reached an agreement according to Restaurant Finance Monitor. The lawsuit was settled with the provision that Cracker Barrel stores could sell bacon, ham, and other packaged meats in grocery stores under the name "CB Old Country Store". The name Cracker Barrel would be reserved for the Kraft cheese that's been on grocery shelves since the '50s.