Why You Don't See As Many Taco Bell-Pizza Hut Combo Restaurants Anymore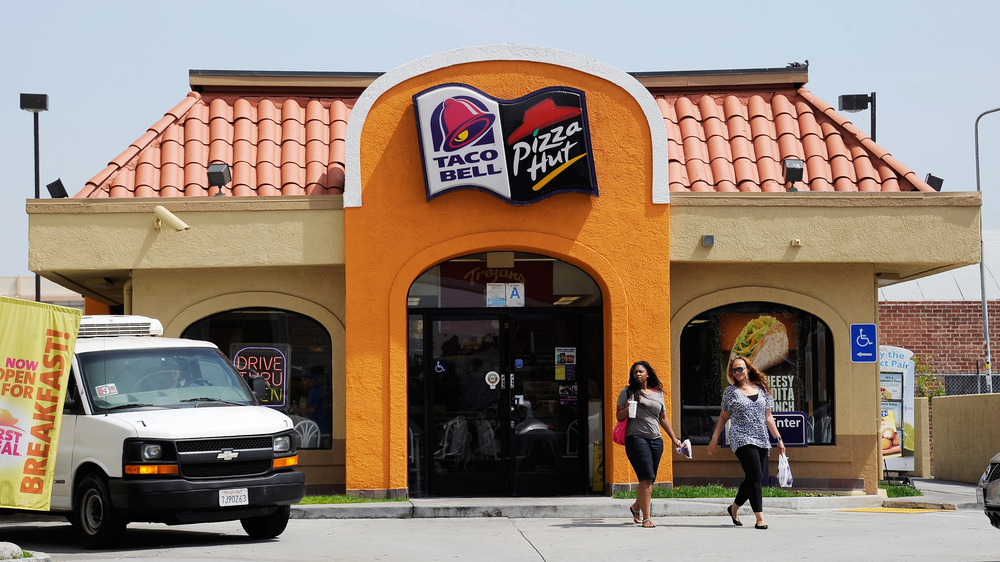 Kevork Djansezian/Getty Images
Hip-hop duo Das Racist said it best: "I'm at the Pizza Hut / I'm at the Taco Bell / I'm at the combination Pizza Hut and Taco Bell" (via Genius). Not only has the song inspired a whole host of memes and TikToks, including a page on the website Know Your Meme, it's also based on a real phenomenon. The combination of Pizza Hut and Taco Bell that Das Racist speaks of is located on Jamaica Avenue in Queens, New York, and still exists to this day, earning a 3.8 out of 5 stars on Google as of this writing.
Though the song's namesake is still around, the combination fast food restaurant may not be as widespread as it used to be. In 2013, DNAinfo reported the Taco Bell-Pizza Hut in Penn Station had been closed for health violations, and in 2016, the Daily Press reported a KFC-Taco Bell-Pizza Hut (aka "Kentacohut") in Poquoson, Virginia would cease operations after over a decade.
In 2018, members of the Taco Bell subreddit mentioned that their local combination restaurant had shifted gears — one became just a Taco Bell and the other, a KFC-Pizza Hut-Taco Bell combo, just became a KFC-Taco Bell combo.
Times are changing for fast food chains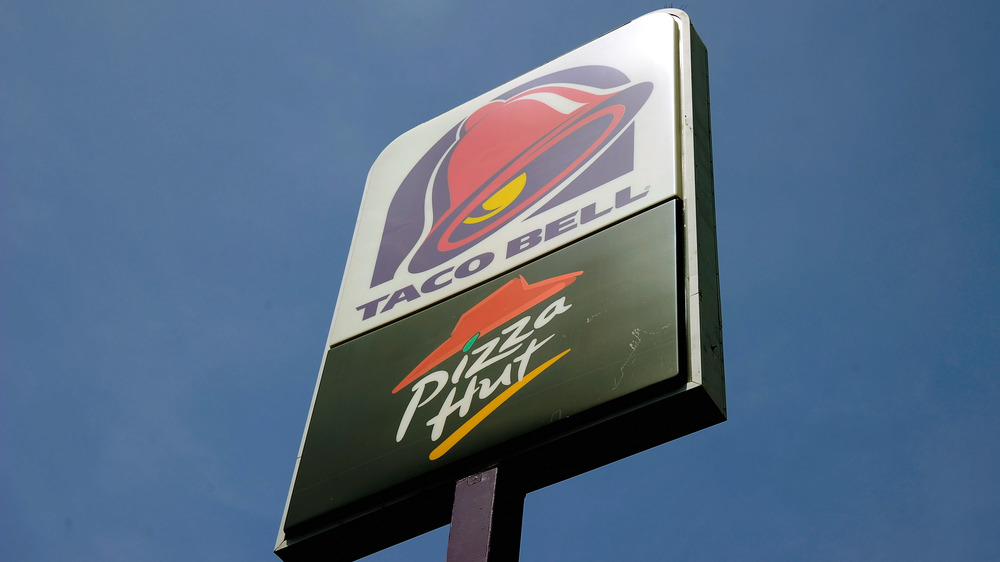 Kevork Djansezian/Getty Images
The reason Taco Bell, Pizza Hut, and KFC are occasionally combined under one roof is because they're all owned by the same parent company, the Kentucky-based Yum! Brands Inc (via Yahoo). In 2012, Thrillist sent one of their writers to a "Kentacohut," and he ordered food from every brand, combining them all atop a Pizza Hut pizza, a creation he deemed the "Yum!onster."
Pizza Hut itself could be a factor in the combination restaurant's lapse. In 2019, before the coronavirus pandemic fundamentally changed the restaurant industry, Texas Monthly reported that Pizza Hut's dine-in locations were on the decline, and had been for quite some time. Per QSR, Pizza Hut closed 1,745 locations in 2020 and opened 682, resulting in a six percent decline in stores. However, in July 2020, Pizza Hut and KFC's sales increased while Taco Bell's fell, according to Restaurant Business Online.
Even the Google reviews for the Taco Bell-Pizza Hut song's namesake location mention Taco Bell almost exclusively. "I never see anyone order pizza," one review from early 2021 notes. So it seems that instead of going south of the border, Pizza Hut's pairing with Taco Bell is just heading south.