Broccoli Bacon Salad Recipe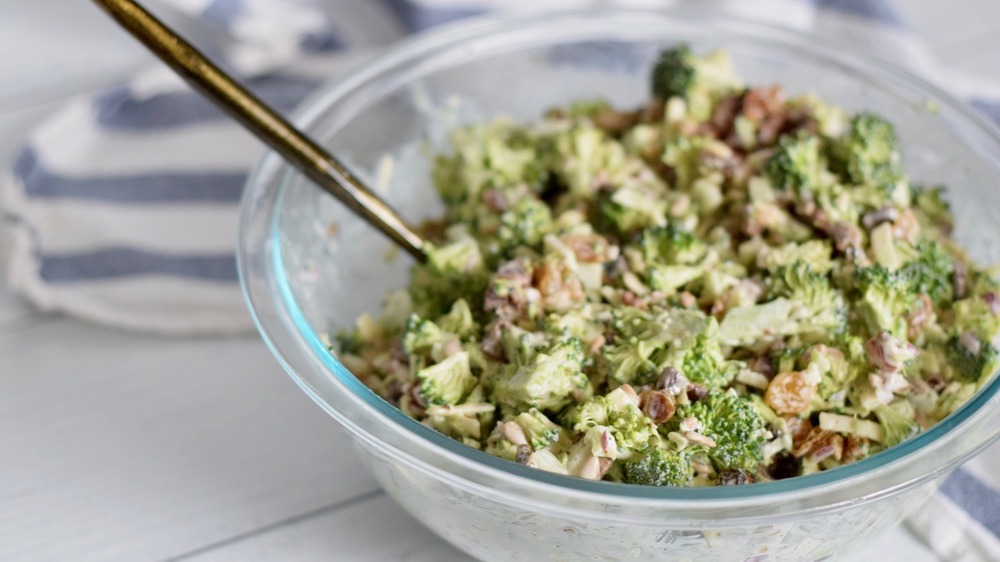 Tara Rylie/Mashed
Just in time for spring and summer, this broccoli-bacon salad will become your go-to dish for all family gatherings, picnics, and at-home BBQs. We love this recipe because it's wicked easy to whip up, it's chock full of broccoli (which is packed with vitamins, minerals, and bioactive compounds) yet so tasty no one will even realize they're straight up eating veggies, and you can most definitely make it ahead of time. Imagine that, you can quickly make this salad before your guests even arrive; meaning you can spend more quality time with them raving over how great this salad truly is!
We've tried this salad with grilled chicken, hot dogs and hamburgers, next to fruit salad, and served on top of baked potatoes. Each way was mighty delicious in its own right! If you want leftovers though, we do recommend making a double batch because one batch just won't last that long!
Read on as Chef Tara Rylie of RylieCakes walks you through how to make this salad in under 30 minutes.
You want crispy bacon for the broccoli bacon salad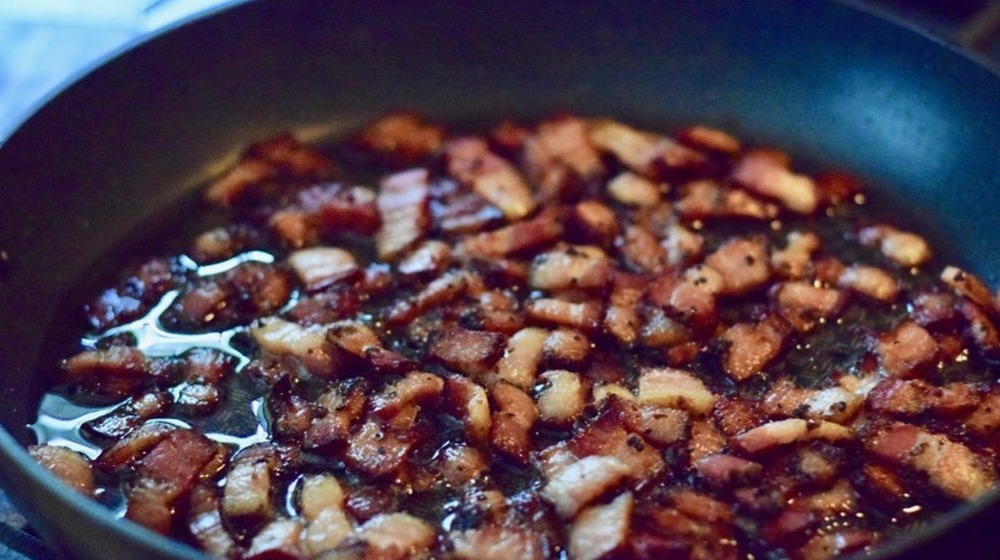 Tara Rylie/Mashed
The trick to creating the best broccoli-bacon salad, is to ensure you have totally crispy bacon; it's all about the bacon! Cut your bacon into ¼-inch pieces and place it in a heated up sauté pan. Don't worry about adding oil, butter or even cooking spray to your pan, bacon has enough fat in it to coat the pan as it cooks. 
Cook the bacon over medium-low heat until crisp. This will take approximately ten minutes. It will be tempting to turn the heat up and cook the bacon extra fast, however, then you will end up with some bacon pieces that are burned and others that aren't full cooked. Cooking low and slow will create evenly cooked, crispy bacon pieces all around. When ready, use a slotted spoon to remove the bacon from the pan and set it aside.
Use the whole broccoli for this salad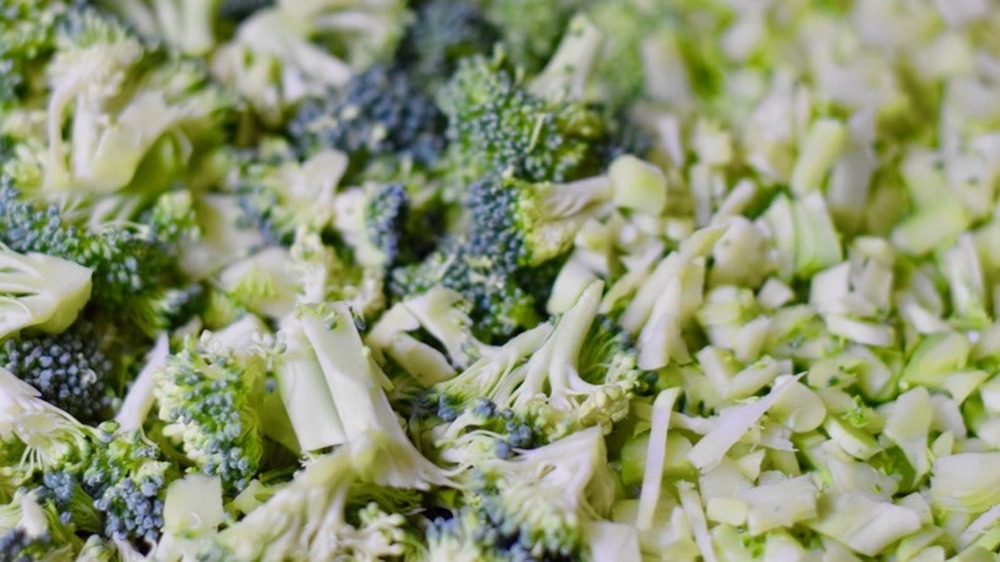 Tara Rylie/Mashed
Often times when cooking vegetables, people tend not to work with the stems/stalks. We're not sure why this is but we're here to tell you: USE THE WHOLE BROCCOLI! The stalks of broccoli also contain much nutritional value and they're super crunchy, making them the perfect fit for this salad. For this salad, cut your broccoli stalk away from the florets. Then finely chop them up so that they are smaller than bite-size pieces. Next, chop up your florets in bite-size pieces. Because the stalks are crunchy, you don't want a mouthful of stalks, cutting them into smaller pieces than the florets makes for a perfectly textured salad.
Sauce up the broccoli bacon salad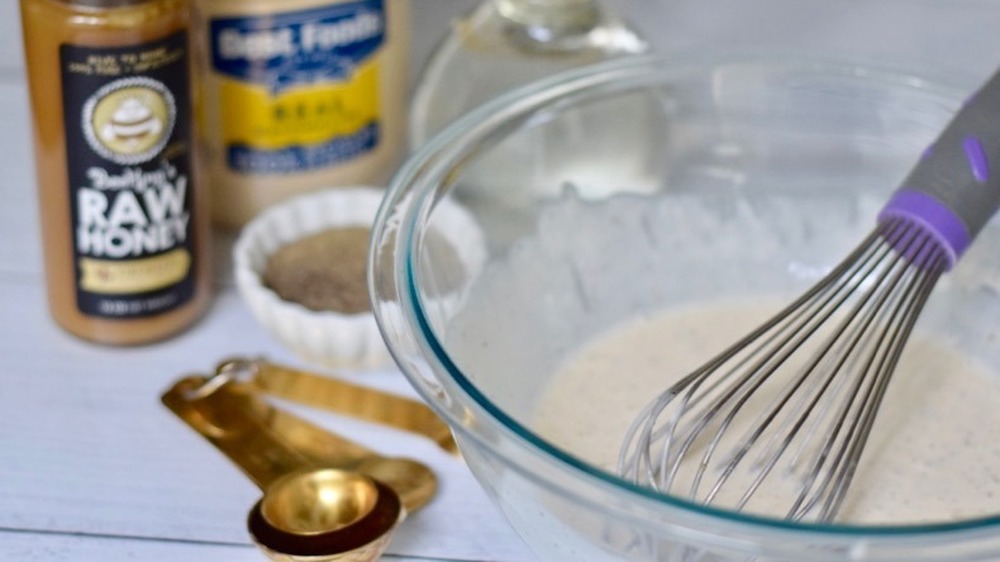 Tara Rylie/Mashed
No salad is complete without the right complimentary dressing. This salad has a sweet-tangy dressing that highlights the flavors of the salty bacon and the fresh broccoli while still allowing all the add-ins to shine! Simply whisk together your mayonnaise, white wine vinegar, honey, and black pepper. Taste test and then season further if needed. If you're not using peppered bacon for the salad itself, consider adding some more pepper. If you like your salads a bit saltier, go ahead and add some here. Agave can be used in place of honey and apple cider vinegar in place of white wine vinegar. 
Add-ins make this broccoli bacon salad shine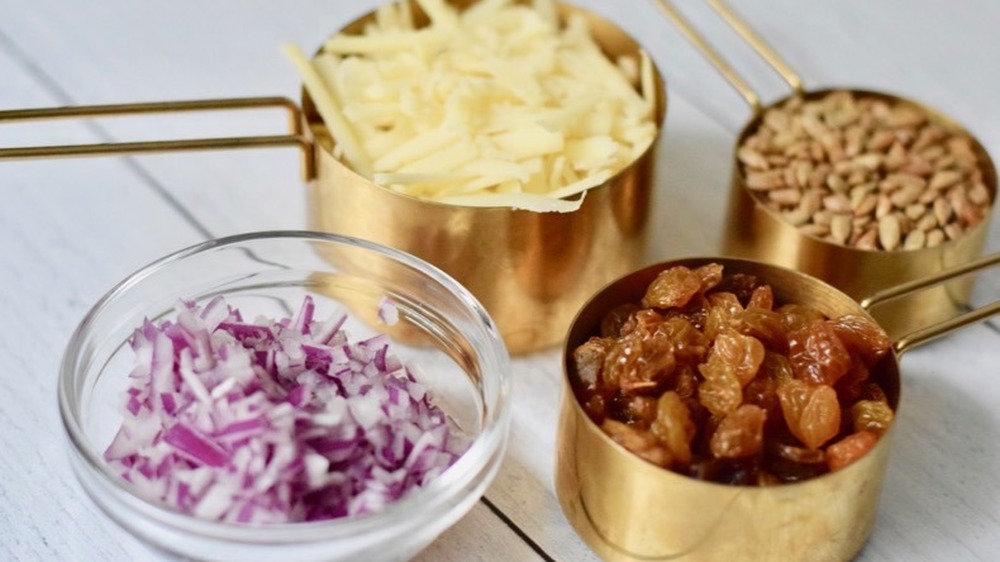 Tara Rylie/Mashed
Each add-in to this salad plays its own special part but also has a substitute or two that you could use in a pinch. White cheddar is sharp and salty but can be replaced by a regular sharp cheddar if needed or preferred. Make sure you go for a strong cheese substitute here as any mild cheddar will just blend in and get lost in the other flavors of this salad. 
Sunflower seeds add a glorious crunch to this salad and can be replaced by pumpkin seeds or slivered almonds. Golden raisins add a little sweetness and can be replaced with craisins or even raisins. Red onions have a relatively mild flavor making them great for salad but if you need to sub, we recommend using yellow onions. Whichever you use, just be sure to chop your onions finely, no one likes a mouthful of fresh, crunchy onions!
Mix the broccoli bacon salad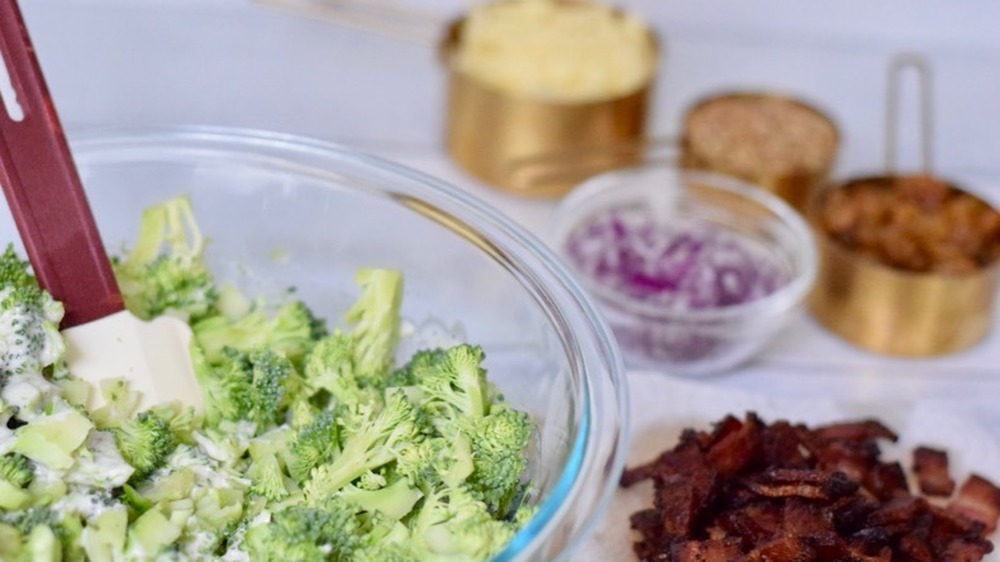 Tara Rylie/Mashed
Throwing this salad together is easy peasy. Simply add your chopped broccoli to the large bowl with your dressing. Fold it all together and then toss in your golden raisins, bacon, red onions, sunflower seeds, and white cheddar. Again, just fold it all together and you're done! If you're planning on making this salad ahead of time but don't want the dressing to soak into the broccoli a bit (this naturally happens), then just combine everything together in a gallon size Ziploc and store the dressing separately. 
Keep everything refrigerated until ready to use. When ready, simply toss it all together in a bowl and serve! It's unlikely you'll have leftovers but if you do, store them in an airtight container in your refrigerator up to 5 days.
Broccoli Bacon Salad Recipe
Looking for a perfect side dish to bring to your next potluck? How about broccoli? Trust us, this broccoli salad is next level thanks to some crispy bacon.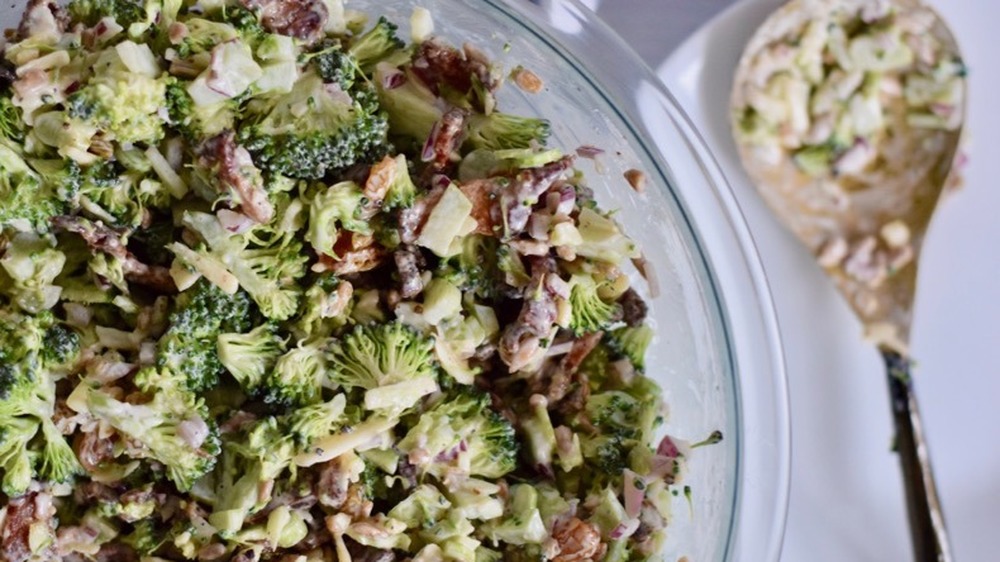 Ingredients
¾ lb peppered bacon
1 lb broccoli (or 1 large head)
1 cup grated sharp white cheddar
½ cup golden raisins
⅓ cup red onion, finely diced
⅓ cup roasted + salted sunflower seeds
¾ cup mayonnaise
3 tablespoons white wine vinegar
1 tablespoon agave
½ teaspoon black pepper
Directions
Cut bacon into ¼-inch pieces and place in heated up sauté pan. Cook over medium-low heat until crisp; approximately 10 minutes. When ready, use a slotted spoon to remove bacon from the pan and set aside.
While the bacon is cooking, cut broccoli stem away from florets. Finely chop broccoli stem and cut florets into smaller bite-size pieces and set aside.
In a large bowl, whisk together mayonnaise, white wine vinegar, agave, and black pepper. Taste test and season further if needed.
Add chopped broccoli, crisped bacon, cheddar, golden raisins, red onion, and sunflower seeds. Fold until thoroughly combined.
Serve cold. Store in an airtight container in refrigerator for up to 5 days.
Nutrition
| | |
| --- | --- |
| Calories per Serving | 452 |
| Total Fat | 39.4 g |
| Saturated Fat | 11.4 g |
| Trans Fat | 0.3 g |
| Cholesterol | 53.3 mg |
| | |
| --- | --- |
| Total Carbohydrates | 14.5 g |
| Dietary Fiber | 2.1 g |
| Total Sugars | 8.9 g |
| Sodium | 532.9 mg |
| Protein | 11.3 g |