Chopped Has A New Cannabis-Inspired Series. Here's What We Know
Apart from the learning aspect of cooking shows, another aspect that folks love about them is their innate ability to always keep viewers and chefs on their toes. According to Cook's Info, the first televised cooking show was Cookery with Philip Harben, which aired on the BBC in the United Kingdom in 1946 (and was apparently only ten minutes long). 
Since then, the food TV landscape has been flooded with diverse programming and shows well over the initial 10-minute mark. Whether it's a time-tested show like Top Chef and Iron Chef or something newer like Supermarket Stakeout and Best Leftovers Ever, people find cooking shows highly entertaining. It's no surprise, then, that producers continue to try to up the ante and wow fans with wilder and crazier themes that really test the skills and capacities of participants. This philosophy is something that the creative minds at Chopped have excelled at with an incredible amount of astute keenness. Well, it seems like the folks at Chopped have done it again with their latest show, Chopped 420.
Chopped will be up to its regular shenanigans, but with a highly new twist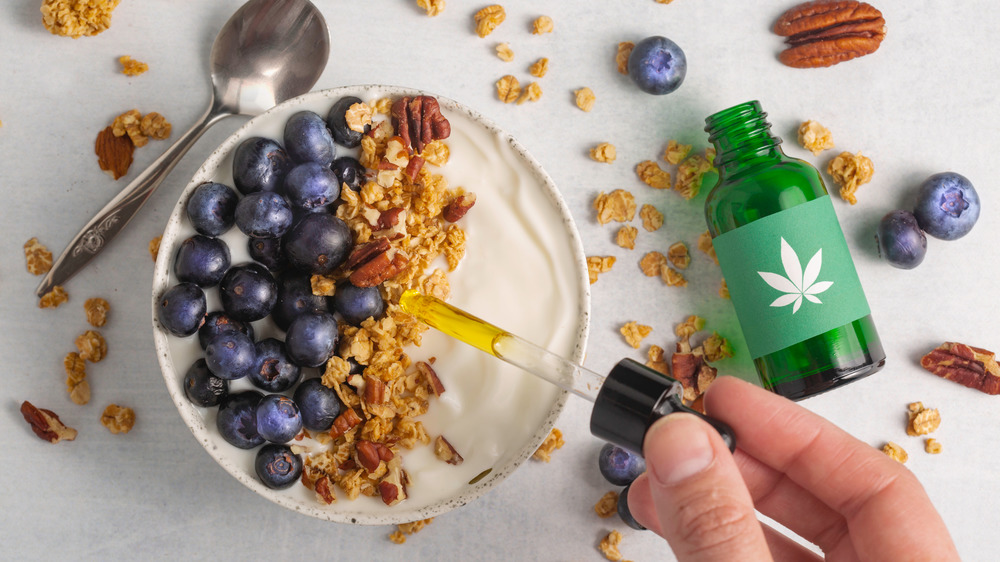 Shutterstock
Per a press release sent to Mashed, Chopped 420 seeks to highlight the upward trend of cannabis-infused meals with the latest interaction of their show. The show, which is set to be hosted by comedian Ron Funches, will follow the same layout of the original Chopped and will have five standalone episodes in which four cannabis chefs duke it out over three courses. 
Like its predecessor, the chefs will be given a mystery basket each round and will have to cook their way to the top to win the $10,000 prize. Contestants will also have the added bonus of the Chopped green house, where they will be able to find cannabis or CBD-infused products that they will be able to use to elevate their dishes. Each of the contestants will have to impress the panel of judges — which includes chef Esther Choi, cannabis activist Laganja Estranja, chef Luke Reyes, chef Sam Talbot, and comedian Tacarra Williams — in order to avoid elimination. Variety reports that the five, one-hour episodes will be available to stream on Discovery+.