Pepsi Has A Fruity New Permanent Flavor. Here's What You Need To Know
As we head into spring and summer, Pepsi has an all-new flavor that is perfect for the change of seasons, according to a press release received by Mashed. The cola company is releasing Pepsi Mango, both in regular and zero sugar varieties, across the United States in just a few days. While the flavor combination is surprising, it should be a sweet new addition to look forward to and a great way to shake up your favorite cola mixers. To top it all off, this isn't a temporary flavor either. Pepsi Mango is here to stay as the first permanent flavored addition to its product line in five years. 
"Our consumers are always looking for new and exciting flavors, so we couldn't be more excited to introduce them to Pepsi Mango. Our team has created a surprisingly perfect match with Pepsi Mango, combining the delicious taste of Pepsi cola with the flavor of a sweet, juicy mango," Pepsi's Vice President of Marketing, Todd Kaplan, explained. While it's far from the pairing you might have imagined, it's no doubt going to be a sweet, delicious drink. "Mango is one of the most popular fruits in the world, and it serves as the perfect complement to Pepsi, creating an irresistible combination that our fans can enjoy everywhere throughout the year," Kaplan added.
This is where you'll find Pepsi's new mango cola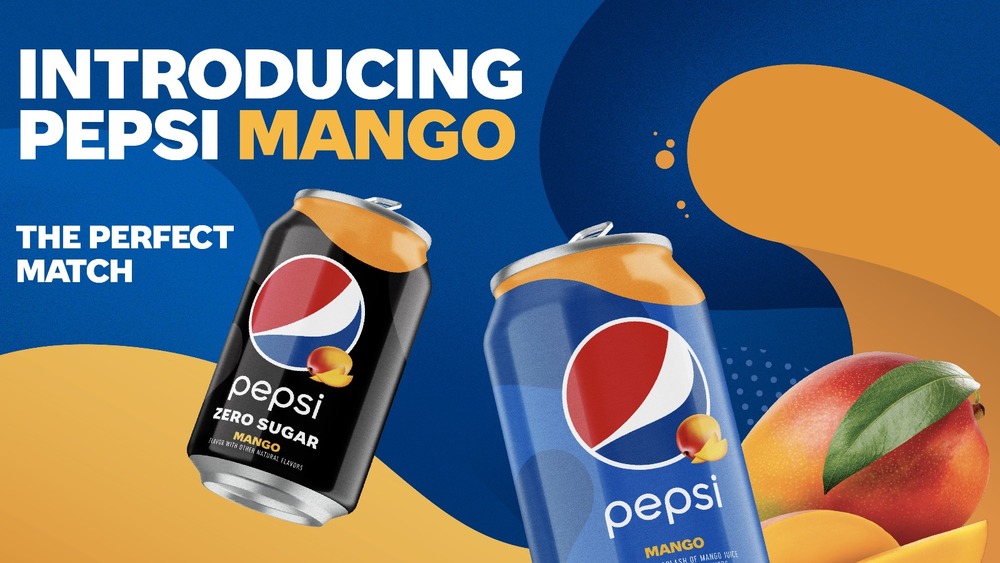 Pepsi
Pepsi Mango will be available across the country as soon as Monday, March 22nd from all kinds of Pepsi retailers such as grocery stores and gas stations too. The new drink can be purchased in 12-ounce 12 packs or 20-ounce bottles. But you'll be seeing the new drink in more places than on the shelves of your next shopping trip.
To help make the announcement, Pepsi will also be running a commercial on television and online set to Jason Derulo's "Take You Dancing." There will also be a dating campaign to help customers "find their perfect match" too. In April, Pepsi will run a series of dating advertorials on some social media platforms to help a few eligible people find love. Singles at home who want to date the featured singles will be able to contact them so the perfect — if unlikely — match is found.
So, if you're ready for more than a fun new fruity flavor of Pepsi, keep an eye on Pepsi's social media channels.