Quick Cabbage And Noodles Recipe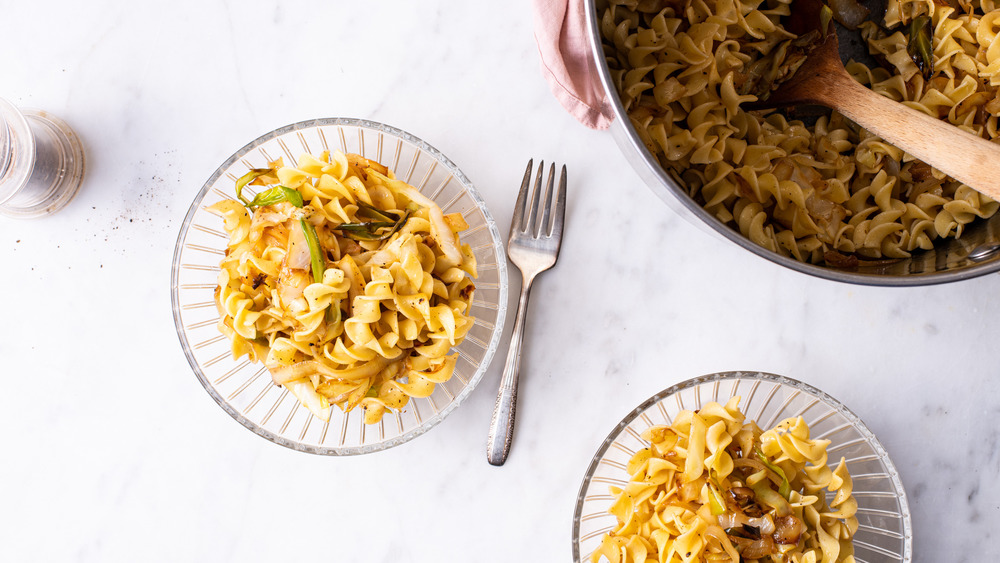 Alexandra Shytsman/Mashed
Cabbage and noodles is a really simple, seven-ingredient recipe that makes for a comforting meal on its own and works equally well as a side dish. It consists of chewy egg noodles tossed with caramelized cabbage and onions, lots of freshly ground black pepper, and a little bit of butter.
In Poland, this combo is known as "haluski," while in Hungary, it's called "kaposztás tészta." This minimal — yet surprisingly delicious — dish is typically vegetarian and served during Lent. However, sometimes bacon or kielbasa are added.
The key to giving this dish its undeniably tasty flavor is caramelizing the cabbage and onions really well before tossing them with the noodles, and recipe developer Alexandra Shytsman of plant-based blog The New Baguette accomplishes just that with this recipe. Browned cabbage and onions take on a savory, sweet, and slightly smoky flavor that gives these egg noodles so much personality. 
One thing's for sure: Everyone will be begging for second (and third) helpings.
Gather your ingredients for cabbage and noodles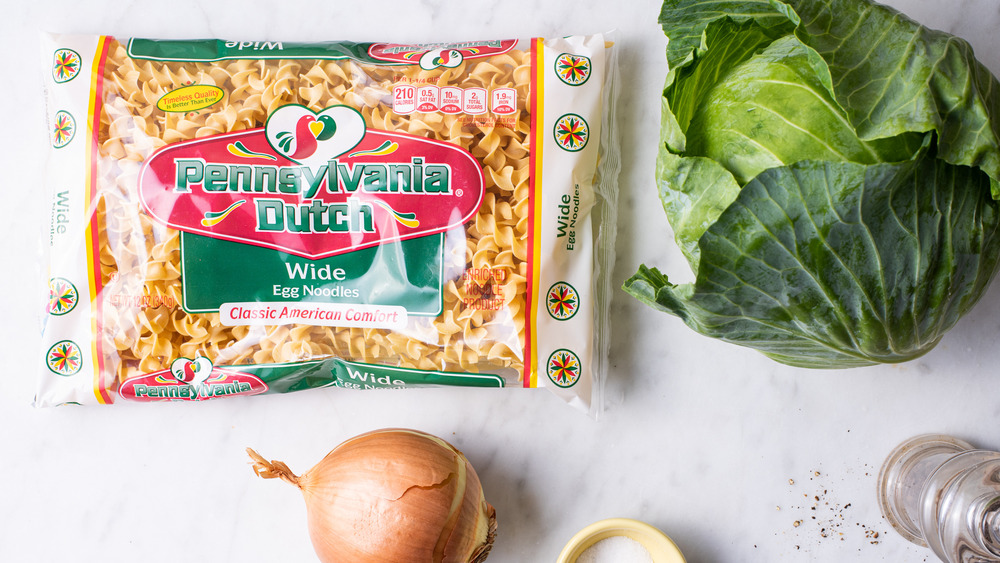 Alexandra Shytsman/Mashed
To begin, gather your egg noodles, cabbage, onion, olive oil, salt, pepper, and butter. This recipe calls for a standard green cabbage, but you can also use Savoy cabbage for more contrast in texture.
Black pepper is also really important here. It adds heat, spice, and fragrance, and ties the entire dish together. It's important to use fresh, coarsely ground black pepper for the most delicious cabbage and noodles, as opposed to the often flavorless pre-ground stuff you get in a little box at the supermarket.
Prepare the vegetables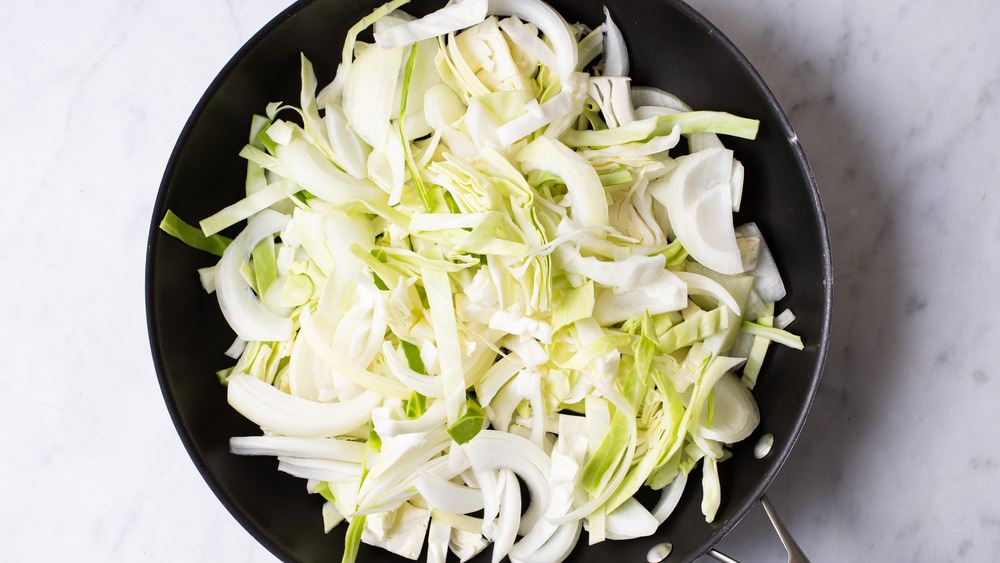 Alexandra Shytsman/Mashed
Chop up the cabbage and onion. Cut both into chunky slices about 1/3-inch thick. The goal is for these to be similar in width to the egg noodles. It may seem like a big pile of vegetables at first, but both the cabbage and onions will shrink a lot when they cook.
There are two steps involved in caramelizing these vegetables. First, you cook them covered with a lid for about 5 minutes. This steams the vegetables, draws out their moisture, and starts to soften them. Then, continue to cook them uncovered for 12 to 15 minutes, allowing them to caramelize.
Cook the noodles and toss them with the vegetables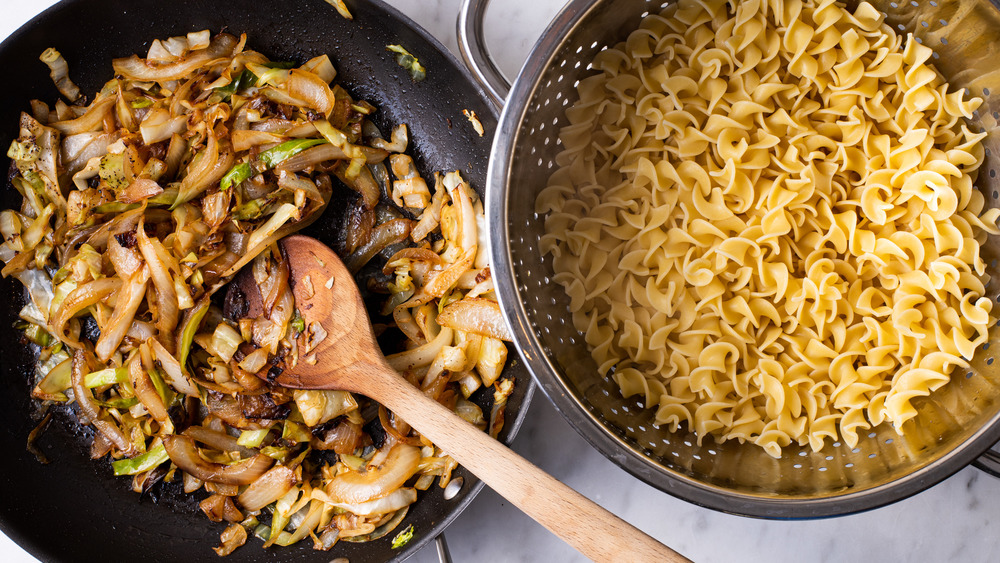 Alexandra Shytsman/Mashed
While the vegetables cook, fill a large pot of water for cooking the noodles. Be sure to salt the cooking water generously, as it is your only chance to season the noodles themselves. (Pro tip: Pasta-cooking water should be as salty as the ocean.)
Finally, drain the noodles and put them back in the pot. Add the vegetables, along with the butter, and stir to combine. At this point, be sure to taste the dish and add more salt or pepper if needed. Serve on its own or as a side!
Quick Cabbage And Noodles Recipe
This incredibly simple, seven-ingredient recipe for cabbage and noodles makes for a comforting meal on its own and works equally well as a side dish.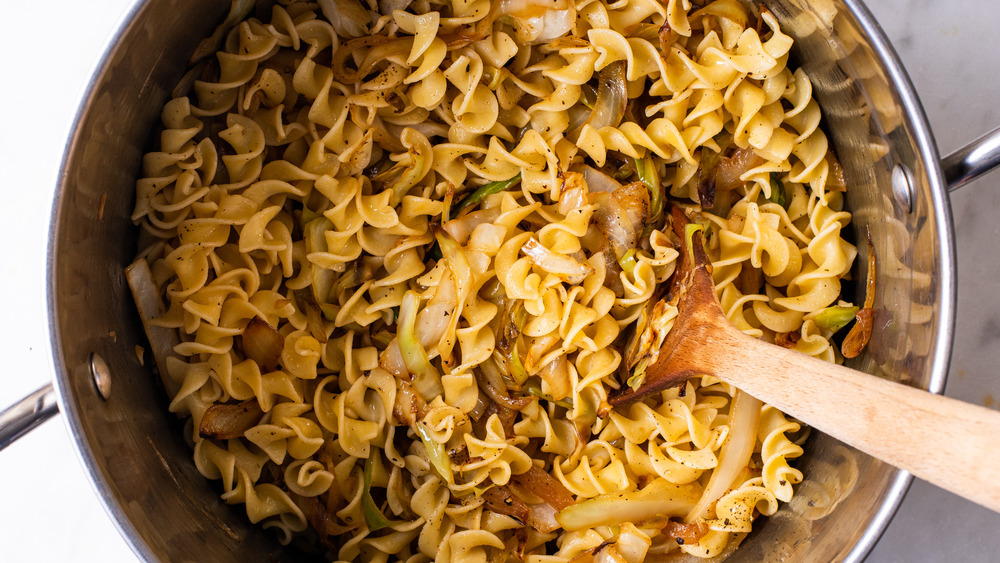 Ingredients
12 ounces egg noodles
½ medium head green cabbage, cut into ⅓-inch-thick slices (about 4 cups)
1 medium yellow onion, sliced
1 tablespoon butter
2 tablespoons extra virgin olive oil
Fine sea salt, to taste
Coarsely ground black pepper, to taste
Directions
Heat the oil in a large skillet over medium heat. Add the cabbage and onion with ¼ teaspoon each of salt and pepper. Cover tightly with a lid, and cook until the vegetables begin to soften and become translucent, about 5 minutes.
Meanwhile, bring a large pot of water to a boil.
Remove the lid and cook the vegetables until they're soft and caramelized, stirring frequently, 12 to 15 minutes.
Generously salt the boiling water and cook the noodles according to package directions.
Drain the noodles and combine with the sautéed vegetables, along with the butter and more pepper. Taste and adjust the seasonings if needed.
Nutrition
| | |
| --- | --- |
| Calories per Serving | 453 |
| Total Fat | 13.6 g |
| Saturated Fat | 3.8 g |
| Trans Fat | 0.2 g |
| Cholesterol | 79.1 mg |
| | |
| --- | --- |
| Total Carbohydrates | 70.2 g |
| Dietary Fiber | 6.3 g |
| Total Sugars | 6.4 g |
| Sodium | 551.3 mg |
| Protein | 13.9 g |